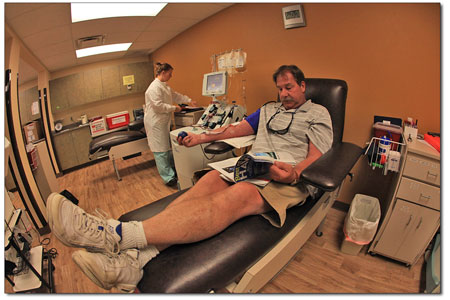 Dan Ochocki donates platelets at Durango's United Blood Services on Tuesday afternoon. United Blood Servicies helps to supply Durango and the Four Corners region. Senior Donor Recruitment Representative Nancy Cumming said the need for blood donors is always critical, especially in the summertime, when blood donations drop because people are on vacation./Photo by Stephen Eginoire
Calling all 'heroes'
Blood in short supply over summer months
by Jen Reeder

April 23 is a special day for Bayfield resident Amy Potthoff. It's her youngest daughter's birthday. It's also the day she almost died.

On that day in 2005, Potthoff was pregnant and with her due date about a month away. The 32-year-old medical professional, volunteer firefighter and mother to three – Emily was 22 months old, Austin was 11 years old and Alec was 16 – had stopped by her doctor's office for routine labs. A nurse entered the waiting room to call another patient, took one look at Potthoff and declared, "You look horrible."

"I said, 'I'm pregnant with my fourth child – of course I look horrible,'" Potthoff says. "But they ran blood tests and decided that I needed to deliver that day."
Potthoff's husband, mother and other family members rushed to Mercy Medical Center to be on hand for the C-section, which was successful – Lainey Grace was born a healthy baby despite being a month premature. But in the recovery room, Potthoff began hemorrhaging due to eclampsia, a life-threatening pregnancy complication.

"One of the last things I remember is they were taking me out the door, bed and all. My family was still there, my mom holding the baby, my husband running alongside the bed."
She lost consciousness, and a blood pressure. After a life-saving surgery and eight days in the hospital, Potthoff was alive after receiving 14 pints of blood.

"Even when I was in ICU, I knew the magnitude of, 'Wow, that's a lot of blood.' If it wasn't for people that just go out there and donate (blood), literally I wouldn't be here. It's as simple as that," Potthoff says.

Potthoff is just one of many people saved each year by blood donated to the United Blood Services in Durango, which serves Durango and the Four Corners region. Senior Donor Recruitment Representative Nancy Cumming says the need for blood donors is always critical, particularly in the summertime, when blood donations drop because people are busy with vacations.

"There is a huge need," Cumming says. "Each donation can save up to three lives. And it only takes and hour – not even an hour, most of the time. Usually once you 4 donate, it's being used by someone else within three days … it doesn't get wasted."
In order to donate blood, individuals must be at least 16 years old, have certain height and weight requirements (depending on age) and 50 minutes to set aside for the procedure. The blood is tested for diseases before being transmitted, and results are confidential. United Blood Services has a permanent blood donation center at 146 Sawyer Drive but also hosts weekly blood drives throughout the region and special events to try to encourage people to donate blood. Still, only about 5 percent of Americans do so, according to Cumming.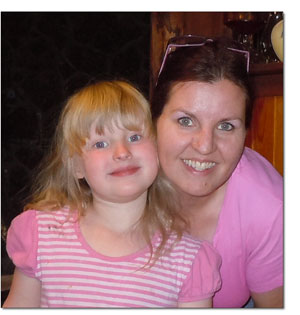 Bayfield resident Amy Potthoff and her daughter, Lainey Grace, pose for a photo at Lainey's fifth birthday in April. When Lainey was born, Amy suffered from severe eclampsia and required 14 pints of blood to save her life./Courtesy photo

Special events include the Bootlegger's Society "Pint for a Pint" each Halloween at local breweries, in which donating a pint of blood earns donors a voucher for a free pint of beer, and the upcoming "Books for Blood" at Maria's Bookshop on June 14 – donors will receive a free book and a pint of ice cream.

United Blood Services also hosts frequent blood drives at high schools and offers $500 scholarships to students who donate blood three times before graduation. They also receive a red "honor cord" they can wear at their graduation ceremony (if their school allows it). "We encourage the students once they donate three times before graduation to apply for our scholarships," Cumming says. "It's open to anybody."

As an added incentive, United Blood Services started the "Hero in Me" donor benefit program a few years ago, so that donors can accumulate points to redeem for things like movie tickets, DVDs and goods on Overstock.com.

"It works like mileage points: every time you come in and donate, you accumulate more points," Cumming says.

Benefits increase for people who donate multiple times each year. Though it's safe to donate every eight weeks, United Blood Services sets the more modest goal of encouraging donors to give three times a year to receive "gold" status, which has extra perks like a special holiday gift.

Durango resident Carolyn Brown is a frequent blood donor who has redeemed points to purchase movie tickets, ice cream and T-shirts. Brown started giving blood about 30 years ago after attending a high school blood drive in California. Since moving to Durango in 2000, she has donated 62 times – a total of 7.75 gallons of blood.

"I just felt it was something I wanted to do to give back, to be able to help somebody else out," Brown says. "I have very strong feelings about it."

She encourages first-time donors to take the leap, even if they are apprehensive about the process or scared of needles. She says the staff at blood drives takes care to work as quickly and painlessly as possible.

"It is really not a traumatic experience, by any means, especially with the folks that work at the blood bank. They are very caring and compassionate and very careful in what they do," she says. "Anybody that can donate should, because there are so many times that they are running short."

Meanwhile, Potthoff is grateful to the strangers who donated the blood that saved her life back in 2005. She and her husband decided to "pay it forward" by hosting a number of blood drives that raised 63 units of blood from family and friends. She thinks "constantly" about what she might have missed. On Memorial Day weekend, she'll see her oldest son, Alec, who is in the Army, get married in Durango.

"It's never far from your mind that life could have changed that quickly," Potthoff says. "We were very, very lucky. If that blood supply hadn't have been there, I wouldn't be here."
For more information or to schedule a blood donation with United Blood Services, visit
www.BloodHero.com
or call 970-385-4601.