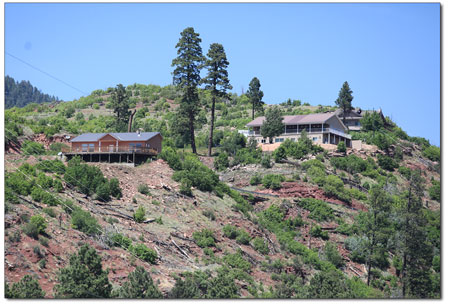 Homes located in the wildland urban interface, such as these, which were rebuilt after the 2002 Valley Fire, are coming under increased scrutiny by insurance companies. In the wake of the devastating fires of the last decade, many insurers are now requiring homeowners to create defensible space and turn-around driveway access./Photo by Stephen Eginoire
A potential firestorm
Mitigation, safety key as insurance companies enact stricter guidelines
by Malia Durbano

The rumors that have been circulating are based in fact. Insurance companies are cancelling or not renewing the fire protection portion of some local homeowners' policies.

According to Butch Knowlton, director of the La Plata County Office of Emergency Management, most of La Plata County falls into the "wildland urban interface." WUI areas are defined as places where man is intruding into and developing forested areas. "People think it's beautiful and they want to live there, but they don't understand the risk," he explains.

However, insurance companies do understand the risk and are beginning to stop offering fire protection for such properties. But where they leave off, local professionals and agencies are picking up to help ensure local residents and homeowners are informed and protected.
Partnering with other agencies, Knowlton hosts workshops that discuss wildfire preparedness and the changes in the insurance industry. Partnering agencies include the Forest Service, Bureau of Land Management and Durango Fire and Rescue, as well as wildlife mitigation professionals and Fire Wise Council of SW Colorado.

John Westrup, president of the Wildfire Mitigation Professionals Association, said the wildfire problem is deceptive, but one residents must take seriously. "Wildfire is a real and dangerous issue here," he said. "You don't realize that it's getting worse until you have a fire."

The biggest culprit is fire suppression. Fire is a natural process – low intensity burns help to clean out brush and ground fuel. However, when left to grow unchecked, fire severity rises to catastrophic levels. "The Four Mile Canyon Fire in Boulder recently was so destructive because there was so much ground fuel," he said. "A few weeks ago, three people died in the Conifer Fire in North Fork."

These fires as well as the 10th anniversary of the Missionary Ridge Fire on June 9, have peoples' attention.

Craig Goodell, Fire Mitigation and Education Specialist with San Juan Public Lands, says the problem affects everyone. "Fire is impartial – it doesn't care if the land is federal, state or privately owned," he said.

The answer is managing vegetation and bringing ecosystems back into balance so they are healthier and more resilient. But such a solution requires widespread cooperation. "We need to have communities that are invested in creating fire adaptive eco-systems," he said.

According to data from Landfire, a joint government agency that tracks data related to wildland fires, in Colorado, an average of 1.5 million acres per year would need to burn under normal (nonsuppression) conditions in order to maintain an ecological balance. In actuality, the last 100 years have seen about 152 thousand acres burned annually, or just 13 percent of what is needed to maintain a natural balance. As one year's excess is added to the next, forests are reaching critical points in energy accumulation and wildfires are increasingly difficult to control.
The problem escalates because we are building more and more homes in the forest, Goodell said. The National Fire Service spends 85 percent of its budget fighting fires on private property. "It's not a matter of if – it's when will there be a fire. Colorado has 1 million people who live in the wildland urban interface and the size is projected to nearly double by 2030."

The Four Mile Canyon Fire in Boulder really brought the issue to the attention of insurance companies: $200 million in losses were incurred even after the Forest Service spent $10 million in suppression. These expenses come out of federal, state and county tax dollars.

Jim Duresky, a local Farmer's Insurance agent and a Nationally Certified Insurance Counselor, defends the insurance companies imposing stricter guidelines on properties in high-risk zones. "Wildfire is the third leading cause of damage in the U.S. Approximately 3 percent of homes are at risk from wildfire, but wildfire claims currently account for 10 percent of claims paid out by insurance companies."

The companies have to stay in business and can't keep sustaining huge losses due to fire damage, he said. According to the International Standards Organization and Property Claim Service, annual losses nationwide have averaged $484 million since 2000.

"La Plata and Montezuma counties have a larger percentage of homes that can and will be impacted by fire damage than the national average," Duresky explained. "The insurance companies can say, 'We really don't want to insure these homes.' They cannot sustain the huge losses and keep premiums low for homeowners not in imminent danger of fire."

Farmers' position on the issue is that homeowners have to accept some responsibility. If fire risk is mitigated properly by removing ground fuels from up to 200 feet around the house; removing combustibles, such as wood piles; and making sure fire trucks have access, they will insure it. He feels that soon a regular inspection program will be a condition of insurance.

Lon Wilkinson, President of the Rocky Mountain Agency in Grand Junction, agrees. "Insurance companies have valid reasons for the changes in the way they do business. We look like the bad guys but the frequency and severity of fires in the Western U.S. have increased dramatically in the last few years. It needs to be a partnership. I've had clients take offense and say, 'You won't insure me because I want to live in the woods.'"

He said residents, particularly people at Lemon, Vallecito and Forest Lakes need to look at their surroundings. If they have three years worth of pine needles on the ground and brush and bushes close to their homes, they need to mitigate for their own protection. "Insurance companies won't insure your house if the inspection shows faulty electrical wiring – it's the same thing with fire mitigation," he said. "It's for the protection of the homeowner, too."

Wilkinson wants the public to know that there is grant money available to help mitigate their property. Pam Wilson, Program Director of Fire Wise, applies for grant money that she then disseminates to communities and HOA's to use for mitigation of common areas. Fire Wise also has a team of volunteer ambassadors who educate communities and help them create fire-protection plans.

Homeowner Ali Sabeti was with Allsate Insurance for 40 years when they cancelled his policy because his home was in a wildfire zone. Sabeti spent $10,000 mitigating his property by removing trees and brush from 200 feet around his house. He had to buy 20 feet of property from his neighbor to comply with the national 200-foot requirement (Colorado only mandates a 50 foot clearance.) " I had to widen my driveway and build a turn–around for the fire trucks. If they can't get out of your property in case of danger, they won't come save your house. They will not risk loss of life to protect a home that is in a high danger area," he said.

The insurance issue is also affecting the local real estate market. Kelly Kniffin, Realtor with RE/MAX Pinnacle, has buyers who want to build in Edgemont Highlands but the insurance company that currently covers their home in Arizona and also does business in Colorado will not insure the Edgemont home because it is in a "risk" area.

As the issue continues to heat up, learn more by attending a Fire Wise sponsored event, "Don't get Burnt Get Fire Wise" at the Fairgrounds on Sun., June 10, 1- 5 p.m.