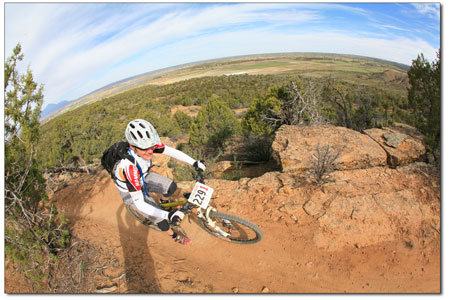 A racer rounds a corner during the 2011 12 Hours of Mesa Verde. Technically in its 10th year, the grassroots race sold out in 36 hours to a whopping 800 riders./Photo by Steve Eginoire
Moab, Durango, Fruita ... Cortez?
12 Hours of Mesa Verde puts Cortez singletrack on the map
by Brandon Mathis

It began as Ride the Lightning, a two-hour cross country race rolling through the piñon and sage outside Cortez. Ten years later, it has evolved into one of the West's most up-and-coming mountain biking endurance events. The 12 Hours of Mesa Verde, now in its sixth year, draws people from all over the region and beyond to ride the infamous rollercoaster singletrack known as Phil's World.

This year is the biggest yet for the race – registration sold out in 36 hours to a whopping 800 racers. And with that comes the promises of a bigger vendor expo, more food, more giveaways and even a couple of Colorado's own favorite micro-brewers pouring liquid carbs to wrap up the day. What could make it better? Disco!

That's right. It's time for a disco in the desert.

"About 25 percent of racers will be dressed up for that," said Paul Adams. Adams wrenches at Cortez's Kokopelli Bike and Board, a race sponsor who also will be lining up at the starting line. He said the race itself is a blast, but people come just for the trails.

"Every trail has its pay off, and the Rib Cage is it," he said about the notorious whoop-dees toward the end of the course. Adams, like others, knows he is lucky to have such prime riding real estate so close, yet off the beaten path.

The man behind the scenes, also the guy that blows by you on the trail like you're sanding still, is Shawn Gregory, local endurance racer/maniac and owner of Tuffy Security Systems. When he's not running his business, he's out on some trail for who knows what extended amount of time. He recently finished third in two of the Southwest's other relentless endurance events in Arizona, and last year he raced 75 others along the Colorado Trail. Yes, as in all the way from Denver to Durango. He finished in less than six days.

Oh yeah, not only does he prefer to race solo, but he races on a singlespeed. Yep: one dude with one gear.

It's safe to say this guy can ride.

Gregory plays a big role in the racing and biking scene in Montezuma County. He is a key player in building trails, contributing countless hours to development on all levels, from attending federal meetings to running a possible route through the desert on foot to see if it will suit fat tire riding. He's a diehard mountain biker and competitor. He even wrote a software program for races for which others are beating down his door.

He said he started Ride the Lightning to get more people to visit the area; it seemed to take off when it went to a 12-hour format. "We wanted to get people into Cortez; it's good for the economy. It's growing. I used to have to tell people in the biking community that I lived by Telluride or Durango, but now I can say Phil's World and people say, 'Oh yeah, I've heard of that.'"

Gregory said that 12- and 24-hour events are more like a small festival of biking culture. "It's a bigger to do. You don't have to show up, race for an hour and a half and leave right afterwards. You're hanging out with people and cooking on the BBQ and drinking a beer."

Gregory says that these events, which offer team categories, are a great introduction to racing, making it less intimidating when you have teammates out on the course. He did admit that lapping a course while solo can offer a temptation to throw in the towel.

"One thing that makes the 12 or 24-hour races difficult is that every hour and a half or so there's a lawn chair and a cold beer," Gregory said. 4
"There's always that option there, and it would be easy to stop. So, mental toughness is super important."

Gregory maintained that the mental rigor is almost as hard as the physical demands of endurance racing. A nine-time veteran of the 24 Hours of Moab, he said he was drawn to endurance racing because he seemed to have a knack for it.

According to him, it's all about refueling and maintaining a level of intensity that allows you to recover while in the saddle, but after a while it's just about finishing.

"After you get about half way, you just keep going. Somehow, you just keep maintaining energy and ride on through to the end," he said.
Not long after racers work hard to finish their 12 hours, their $75 registration fees go to work. All proceeds from the 12 Hours of Mesa Verde go to an Southwest Open School, an alternative high school in Cortez, and the Piñon Project, a local nonprofit organization for at-risk youth.
While the race has drawn some big names, like John Tomac, Greg Herbold, Julie Furtado and Ned Overend, it's the unsung heroes behind the scenes that bring it all together. Gregory said that unlike many other races, this one is a result of people taking an initiative to make it happen.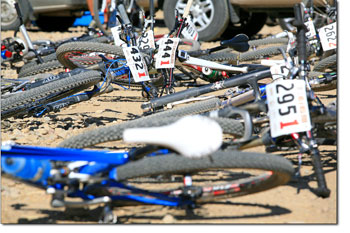 "There are a lot of people who just step up and offer to help. It's one of the things that makes the Mesa Verde race so good," he said.
While Gregory may be out scouting new possible trails, riding for days on end and tweaking software for mountain bike racing, his wife Dani, also a fat tire fanatic, is charged with running the Kokopelli Bike Club.

"The biggest reason for the club was to hold onto the land," said Dani. She said before the club got involved, the state was threatening to close access to Phil's World. Riders promptly organized and set out to lease the land from the state.

"Now we have a good relationship with the Bureau of Land Management," she said. "And as long as we're good stewards of the land, we can do things the way we want."

While the trails have long been a result of local sweat and tears, more recent trail development has been aided by the likes of the International Mountain Bike Association and Durango's own Trails 2000.

Dani said that user fees and club costs go primarily toward insurance and the lease. She added that when developing the idea for a 12-hour race, part of the decision was based on marketability.

"When we turned to a 12-hour race, we were looking at marketing outside the Four Corners. It's called Mesa Verde to help associate it with where it is," she said. "Six years ago, nobody knew what Phil's World was."

Scott Darling, co-owner of Kokopelli Bike and Board, said he used to ride at Phil's World with the elusive Phil himself. Although much of the original singletrack is no longer ridable, he said it was largely a loose network of sand traps and linked trails that was hard to follow. A far cry from the sweet ribbons of buff dirt laid out for riders nowadays.

"I actually grew up riding here," Darling said. "It was really just a bunch of stacked sticks and rocks and skulls hanging in trees. You'd have to find the trail, and it was super sandy."

So, even more thanks go to the members of the Kokopelli Bike Club, not only for what they have done, but what they are doing. There are more trails proposed, and more trails equals more fun.

"We're trying to get them to understand," said Dani about federal land agencies like the BLM, "and look at Moab or Fruita, if you build good trails, it's good for the community."

She said that the club is currently doing more trail advocacy than trail building, but new trails are certainly in the works; miles and miles of new trails. In fact one proposed idea at Phil's will create new parking areas and two more significant loops to the northwest. More mileage is also proposed right outside Dolores, skirting along McPhee Reservoir and heading into the national forest.

Everyone agrees, the Cortez bike scene is growing. The race is booming. Bikes are selling. New improved trail maps are helping (Gregory is also the producer of area trail maps, what he calls an "out-of-control hobby") and people are scouting the riding while deciding on moving to the area.
"It used to be that if you saw someone out on the trail, chances are you knew them," Gregory said. "These days the parking lot is full of out-of-state plates, and the trails are packed with people from all over."

As race days rolls near, a mini tent city will grow from the gravel parking lot at the Montezuma County Fairgrounds. There will be food, beer, coffee, prizes and a live video feed, all in the shadow of Mesa Verde National Park. But the costumes alone will probably be worth the trip.

"We just want to put on a good event," said Gregory. "And get people into the community. It takes trails for people to get out and ride and that's what we want and that's what we're trying to do."
The gun for the LeMan's style start for the 12 Hours of Mesa Verde goes off at 7 a.m. Sat., May 12.
For more information on the race or how to get involved with supporting new trails in Montezuma County, visit http://www.kokopellibikeclub.blogspot.com/