Glory days, craft brews and FDR
by Chris Aaland

"She's Crafty." I played that song while trying to cook up a muse for this week's Top Shelf column. When writer's block sets in, there's little you can do to chase it off. A lead for the Shelf should have been really easy to write this week. After all, Shelly and I celebrate our 10th wedding anniversary on Friday, which means we'll probably get a sitter for Otto and I'll drop a few Ben Franklins for sushi and cocktails. But celebrating has been difficult lately for my family. Christmas, New Year's, Valentine's Day and all three of our birthdays were bleak affairs this go-around for obvious reasons. Still, my wife and I have never been closer … yet never so distant.
Strangely, I found myself sitting around a T.G.I. Friday's bar in south central Minnesota last Friday night not celebrating Star Wars Day (May the Fourth be with you) nor Cinco de Mayo Eve (apparently a big holiday in its own right in Mankato), but crying in too many Sangrias and cervezas over Baby Gus, my stepmom Pat and, oddly, MCA. Bryant Liggett had texted me earlier that afternoon that Adam Yauch of the Beastie Boys had died of cancer at age 47. I wanted to play "Sabotage" as loud as I could on my iPod … only I hadn't ripped my "Ill Communication" CD yet. So I settled for the first album. And hence, the Beasties' masterful sampling of the guitar riff from Led Zeppelin's "The Ocean" resonated between my ears. I suddenly pictured myself at Drown Night at the old Party Time Chapter II in Durango's South Side, circa 1987. Five bucks got you a pitcher, all the 3.2 Meister Bräu you could drink and an obligatory Beastie Boys song every half hour or so. Party Time's playlist was heavy on Ozzy, Bon Jovi, Run DMC and the Beasties. It was 1987, after all.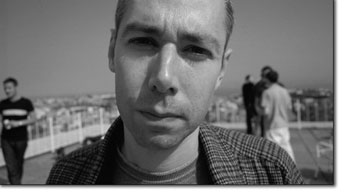 Adam Yauch, circa the "Sabotage" era. Yauch died last week at the tender age of 47
So I tipped one down for MCA and saluted my youth. Hell, I even opened my alt-country radio program with "Sabotage" this past Monday. Bruce Springsteen may have been in his early 30s when he wrote "Glory Days," but I've found I'm visiting that neighborhood quite a bit as a 40-something.
"She's Crafty" also applies to our local craft brewers. American Craft Beer Week is upon us once again from May 14-20. This time around, we have some special hardware to celebrate. Local brewmeisters took home not one but two gold medals at the ninth annual World Beer Cup in San Diego last week. Congratulations and a hearty sláinte are in order for Steamworks (Berliner Weisse took top honors in the German-style sour ale category) and Ska (Steel Toe Stout won gold in the sweet stout category). In fact, that's two straight major victories for Steel Toe, which also won gold at last fall's Great American Beer Festival in Denver.
Some sudsy stats to share with all y'all: This year's World Beer Cup field featured 799 breweries from 54 countries and 45 U.S. states. 3,921 beers representing 95 beer styles were entered. Judges presented 284 awards. Colorado brewers took home 27 honors, second only to California's 55. And, if you count Telluride Brewing's gold medal (Face Down Brown in the American style brown category), the San Juan Mountains took home 3.16 percent of all gold medals. Round that up to 3.2 and I'm back at Party Time Chapter II, circa 1987. There's that Zeppelin riff again.
American Craft Beer Week means more shenanigans. The Durango Bootlegger's Society (Carver's, Durango Brewing, Ska and Steamworks) always throws a big Declaration of Beer Independence party and this year's no different. Mayor Doug Lyon signs legislation to make this all official and tap the first keg of Ska's special barleywine at 5 p.m. Tuesday. A special Beer Trivia Night follows. Rather than Ted Holteen boring you with questions about popular culture, Ska's Dave Thibodeau will test your knowledge of all things beer. Ska also hosts Happy Hour Yoga from 5:30-6:30 p.m. Monday — a free pint and a free one-hour yoga class! And the Bodo boys also host the fourth annual Ska Brewing Great American Beer Festival's Pro-Am Homebrew Competition on Thursday and Friday, May 17-18. Vanilla Pop provides live tunes at the awards reception, with the winner to be announced at the brewery around 7 p.m. The winning brewer will be invited to Ska to help brew a commercial batch of their beer for release this fall and be entered in the Pro-Am category of the 2012 GABF in Denver next September.
Lou Grant is in the house! Actually, FDR is. More accurately, Ed Asner, the seven-time Emmy winner who portrayed the Lou Grant character on "The Mary Tyler Moore Show," will be at the Community Concert Hall at 7:30 p.m. Wednesday for the one-man drama, "FDR." In this highly-praised performance, Asner, as FDR, takes the audience through the iconic president's White House years including the Great Depression, the steps leading up to World War II and the war years. He illustrates why the 32nd president was scorned by many and admired by most.
The Summit's slate includes the Robby Overfield Trio tonight (Thur., May 10); an eight-DJ, hip-hop blowout with DJs Treazon, Ras Daws, Distinct, Juan Blanco, Dirty Habitz, Phantom Cloud, Surtafied and Ralphsta on Fri.; the 10th Birfday Partay with DJs Benjamin K, Peter Robot, Make Believe and B-Side on Saturday; a free metal show with Morbid Justice and Flying Donkey Punch on Tuesday; and Wyl Out Wednesday with DJ Dirty Habitz on, well, Wednesday.
Moe's madness this week includes Salsa Night with DJ Caliente at 7:30 p.m. tonight (Thurs., May 10), an '80s dance party (there's that Zep riff again) with DJ Ralphsta and DJ Mateo on Saturday; and Jazz Church from 6-9 p.m. Sunday.
Elsewhere: tonight's Ska-B-Q (Thur., May 10) features singer-songwriter Beth Bonbara; Black Velvet plays the Derailed Saloon at 7 p.m. tonight; and the Balcony hosts "Blues You Can Use" with Pete Giuliani, Richard Leavitt and Max Kelly from 5-9 p.m. Saturday.
Though I couldn't tell you what songs she has on her iPhone, this week's Top Shelf list acknowledges what I think are my wife's all-time favorite acts:
1. Beastie Boys
2. Grateful Dead
3. Lyle Lovett
4. Phish
5. Uncle Tupelo

She had taken the bed and the chest of drawers? Email me at chrisa@gobrainstorm.net.