Happy Chef, Mike Marshall and Hotpricot
by Chris Aaland

Wine and chamber music. That's where it's at this week. Sadly, I'll miss most of it. By the time you've read this, I'll have set foot in Mankato, Minn., chaperoning the Fort Lewis College softball team at the NCAA playoffs.
The Skyhawks earned an automatic bid by winning the RMAC championship last weekend in Golden. I also traveled on that one and must've become their good luck charm. So it's off to the land of my people — Lutherans and Norskies and Swedes, oh my — to eat casseroles, drink bottomless cups of coffee and listen to big, yellow balls clank off Easton bats. And get a chance to visit the original Happy Chef restaurant, once one of the Midwest's mightiest chains. A Paul Bunyan-sized, creepy-looking uncle of Azar's Big Boy once waved a giant wooden ladle welcoming travelers into parking lots of all Happy Chefs.
Today, sadly, he only greets customers at the Mankato mothership. But I've read that it's a hot spot after the bars close down. Chicken fried steak, biscuits & gravy, mashed potatoes to sop up the suds. A pilgrimage will be made.
You? You'll be stuck here. Fortunately, the sixth annual Durango Wine Experience is a-happening Thursday through Saturday. That means three days of educational seminars, wine dinners, unique tastings and hundreds of wineries, artisan spirits and craft beers. And lots of Motrin sales. Let's face it: wine hangovers are the worst. Beer hangovers? You just feel bloated, fart all day long and get over it. Too much vino, and you'll wish you were never born. You'll feel like somebody slammed an ice pick between your eyes. If you hurl the morning after, I've been told by reliable sources that it tastes something like rotten Smucker's grape jelly mixed with pickled herring. Jack Rabbit Pale Ale and green chile cheeseburgers don't have the same effect.
That said, I'm always game for anything that pairs fancy booze with tasty morsels from some of Durango's Wine Spectator-acclaimed restaurants. This event quietly keeps getting bigger and better, so I highly recommend it. Visit www.durangowine.com for more information and please … change out of the Carhartts and trucker cap that you wore to the Ska-B-Q. This is a classy affair.
Mike Marshall is no stranger to the Community Concert Hall. He's played here before with NewGrange (remember them? Tim O'Brien, Alison Brown, Darol Anger, Todd Phillips, Phil Aaberg and Marshall) did a pair of shows there back in the late '90s. He also had a memorable evening there with Edgar Meyer some seven or eight years ago. And Marshall and Anger once accompanied the Swedish folk group, Väsen. Now he returns with the Turtle Island Quartet, a group that won Grammy Awards for Best Classical Crossover Album in 2006 and '08. Turtle Island honed its chops in chamber music, a genre that essentially turned massive orchestras into smaller string ensembles that could play parlors for the rich and famous of 18th and 19th century Europe.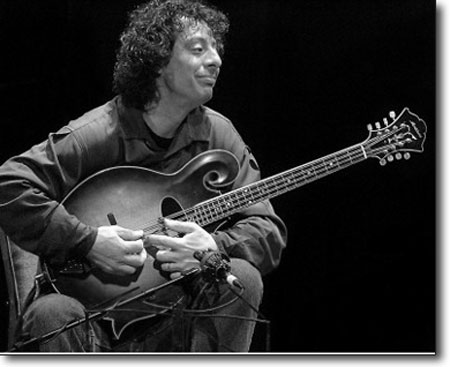 Leap forward a couple of hundred years, and some of the world's top classical musicians get paired with Marshall, best known for his virtuosic abilities on mandolin, guitar and violin in such forms as bluegrass, newgrass, folk, jazz, Gypsy and Brazilian Choro music. He was part of the original David Grisman Quintet, after all. So when Mike Marshall and the Turtle Island Quartet play the Community Concert Hall at 7:30 p.m. Wednesday, expect a crowd that will range from classical music buffs to twirling hippies waiting for the inevitable Marshall jam … something akin to Thurston and Lovey Howell going to the Renaissance Fair while Spinal Tap belts out "Stonehenge."
The Abbey hosts a three-band bill tonight (Thurs., May 3) highlighted by Random Rab. Emerging from a distinct corner of the West Coast electronic music scene, Rab, who apparently is referred to as "The Master of Emotion," is a multi-instrumentalist and singer who creates tracks that range from trip-hop to classical to Arabic to bass-driven. Doors open at 8:30 p.m., with music by Make Believe and, later, Twilight Circus beginning at 9 p.m. Rab takes the stage at 11.
The Abbey also hosts comedy in the form of Mark Ryan at 8 p.m. Saturday. In the last decade, Ryan has appeared on Comedy Central's "Best of the Improv," on CBS' "Star Search" hosted by Arsenio Hall, at countless major comedy festivals and on CNN, CMT, "The O'Reilly Factor," "Maury" and "Bob and Tom." His three comedy albums get regular airplay on Sirius/XM comedy channels. Regional comedian Brett Crandell is also on the bill.
Moe's madness this week includes Salsa Night with DJ Soltron at 8 p.m. tonight, dancing to the tunes of DJ Bram at 9 p.m. Saturday and Jazz Church from 6-9 p.m. Sunday.
The fourth of May marks May's first Friday, which means another Firkin Friday at Steamworks. This month's cask — Hotpricot — will be tapped at 3 p.m. sharp. Head brewer Ken Martin calls this one, "hot, sweet and strong. The base is our Ale Diablo, which is already a strong, golden ale, and we've fermented it with wine must from Gewürztraminer and Riesling grapes." Assistant brewer Spencer Roper adds, "We conditioned it with apricot and peach puree and a blend of fresh roasted Hatch, Scotch bonnet and poblano chilies. The result should be a very complex Belgian strong ale with the light fruity sweetness of apricot and a slight chili flavor and spiciness." Firkins usually don't last the day, so get there early for this one-of-a-kind brew.
Also on tap this week: The Southbounders, a bluesy side project of Kentucky Deluxe, jams at tonight's Ska-B-Q; the Kirk James Blues Band brings boogie to the Billy Goat Saloon in downtown Gem Village at 9 p.m. Friday; and Black Velvet does the Diamond Belle at 5:30 p.m. Friday and 6 p.m. Saturday.
I'd be smart to check out the local music scene up in the North Country. Often overlooked, Minnesota is truly a musical hotbed. This week's Top Shelf list recounts some of the best from the Land of 10,000 Lakes:
1. Bob Dylan
2. Hüsker Dü
3. The Replacements
4. Prince
5. The Jayhawks
6. Soul Asylum
7. The Andrews Sisters
8. Eddie Cochran
9. Dr. Dimento

We'll just put some bleachers out in the sun? Email me at chrisa@gobrainstorm.net.