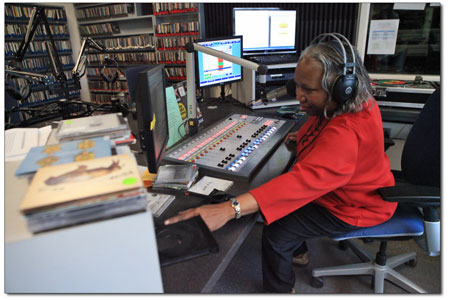 Gail Harris works the controls during her KDUR rhythm and blues show. When not DJ-ing, Harris is the highest-ranking retired African-American female officer in U.S. Naval history./Photo by Steve Eginoire
Captain of her own destiny
From combat to intelligence gathering, Gail Harris has done it all
by Stew Mosberg

There are many former military personnel in Durango. However, there is only one who retired as the highest ranking female African-American officer in United States' naval history; that would be Captain Gail Harris.
Born the eldest of three children into an impoverished but nurturing Newark, N. J., family, Harris knew from age 5 that she wanted to be a military officer. The catalyst for that early revelation came while watching a movie on TV with her dad.
As Harris relates it, in one scene from 1944's "On a Wing and a Prayer," actor Don Ameche briefs his WWII flight crew about their mission in the Battle of Midway, America's turning point in the war against Japan. Pointing toward Ameche, the younger Harris cried out, "Daddy, that's what I want to do when I grow up!" Rather than snicker or attempt to dissuade his precocious daughter, James Harris encouraged the bright, introverted youngster to follow her heart. She never let go of that dream and eventually left graduate studies in 1972 to enlist for what would become an illustrious 28-year career in naval intelligence.
Being first in many endeavors throughout her life, Harris is currently a senior fellow for the Truman National Security Project and is frequently called upon as a motivational speaker. As if that wasn't a full enough plate, she also DJs a KDUR rhythm and blues radio show Wednesdays from 6 - 8 p.m. She also writes "GailForce," a blog on defense topics for the Foreign Policy Association (
www.fpa.org)
and not so incidentally, is a best-selling author.
Wanting to educate the public about the government intelligence community, Harris wrote a book chronicling her life experiences. In addition to its4 being an educational resource, she hopes the book will encourage young people to consider a career in the military. In A Woman's War - The Professional and Personal Journey of the Navy's First African-American Female Intelligence Officer, Harris beseeches readers to pursue their dreams as she did, even in the face of great odds. However, the nonfiction work is not merely a self-help book. The candid contents also inform the public about how leaders make tactical decisions in times of national emergencies.
Harris in full regalia. During her decorated 28-year Naval career, she played a strategic role in intelligence, earning two Battle E ribbons.
Like most first-time authors, Harris had a hard time getting her book published, but in her case it was made even more difficult because of the high-level security clearances she held during her time in the military. "I had to have the book approved by the Pentagon security gurus before I could show it to anyone," she acknowledged. She finally found a publisher in Scarecrow Professional Intelligence Education Series (or S.P.I.E.S.) and the book is available at Maria's Bookstore.
Discussing her active duty functions while steering away from classified information, Harris says that when mentioning "military intelligence," most people automatically think of the CIA but, she cautions, "The Central Intelligence Agency is just one of 16 intelligence agencies; the vast majority of which reside within the Department of Defense."
She admits that one of the motives for writing her book was "To give the public insight into a world most of them and (the) media are unaware of."
During her tenure, Harris played an integral role in gathering strategic intelligence in some of the world's most contentious conflict areas including Central America, Kosovo, the Middle East, the North and South Pacific, and Iraq during Desert Storm, where she was part of Central Command. There were times during that operation when she feared for her life; an episode that would recur several more times while serving in the armed forces.
Despite a career being in the thick of things, one of Harris' grimmest affairs has been her battle with Graves Disease. The autoimmune condition attacks the thyroid gland, which regulates metabolism. Eventually, she has most of her thyroid removed, leading to a constant physical and mental struggle to stay on active duty. To keep within the Navy's accepted weight range, Harris had to limit herself to a 500-calorie-a-day diet and maintain a rigorous exercise regimen. Only fierce determination kept her in the service, and it took an incredible 13 years before the illness was accurately diagnosed and properly treated.
The agencies she has been involved with throughout her career represent a plethora of familiar, as well as exotic, acronyms: SAC, NORAD, NSA, EUCOM, and the tongue twisting COMPATWINGPAC (Commander Antisubmarine Patrol Wings Pacific). Her tours of duty are a testament to her fortitude and leadership as well as the respect she garnered from her superiors.
A vast number of medals and commendations graced Harris' uniform, but she is most proud of her two Battle E ribbons. "Every year, the Navy gives awards to the best combat units," she explains. "I was in two units that received the award. Both were land-based aviation squadrons. For most of my career women weren't allowed to serve in combat units (and) I loved seeing the expression on the faces of Navy guys who wondered how I got them."
As a female, Harris' combat unit duty was the first in the Navy's history, and it would take another 20 years before it became an accepted practice.
In a career fraught with intelligence gathering and inter-agency intrigue, one would think there was no place for prejudice, yet her being a woman and an African-American often made her life in the military difficult and filled with obstacles. Ultimately, with the help of less myopic superiors who recognized her grasp of situations on the ground and at sea, she prevailed.
One of Harris' early missions took place during the cold war, where she was ordered to track the Soviet Union's air and sea operations and determine the location of their nuclear submarines and aircraft. Toward the end of her service, the Navy capitalized on her analytical skills and assigned her to monitor a growing threat, which placed her on the cutting edge of the Defense Department's latest challenge: cyber warfare.
It was her experience in how to approach and share the continuous flow of data that helped set the stage for America's most current "combat" mission.
Retiring to Durango in 2006 after a stint in the private sector working for Lockheed-Martin, Harris now spends some of her time on the Board at KDUR as well as in front of the microphone. In addition, she was appointed one of 10 elders to the Fort Lewis College Native American Center, an appropriately bestowed honor because her paternal great-grandmother was a member of the Cherokee Nation and her maternal great-grandfather was a runaway slave given sanctuary by the Cherokees. The story of her fascinating life reads like a novel; it's no wonder a book was needed to tell part of it.