Baptism by fire
They say history has a way of repeating itself, but this is downright uncanny. I mean even neon and Wayfarers took a good 20 years to rear their ugly heads again.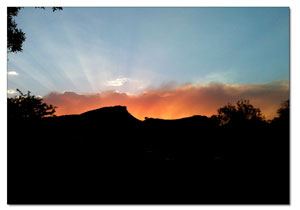 But 10 years was all it took to relive that sinking, helpless feeling of watching a hillside go up in smoke. Sure, given last winter, we can't say that we weren't expecting it. But when my husband texted me photos shortly after 4 p.m. on Friday as he made his way back from Telluride, I couldn't help reliving the shock I felt 10 years ago. As I came around the bend at the bottom of Shalona Hill and saw the surreal scene of 40-foot flames shooting up Missionary Ridge, my heart jumped into my throat and then immediately sank like a bowling ball to the bottom of a sea of despair. And now those feelings returned as I looked at the photo and accompanying text on my phone.
"I think this is where Barry's house is," it read, referring to a thick plume of smoke billowing like a mushroom cloud against the familiar backdrop of Mancos.
Barry was an old friend who we ended up buying our current house from seven years ago. He and his wife, Doreen, traded in city life for the more peaceful climes of Mancos, some acreage and their dream house – an off-the-grid straw bale in the piñon and juniper built from the ground up. But now, that dream appeared to be going up in smoke. (Last I heard, it hadn't. Keep your fingers crossed – we're pullin for ya.)
There were other friends, too. Some in the town of Mancos, and others in Cherry Creek or tucked away along that idyllic stretch of Highway 160.
Perhaps that is what makes the sight of those flames so sickening – when it hits close to home, it's like a punch in the gut.

But after the initial blow, like most Durangoans, I went to bed with an eerily beautiful blazing red sky, only to awake the next morning to the smell of a 7,000-acre campfire, a light dusting of ash and that unshakeable feeling of doom. Once again, I flashed back to the moment almost 10 years to the day that I sat at an outdoor cafe and watched incredulously as grey ash sputtered into my coffee. Despite being a 14-year resident at the time, the concept of an out-of-control wildlife burning mere miles from my home was a new phenomenon, and I was pretty sure the world was ending.

At least that's how it seemed. See, in 2002, Durango was just recovering from the post-9/11 recession (like I said, uncanny, this history thing) when the fires hit.

For me personally, the timing could not have been worse. I had just quit my full-time job with benefits to pursue this crazy hare-brained scheme to start my own newspaper with my recently departed partner in crime, Will Sands.

Little did I know that my last two weeks of gainful employment would coincide with not one, but three wildfires raging throughout the area. As I said goodbye to a regular paycheck, matching 401(k) and health insurance and hello to a town gripped by fear and uncertainty, I wondered if the universe was playing a cruel joke.

Needless to say, it was not exactly prime time to start a business, let alone one that was so flammable. So gainfully unemployed, we bided the next several weeks pretending to be busy so as not to alarm our spouses, who were beginning to grow leery of our plan. We rented some space, bought computers and re-arranged office furniture until the feng shui was just right. And then, when we had exhausted every last option for biding our time, we just watched the skies and waited. Soon, days turned into weeks, and the bright-eyed pipe-dreaming turned into deep, dark soul-searching.
Which was what brought me to cry into my ash-infused coffee that day. Not just because I had spent my last $1.50 on it, but because looking into that cup, I saw the sky falling – literally and figuratively.

Fortunately, the sky fell again a few days later, this time with something I hadn't seen or smelled in so long it almost seemed foreign: rain. It was just a small sun shower, but I remember standing in the Albertsons parking lot (which is odd, since I don't shop there, but then again depression makes people do strange things) and feeling an uncontrollable wave of relief wash over me. I'm pretty sure I just stood there and blubbered like a lunatic, until the cart boy began to wonder if I was having a mental breakdown. I eventually fumbled for my keys and opened the door, where I think I cried some more in the privacy of my own Subaru.

Thankfully, this latest ride on the wildfire roller coaster hasn't been nearly as dramatic. For starters, I've been there, so to speak: walking the fiery depths of my own personal hell (extremely tame compared to most, I know) only to emerge slightly fried but intact. I've learned that as destructive and devastating as fire can be, it's necessary. I'll spare you the dime store psychology on how fire brings new life except to say my 9-year-old son – and other members of the spring of 2003's so-called "fire baby" boom – is living, breathing proof of that.

And this paper, which sprang from the ashes of the Missionary Ridge Fire 10 years ago, is yet another example.

I like to think that in a way, the fire helped to galvanize our steely resolve – as well as that of the entire community – to forge ahead in the face of adversity.

Or maybe it was just luck.

But whatever it was, every 10 years or so, it's OK to raise your eyes to the heavens and say thanks. Even if it happens to be in the Albertsons parking lot and the cart boy is watching.

– Missy Votel