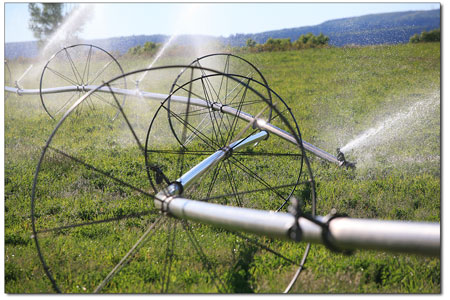 Slide row irrigation rolls along a pasture near the old Fort Lewis site. With 75 percent of the state under drought conditions and the snowpack only 19 percent of its average, it could be a dry summer for Durangoans./Photo by Steve Eginoire
Thirsty for more
Fire restrictions likely as region braces for another hot, dry summer
by Tracy Chamberlin

The Colorado landscape is looking pretty thirsty these days.

Seventy-five percent of the state is under drought conditions, the snowpack is only 19 percent of its average, and forecasts predict the same situation or worse through August.

According to a May report from the National Resources Conservation Service, "as the disappointing winter of 2012 draws to a close, the state's water managers prepare for what will likely be one of the lowest runoff years since 2002."

As Durangoans know, that was the year of the Missionary Ridge Fire, and this year marks its 10-year anniversary.

But no one's ready to push the panic button just yet; current conditions are not the same.

In 2002, La Plata County was suffering from exceptional drought. This year the county is under moderate drought. Ten years ago, 78 percent of the state was under extreme drought. Currently, less than 10 percent of Coloradoans are feeling those kinds of conditions.

Also, the Animas River is running around 1,200 cubic feet per second. That's less than half the average, around 3,000 cfs, but still a far cry from the record lows in 2002 of 500 cfs.

"There's still some moisture out there," said Durango Fire and Rescue Chief Dan Noonan. "But with each passing day, the situation is changing."
The snowmelt came four to six weeks earlier than normal this year, rushing the rapids and depleting the water sources a little early. And the state is trending toward drier and drier conditions.

Three months ago, 40 percent of Colorado was suffering from moderate drought. Last week, it was 68 percent. Now that number has jumped to more than 75 percent.

The northeast part of the state, covering about 10 percent, is under extreme drought conditions. Last week that number was just more than 7 percent. The entire state is considered abnormally dry or worse, and with each passing week it continues to spread.

On Tuesday, the Bureau of Land Management and the National Forest Service announced Level 1 Fire4 Restrictions for several Colorado counties, including San Juan and Ouray. La Plata County was not on that list; however, local officials are currently discussing the issue. Noonan said county officials are hopeful to put Stage One fire restrictions in place as soon as possible.

According to the San Juan National Forest website, fire danger is high, and Level 1 Fire Restrictions are "probable" starting Saturday.
The fire and burn restrictions in these areas affect how and where to build campfires, smoke, and use combustion engines, stoves and lanterns. Fireworks, flares and other incendiary devices will also be prohibited.

As for the Durango Fire and Rescue Authority's Open Burn Program, scheduled to start June 4, it might have to wait. All open burn permits will be terminated under Stage One fire restrictions and residents need to reapply with the DFRA.

The department is keeping an eye on the current situation, and already has plans in place to deal with the dry weather that comes every summer.
Each year the department hires seasonal workers to fight wildfires, both locally and nationally.

According to Noonan, roughly 1,800 people came to Durango to help fight the Missionary Ridge Fire 10 years ago, and the department tries to return the favor. Currently, one engine company and one tanker are helping battle the massive Gila fire in New Mexico.

Also, since 2002 there has been greater attention on public education and prevention.

Noonan said the community is leaps and bounds from where it was back then. Programs like FireWise, which focuses on fire prevention and public awareness, and its Ambassadors, a volunteer program for neighborhoods and communities, came out of the ashes of the Missionary Ridge fire.
"(Residents) just need to be ever-vigilant," Noonan said. "… be prepared when it does start. Not if, but when."

The seasonal outlook from the U.S. Drought Monitor predicts that drought conditions will persist or intensify for much of the state and the southwest.
And they're not the only ones using the word drought when talking about the region.

The National Weather Service Climate Prediction Center reports "persistence is expected across the drought areas of the western U.S. (and) … redevelopment of drought is possible in southwestern Colorado."

But not all the data is so dry. The National Resources Conservation Service reports reservoir storage in the region as high as 119 percent and 112 percent of average statewide.

Durango gets water from several sources, including the Florida and Animas rivers. Lake Nighthorse is another potential source and since residents voted to buy into the Animas-La Plata project last year, they'll have another option in the future.

City Manager Ron LeBlanc said no water restrictions are being implemented at this time within the city; however, officials are keeping an eye on the situation.

The city has a water management plan in place and officials intend to look to that plan for direction on future decisions.

In the meantime, there are plenty of things residents can do save water now. He said the city wants to let residents know what they're anticipating this summer, and they always welcome voluntary cooperation.

Number one on the list is water used for landscaping. "Watering lawns is something people can control," LeBlanc said. "… how much and when you water."

He suggested drought tolerant plants and xeriscaping using water-saving designs and materials.

So until the rains come, vigilance and preparedness is the focus. And everyone will be keeping an eye on the skies.