Slow Food takes root in Somalia
by Ari LeVaux
Somalia is a tough place to build a community garden. Between drought, warlords, a near-absence of infrastructure and a prevailing mood of powerlessness, it takes commitment, and ideally some help. Sid Ali Mohammed, 65, and Mohamed Abdukadir "Mudane" Hassan, 26, have both. They've managed to build 15 community and family gardens in Somalia as part of Slow Food's "A Thousand Gardens in Africa" project. But it hasn't been easy.
"Our region is controlled by the terrorists Al-Shabaab," the two farmers explained to me via email. "We have lacked central government since 1991. Everything is collapsed and destroyed."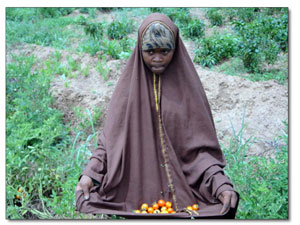 Gatherings are frowned upon, severely, by Al-Shabaab, which makes growing food cooperatively problematic. But so far the farmers have not been harassed.
In December 2011, with several gardens already up and running, Sid Ali and Mudane formed a Somali Slow Food chapter, or convivia. Their first gathering was akin to a summit meeting for leaders of the various nascent gardens. Information was exchanged based on experiences in the various gardens, and roles were assigned in service of future goals.
Photos of the meeting show a group of wary-eyed men in worn clothes, sitting apart from a group of women, their stoic faces surrounded by hijab. "You can't stand with female in the public areas, there is penalty always," they wrote. But on the farm, when a well is being dug or a melon is busted open, mixing can happen.
The Slow Food movement began as a protest against the construction of a McDonald's at the Spanish Steps in Rome, in 1986. The protest, and values behind it, resonated and spread quickly, with convivium forming in many countries, initially in the developed world. Slow Food quickly came to represent many things in many places, but the tribes were united in the pursuit of deep pleasure from good food, and a tendency to think about it. A lot.
As the movement took on a life of its own, the original protest's organizer, journalist Carlo Petrini, wrote books and essays in flowery prose that explored the concept of slow food, including its political, moral, intellectual and ecological implications. The term is meant to symbolize an unhurried life that begins at the table. It's a playful way of way of saying "no" to fast food, and all it stands for.
In 1994, Slow Food members from around the world began meeting every two years in Turin, a city in northern Italy near Petrini's hometown of Bra. The gathering became known as the Salone del Gusto, or "Hall of Tastes," and became an increasingly commercialized destination for epicurean overload. One could spend hours comparing 30-year-aged balsamic vinegars, days gorging on prosciutto or smoked pig face, or pass a timeless moment contemplating a poached egg from a duck raised on goat milk.
Beginning in 2004, the biennial Salone was joined by Terra Madre, an international gathering of farmers and food activists. These two expressions of Slow Food's split personality have appeared side by side ever since, in autumn of even-numbered years, separated only by a short section of blacktop between adjacent buildings. In contrast to the Salone's decadence, Terra Madre is all business. Housed in the building that once held Turin's Olympic ice rink, it's furnished with little more than meeting room dividers, chairs and translation headsets. People of myriad races, many in traditional dress, gather in groups, making plans and sharing information. I've attended twice, and it has the feeling of a college campus during finals week, buzzing with the sheer volume of information being absorbed. People are sleep-deprived, often catching naps on the patch of grass out the side door.
Sid Ali Mohammed, a longtime Somali farmer, came to Terra Madre 2010, where he learned of Slow Food's A Thousand Gardens in Africa program. He returned home on a mission, and enlisted his protégé Mudane, a recent graduate of agriculture school, to help him create Slow Food gardens in Somalia.
In a recent phone conversation, outgoing Slow Food USA President Josh Viertel told me the Thousand Gardens project began in Kenya, as a reaction to the prevailing model of foreign development.
"Kenya has been the recipient of the most pressure around starting what they call 'a new green revolution in Africa,' which is really about importing debt, genetically modified foods, fertilizers and pesticides. Slow Food leaders in Africa said, 'there's a better way to do this, and we want to build a thousand gardens in Africa to prove that Africa doesn't need an industrialized, export-oriented agriculture to feed itself.'"
With support from Slow Food USA and Slow Food International, an African gardens handbook was created, with input from farmers and elders across the continent. Its purpose is to help Africans develop gardens for home, school and community use that conform to the core Slow Food principles of "good, clean and fair" food.
"Rather than saying you should plant this variety and water this way," Viertel says, "the handbook talks about the importance of traditional crops that are adapted to place, and the importance of biodiversity and the culture and food traditions of the community.
"Our expertise is in convening and finding ways for knowledge to come to the surface. We're hands-on in creating an environment where folks find the expertise they have in their own traditions."
Slow Food USA and Slow Food International are jointly raising $1,300 for each participating garden, and to date the Thousand Gardens project is about halfway to its goal. Viertel's work as Slow Food USA president during the last three years is credited with many of the organization's advances on emphasizing the "clean and fair" pillars of its philosophy. Though he's moving onto other pastures, Viertel is confident that once the thousand garden mark is hit, "that will be just the beginning." Those thousand gardens, he says, will create an impetus to plant "millions."
The rains have been decent in Somalia this year, and the gardens have been productive. The 178 community members that tend them have been rewarded with squash, beans, greens, okra, tomatoes and onions, among many other fruits and vegetables.
This being an even-numbered year, the Salone del Gusto and Terra Madre will again co-convene in Turin, from Oct. 25-29. Sid Ali Mohammed will be back at Terra Madre, this time with Mudane at his side. They'll be sharing what they've accomplished in Somalia in the previous two years, and comparing notes with farmers elsewhere in Africa. And maybe, if there's time, they'll sneak off to Salone del Gusto and sample some prosciutto.