Living artfully
Local artists join forces to help Durango Friends of the Arts
by Malia Durbano

Durango has more than its fair share of causes and charities, but when it comes to funding artistic endeavors, there is one place local look first. For the last 22 years, Durango Friends of the Arts has helped instill a love and appreciation of the arts among local audiences. And now, local artist are joining forces to help give back.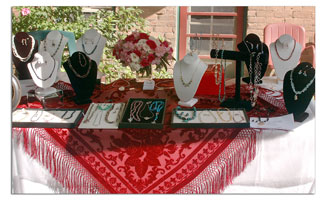 Handmade jewelry, such as this, is just one of the many offerings that will be for sale at the Durango Friends of the Arts Arts Market, held Sat., July 21, at Edgemont Ranch. The event is a fund-raiser for the DFA as well as a way for artists to get their works out to the public./Courtesy photo
On Sat., July 21, their works will be displayed at an Artists Market from 10 a.m. - 3 p.m. at Edgemont Ranch Picnic Area. The inaugural event is a fund-raiser for the group, with artists paying a fee to participate and contributing 25 percent of proceeds back to the organization.

DFA member Miriam Palmer said 42 artists will show at Edgemont Ranch offering a wide variety of art, from jewelry and ceramics to photography, collage and ostrich egg scrimshaw. And of course, there will be water colors, pastels, acrylics and oils.

"One of the main goals of this event is to provide a venue for more of our local artists to show their work," said Palmer. "We have a number of award-winning artists who have shown in juried shows in the area as well as other fabulous artists who just need exposure.
Just the Facts
What: Friends of the Arts Art Market
When: Sat., July 21, 10 a.m. - 3 p.m.
Where: Edgemont Ranch Picnic Area
Misc.: Art for sale as well as a children's section, hot dogs, drinks and music by Stillwater Foundation
For info.: www.durangofriends.org
Exhibiting artist and committee member B. Summer Lynch explains the idea for the event came in response to a need to do something for artist members. "There are so few venues in town for artists to exhibit. This is a nonjuried show where artists can display their whole body of work – not just one or two pieces. This is a great opportunity for people to meet and talk with the artists and to expand their understanding of art as well as for the artists to meet one another."

The other main reason for the event is to raise funds for the 100 percent volunteer-driven agency, which awards grants to community-spirited visual and performing artists and groups alike. To date, Durango Friends of the Arts has given more than $380,000 to the community via its grant fund.
Donating approximately $40,000 a year, the list of grantees includes the Dumpster Beautification Project, Docent Program at the Durango Arts Center, Digital Arts Program at Animas High School, Cowboy Poetry Gathering, Music in the Mountains Goes to School, San Juan Symphony Youth Outreach Program and many others.

"We believe that supporting the arts is important," said Cindy Cortese, co-chair of the DFA's Grants Committee. "Since most of the funding has been cut for programs in schools, we think it's important to fund programs that expose children to the visual and performing arts."

Jeff Solon, a local musician and music teacher, agrees, saying such grants help bring live musical performances to kids. "Kids do not go to concerts or learn to play an instrument unless they have an appreciation for live music," he said. "It's important for kids to see and hear live music – it's totally different than watching it on TV or You Tube."

Solon remembers being totally "blown away" seeing live musicians at a summer camp he attended as a boy. He came up with the idea of doing school assemblies years ago and used Durango Friends of the Arts as a funding source. He brings a quartet to schools educating the students about the instruments and the process of making music. "We play up tempo swing, dream music and then get the kids up dancing and clapping to some wild boogie-woogie," he said. ""I want to get kids fired up to play music, create pottery, paint, dance, sing or write poetry – to live artfully."

And of course, what would music be without dancers? The DFA has funded Suzy DiSanto's Take the Lead Ballroom program for seven consecutive years. Di Santo works with all the fifth graders in 9-R school district for six weeks a year. The kids learn salsa, swing, tango, meringue, fox trot and waltz. Working with up to 60 kids at a time, DiSanto combines lessons in respect, team work and leadership into the dance instruction.

"The schools and students love this program and it is totally free to the schools," she said. "If it cost the schools money, it probably would not exist. This group is awesome and does amazing things in this town."