Reggae rebirth, hay fever and Harpeth Rising

by Chris Aaland

I'm not sure if I'd actually ever been to a reggae concert before last weekend. Sure, I'd seen local acts like A Dub Rock Band. And there was an epic night at the 2004 Telluride Bluegrass Festival where Michael Franti & Spearhead followed Peter Rowan & Crucial Reggae with the Burning Spear horns. Reggae certainly wafted through the air that night, but other genres from hip-hop to bluegrass, funk to country were also present.
So I packed the Tundra with tarps, rain gear, festival chairs and fishing gear last Sunday and hauled the family back over Lizard Head Pass for the KOTO Doo-Dah and headliner Ziggy Marley. My wife, Shelly, was particularly skeptical. Her opinion of reggae was formed by too many trustafarians listening to the same Bob Marley songs (a handful of which Ziggy obliged her with) for, well, her entire life. It seems a copy of the elder Marley's "Legend" CD was standard issue in the Fort Lewis dorms in the 1990s, when Shelly successfully escaped from her Midwestern Catholic school roots.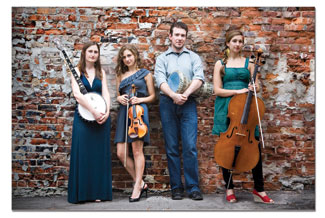 Nashville's Harpeth Rising plays the Trimble lawn this Thursday.
Her viewpoint was further jaded with memories of Sam Bush and Yonder Mountain String Band launching into the universally recognized reggae beat at countless festivals. When a mandolin player would start skanking the rhythmic accents to the off-beat, hundreds if not thousands of dreadlocked twirlers and sparklers would gyrate wildly in their psychedelically enhanced stupors – knocking over our drinks, chairs and children in their overzealous glee.

But Ziggy rescued reggae on Sunday. It wasn't some 60-year-old white guy with a guitar trying to act cool. It was authentic. Sure, a couple of knuckleheads ingested too much goodness over the course of the afternoon (one passed out at Otto's feet), but that's not the point. Ziggy's infectious personality spread positive vibes among the few thousand who gathered to celebrate the day in the muddy field of Town Park.
One of the few regional bluegrass festivals that I've never attended is the High Mountain Hay Fever Festival in Westcliffe. To celebrate its 10th anniversary (Thurs.-Sun., July 12-15), music director Ron Thomason (the mandolin player for the Dry Branch Fire Squad) brought in some ringers: Bobby Osborne & the Rocky Top Express, Laurie Lewis & the Right Hands, John Reischman & the Jaybirds, Heidi Clare (formerly of Reeltime Travelers) and Travers Chandler & Avery County, among others. Several top-flight Colorado bands will also appear, including Honey Don't, the Blue Canyon Boys, Bruce Hayes, and Sons and Brothers. Visit www.highmountainhayfever.org for tickets, schedules and more.
Who doesn't like free? Thanks to the Community Concert Hall and Alpine Bank, there's a free summer concert series each Thursday from 5-7:30 p.m. in Buckley Park. The MacCluskey-Latta World Music Duo kicks things off tonight (Thurs., July 12). The duo consists of Chad MacCluskey (a guitar-playing teacher at Escalante Middle School) and Jonathan Latta (a percussionist and assistant professor of music at Fort Lewis College). The duo's sound is based in jazz and Celtic. No tickets are required – just bring your chairs or blankets and pack a picnic as no concessions will be sold.
One of Nashville's top bands, Harpeth Rising, plays the Summer Music on the Lawn Concert Series at Trimble Hot Springs at 6:30 p.m. tonight. Voted the "Best Local Band in Nashville" by the Tennessean, the four classically trained musicians that make up Harpeth Rising create a distinctively new sound of folk – one that's rooted in bluegrass (banjo and fiddle) but with sprinklings of classical and world, too (cello and hand drums).
The Summit's slate is highlighted by the Saturday appearance of Fuzz-Huzzi, a rock band from Imperial Beach, Calif. Singer/guitarist Allen Camp says their sound is "Southern California rock with an indie feel and a classic rock approach, with a funky, bluesy, alt-vibe." With four albums under their belt, their influences are easily heard: Social Distortion, Foo Fighters, P.O.D., Operation Ivy, Cheap Trick, etc. The Formless open the show. Also on tap at the Summit this week is tonight's Feed the Lion gig and Wednesday's Hump Day De Salsa with Durango's Orquesta de Salsa.
Halden Wofford & the Hi-Beams graced us at the DaddyFest in Durango last month. They return to the area at 8 p.m. Friday when they play the Dolores River Brewery. The quintet is touring in support of its first live album, recorded last winter at Hodi's Half Note in Fort Collins.
Moe's lineup includes tonight's Salsa Night at 7 p.m., Friday Afternoon Club with Poetic Minds at 6 p.m., the Splatterdays Urban Art Show featuring hip-hop and dancing to the tunes of B-Side and Juan Blanco at 8 p.m. Saturday and the weekly Jazz Church freeform jam session at 6 p.m. Sunday.
Bluesman Kirk James is a busy boy this week. First, he goes the solo acoustic show route on the Dalton Ranch patio at 6 p.m. tonight. Then, he joins the Stillwater Foundation's Blues Camp Band at the Derailed Saloon at 6 p.m. Friday. Stillwater's music instructor, Steve Dejka, has drummed in James' blues band over the years and asked the singer/guitarist to be a guest instructor this past week. "This is a good time to showcase some of the young talent in the Durango area," says James. Finally, at 6 p.m. Saturday, he's back doing solo blues at the Mountain Madness Brewing Co. (formerly Sweeney's).
The Lawn Chair Kings triumphantly return to the Balcony for Friday night's happy hour. Music runs from 5-9 p.m., but get there early. The Kings typically pack the joint, rain or shine.
Elsewhere: Solo artist Bruce Mandell brings originals and covers to tonight's Ska-B-Q in Bodo Park; Shane Lane & the Edge Band hold a CD release party at Ska on Friday; Pete Giuliani plays an acoustic happy hour at El Rancho Tavern at 5 p.m. Friday; and Jack Ellis returns to the DoubleTree's Animas River Café at 5 p.m. Saturday.
This week's Top Shelf list gives you warning of five more highlights to the summer concert season:
1. Ray Wylie Hubbard, Abbey Theatre, Fri., July 20.
2. Rosie Ledet, Durango Arts Center, Tues., August 7.
3. Michael Franti & Spearhead, Three Springs, Sat., Aug. 11.
4. Asleep at the Wheel, Community Concert Hall, Wed., Aug. 15.
5. The Split Livers, Ska Brewing Co., Tues., Aug. 21.

Don't be no drag? Email me at chrisa@gobrainstorm.net.