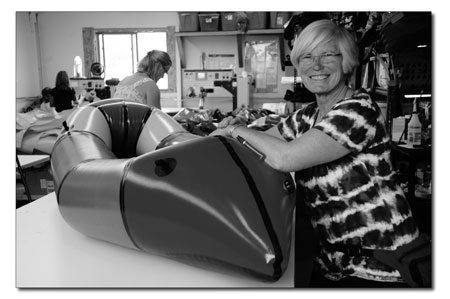 Alpacka Raft owner Sheri Tingey poses at her company's headquarters in Mancos. For more than 10 years, Tingey has been manufacturing the small, sturdy little rafts, which are used by everyone from weekend warriors to explorers of the Alaskan frontier./Photo by Brandon Mathis
Redefining adventure
Colorado raft innovator opens new door to exploration
by Brandon Mathis

"Three quarters of our world is water. Who can resist its call?" reads the website for Mancos-based Alpacka Raft. And so begins the company's mission: to get people in a boat and put them in the middle of nowhere.

According to Alpacka founder and president Sheri Tingey, she wants to bring adventure back to the wilderness, and her portable self-support rafts, aka "packrafts," have been helping do just that since 2001.

Everyone from scientists and renowned explorers to adventurers, film makers and rescue missions have employed her tough little boats from the remote Alaska bush to the farflung reaches of the Amazon jungle and Asia.

Despite their international resume, the rubber boats are welded, glued and assembled right at Alpacka's headquarters near the foot of the San Juan Mountains in Mancos. Employing nine people at any one given time (a few are always off on adventures of their own), Alpacka may be bustling with demand, but the idea of a packraft is hardly new.

"I didn't invent packrafts," Tingey said from Alpacka's headquarters, a campus of utility sheds in a discreet location near Mancos. The main office is organized anarchy, with stacks of paperwork, dry-erase boards and random parts of production everywhere. Photos of Alpackas dropping waterfalls, riding foamy rapids and navigating around icebergs adorn the walls. "The most original we know of was on the Franklin Expedition, looking for the Northwest Passage," she said.
British Naval Captain Sir John Franklin's ill-fated mission sought a route through the Arctic Ocean in 1845 in small "rubber duckies." Later, in World War II, Japanese and American pilots carried another precursor, emergency inflatable survival boats. According to Tingey, when these boats started showing up in Army surplus stores they sold quickly.

More recently, legendary Alaskan mountain man Dick Griffith is said to have used a packraft to descend Mexico's Copper Canyon in 1952 before exposing Alaskan adventure racers to the craft in the 1980s.

Which brings us to the modern day packraft, which started in Tingey's former home of Chugiak, Alaska. Her son, Thor, was a college student in Colorado who spent his summers exploring Alaska's backcountry equipped with whatever portable boats were available. After each excursion, he would return with shreds of the original vessels.

"They were designed to float about 5 feet off shore," said Tingey. "It's not 'if' you're going to sink, it's 'when.'"

With an eye for design – she once had an outdoor clothing business in Jackson Hole, where she is credited with bringing the first hard shell kayak in 1969 – Tingey began working on a better packraft.

"I had always been a boater. I made a lot of ski clothing, climbing and kayak clothing, so this was not a stretch for me," she said.

Tingey found some heavy polyurethane cloth in Anchorage and made some last-minute modifications to her son's raft as he prepared for an expedition in the Brooks Range.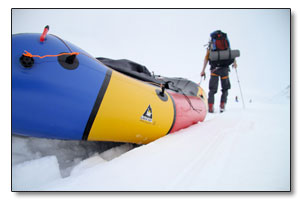 An Alpacka used as a "sledge."/Photo by Joshua Foreman
"We did everything we could to try and make this thing better, and that's what brought on the birth of Alpacka," she said.

As with any great success story, the first round of modifications needed improvement. Thor's Brooks Range outing had been a miserable cold slog. With intensions to run hundreds of miles of rivers, instead he tried to avoid water entirely.

"When he came back, he said, 'Can you build me a better boat?'" Tingey recalled.

The inspiration came at the right time, after a prolonged illness. "It was just one of those magical moments," she said. "I had been looking for a way back into all that I had loved. My health came back, and all of a sudden, there it was. I thought, 'Yeah, I can build a boat.'"

After product testing in frigid Alaskan waters, Tingey developed a crucial design that would set her apart. "I'm a river runner," she said. "All of these boats were designed to float on a lake ... I wanted a boat that could run a river."

With design problems solved, Tingey set out to tackle durability. The boats needed to be tough: no more repairs, no more sinking, no more freezing. "I needed to build them a truck, not some super fragile little thing," said Tingey. "So that's what I did."

After a few more seasons of design improvements and trials and tribulations, the first Alpackas hit the market in 2002. Ranging from the 3-pound Scout, which sells for $525, to the deluxe angler's "Roe Boat," which weighs in at close to 11 pounds fully equipped and sells for $1580, the bulletproof, inflatable boats soon became a tool in a new kind of adventure, redefining what people could do.

Like National Geographic Explorer Roman Dial, whose book Packrafting is considered the go-to guide on the subject.

Other converts included Bretwood Hig and Erin McKittrick, who in 2010 walked out of their Seattle apartment and hiked, trekked and packrafted 4,500 miles to the Aleutian Islands, an archipelago that juts southwest from Alaska into the Bering Sea. On snow, they used their Alpackas as "sledges," pulling their gear behind them.

Soon after their expedition, Dial would string together a more talented and willing team of pain and misery freaks for a portion of Hig-McKittrick's course from Yakutat, Alaska, south into Glacier Bay National Park, along the Lost Coast of the Gulf of Alaska. The expedition involved a mix of frozen tundra and water passages employing beefy mountain bikes equipped with 3½-inch tires as well as Alpacka.

Up for the challenge was Mancos' own Steve "Doom" Fassbinder, a 24 Hour Mountain Bike Hall of Famer and singlespeed force of nature. An artist and carpenter hungry for adventure, Fassbinder had been corresponding with Dial about packrafting the Southwest and instead ended up in coastal Alaska.

Also on board was Grand Junction resident and Alaskan Iditasport legend Mike Curiac. He described the experience simply as "liberating," adding that packrafts will forever change the way he looks at maps.

Meanwhile, 3,350 miles south of Chugiak, it seems the boats have a niche in Durango's own back yard. Fassbinder has taken multiple cycling trips in canyon country, but armed with a boat, his excursions have morphed into a whole new animal.

"The Colorado River, the Green – a lot of those drainages, they're big obstacles," he said. "This idea of packrafts, I could do these trips with my bike and have everything with me, around Colorado, Utah or anywhere. The river's not in your way, it's part of your route."

Among his exploits, Fassbinder has navigated the Maze in Canyonlands National Park. He ultimately made his way to the remote and isolated Dirty Devil River, a seldom-explored tributary of the Colorado River steeped in Western lore as a hideout for outlaws.

He and fellow adventurer Thad Ferrell, of Durango, also recently completed the "Charlie Fowler Tower Tour" to honor the mountain climber who died in China in 2006. The mission entailed biking and Alpacka rafting the sinewy high desert territory along the Colorado/Utah border.
"It was dusk to dawn, full on, every day," Fassbinder said. "We planned it for a year. The more we looked into it, the more we had to packraft to everything."

When all was said and done, the two had covered 375 saddle miles and 80 river miles in just two weeks. Carrying 140 pounds of gear, food and bicycles, they managed to climb 10 towers, rushing to make time, nodding with respect to their hero.

For Fassbinder, it's about creating adventures that are in his own back yard and thinking outside the box. "It gives you the ability to create these adventures that are right under everyone's noses," Fassbinder said.

Back at the shop in Mancos, Tingey and manager Nancy Halls have just wrapped up another busy season, their fifth in Colorado. They now offer eight models, and Halls said adventure racing and international sales are up, with boats shipping to Europe, Britain and Australia.

"It's a good base for us," Halls said. She came to the area to mountain bike before being swept off her feet by water. Now her focus is on the company and she is a believer, having run some remote rivers, including the Dirty Devil. "It's the best damned job ever," she said.

As for Tingey, who came to Mancos to be closer to her mother, the quest for innovation continues with her latest endeavor, a removable spray deck.

Meanwhile, Fassbinder is planning more trips "deeper into areas that are harder to get to. Deeper into yourself, your physical abilities."

Tingey and Fassbinder agree: the lack of people is nice, too.

"It's a whole different perspective on yourself and your priorities," Fassbinder said. "It's good therapy."