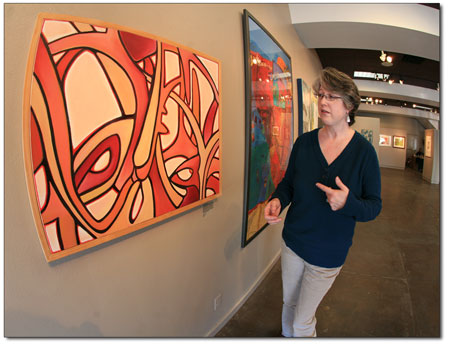 Juror Nancy Harris describes a piece by painter Stephanie Maesmith, which now hangs in the Durango Arts Center's most recent exhibit, "Abstract Views." It is the DAC's first all-abstract show./Photo by Steve Eginoire
Viewing the abstract
DAC's latest show explores the 'unconscious' side of art
by Stew Mosberg

The controversial 1950s art critic Clement Greenberg was arguably the first to recognize Abstract Expressionism's significance. He believed the foundation of "modern" painting was the elimination of all references to the visible world and putting less importance on painting's purely formal elements; the canvas' surface and the colors spread across it. One major star among what is called the "second generation" of Abstract Expressionists, was Helen Frankenthaler, who passed away just a few weeks ago. Not only was she one of the few women who broke the art world's "glass ceiling," she influenced thousands of artists, both male and female, ever since her first triumphant exhibition in New York City.

Coincidentally, the Durango Arts Center recently unveiled "Abstract Views," an exhibition of art by 29 artists, almost all of whom are women.
Asked about the heavily skewed feminine representation, curators Kathy Harris and Joan Levine Russell said they weren't sure why that is the case, but guessed that there are just more female artists in Durango, particularly those practicing abstract art.

As DAC shows go, there have been few, if none, art exhibitions that have been completely abstract in content, so both curators thought it was time to change that. Harris lent her expertise as a museum curator in California, including the well-known Los Angeles County Museum of Art.
While she was surprised by the lack of three-dimensional art submitted to the DAC show, she was pleased by the 97 images that came in for review. The submissions were ultimately culled down to 56 pieces by 29 artists; 23 of them from Durango, with three from Bayfield, and one each from Cortez, Mancos and Ridgway.

The cross-section of work varies in medium, with acrylic and oil being the most prevalent, but photography, glass and printmaking are also represented, with one clever piece of sculptural assemblage by Jenny Treanor.

Those who enjoy art but are not comfortable with abstract work frequently admit they don't know why it is even considered art. For those who fit into that category, it might be helpful for them to first accept that the abstract image usually does away with traditional beginnings, middles and ends. Secondly, as unsettling as that may be, nonrepresentational abstract art is not restricted to recognizable subject matter. And, it is typically about the artists' emotions being expressed via free, unrestrained, almost subconscious execution.

One of the most celebrated Abstract Expressionists, Jackson Pollock, had said, "The unconscious is a very important side of modern art, and I think unconscious drives do mean a lot in looking at paintings."

Harris remarked that the DAC artists, while "not as challenging (to the viewer) or controversial" as some work she has seen in California, are noteworthy for their diversity.

Levine Russell acknowledged that the work is "fairly accessible to look at," and further stated how easy it is for children to accept abstract. "Children just enjoy it. They're not looking for any (hidden meanings) in it.

The duo's original call for entries was limited to original works of abstract art which were not previously displayed at the DAC. All of the work on view with one exception, a piece by Alexis Mclean, is for sale, and cash awards will also be given.
Visitors to the Barbara Conrad Gallery should make a point of picking up the information sheet cont
aining the curator's and artists' statements. It is a valuable guide to the show wherein the artists explain their works or define their interpretation of abstract art. In addition, Harris and Levine-Russell expound on their beliefs and also qualify the rationale behind mounting a nonrepresentational art exhibit in Durango.

"We each perceive the world uniquely," they state, "and art is a reflection of our individual views. 'Abstract Views' explores the myriad ways that 29 local artists see the world through the lens of abstraction."

Levine Russell, a former adjunct professor at FLC, is represented locally by the Diane West Gallery. She and Harris view abstract art in a similar way and incorporated their beliefs into the judging process when selecting the art for acceptance.

In their own words, abstract art, "takes as its subject matter the elements of form, color, line, texture and space. Abstraction also includes art that derives from something in the visible world: a landscape, an individual or a still life, for example, but which is expressed in such a way that the subject may not be realistic or recognizable."
Any of these descriptive terms can be identified in the DAC exhibit and can be an effective way to view the show if you are new to abstract art.
The names of the artists are listed alongside the images including the titles, mediums and pricing. But if you didn't already know the majority of the work derived from a feminine hand, it's a safe bet you wouldn't have a clue. That's not a criticism, nor an accolade, it's an observation.
Gender issues aside, this is a superlative show and worth repeat visits.

"Abstract Views" in the Barbara Conrad Gallery at the Durango Arts Center, 802 Second Ave., runs through Jan. 28. Upstairs at the Friends of the Library gallery is a mixed-media exhibit of work by Andrea Martens exploring the contradictions of space and confinement.