Pat, Willie and Sydney
by Chris Aaland

While pondering mortality too much recently, I found myself staring morality squarely in its face. At my stepmother Pat's funeral last Friday in Colorado Springs (she suffered a massive stroke on Dec. 23 and died three days later), the pastor who officiated the service at a generic, nondenominational mausoleum preached fire and brimstone and refused to let my sister incorporate Willie Nelson's "Angels Flying too Close to the Ground" into a slide show. He told Kristen that he didn't like what Willie stood for. Kristen made the wise choice to not inform me of this until after the pastor had left the building. Good call: I would have probably punched the guy. Pat loved Willie and all that he stood for … and everyone in that room — except for the smug, holy hired gun — loved Pat.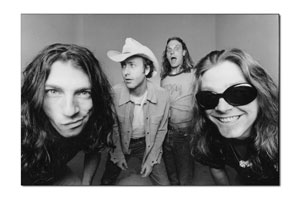 Local favorites The Supersuckers make two apperances this week: Saturday in Pagosa at the Outlaw Snowdown and Wednesday in Durango at the Abbey
Upon return to Durango, I found myself perusing local, national and international blogs about the Sydney Spies yearbook controversy. I wasn't bothered by Spies' photos. Let's face it: kids will be kids. For whatever reason, I thought sporting mid-'80s perm and a tweed jacket while palming a basketball in front of a bunch of hay bales made me look like the coolest guy in the West Denver suburbs. 20/20 hindsight made these pics look silly as soon as they arrived from the studio.
Nor was I upset with the reaction of the 9R administration. For the past 20 years, I've worked at a college that has dealt with more than its share of academic freedom and First Amendment controversies. These folks have tough calls to make, with the wellness of their entire student body often outweighing those of individuals.
No, what irked me were the conservative bloggers who questioned the morality of Spies and her parents, reverting to sexual stereotypes, homophobia and "Christian values" to paint this family as Public Enemy No. 1. Give me a break. An 18-year-old just wanted a glamour shot to be remembered by. Her parents no doubt love her as much as any of us love our children.
So I'll throw biblical verse back at that Colorado Springs preacher and the holier-than-thou bloggers out there. To paraphrase John 8:7, let him without sin cast the first stone.
So drink, dance and make merry, ye fellow heathens. It's a busy week.
The Infamous Stringdusters make their annual trek to the Community Concert Hall at 7 p.m. tonight (Thurs., Jan. 12), when they play a twin bill that includes Elephant Revival. The 'Dusters ride into town on the heels of the release of an excellent new album, "We'll Do It Live." The band's first live album succeeds in capturing their raw energy and musical chops, much more so than the past few studio efforts did. Longtime favorites like "Fork in the Road" and "No More to Leave You Behind" become more powerful, while covers of John Hartford, Danny Barnes and Benny "Burle" Galloway pepper the set. Elephant Revival, an up-and-coming neo-acoustic quintet that labels its music as "transcendental folk," is an added treat. Instruments like the djembe, musical saw, washboard and viola augment traditional folk and bluegrass sounds.
Dance returns to the Community Concert Hall at 7 p.m. Tuesday in the form of the Pilobolus Dance Theatre. After more than 40 years, Pilobolus remains a major American dance company of international influence. With its unique vision of modern dance, this troupe stretches the boundaries of human movement with a dazzling mix of humor, intelligence, physical invention and raw athleticism. And they're named for a sun-loving fungus that, when ripe, blasts off its sporangium with incredible force that accelerates from zero to 45 MPH. Groovy.
It's one busy week at the Abbey Theatre, as it celebrates its third anniversary under current ownership. No doubt the highlight is a Wednesday gig pairing the Supersuckers with Reverend Horton Heat. The former forged an in-your-face sound 20 years ago by fusing punk, metal and country influences through Eddie Spaghetti's irreverent vocals and Dan "Thunder" Bolton's minimalist raw guitar power. The latter took classic rockabilly, roughed it up with punk and polished it ever-so-slightly with elements of Western swing. Like Spaghetti, guitarist/vocalist Jim Heath is among the most charismatic frontmen in alt-country.
Also on the Abbey's schedule are local newgrass heroes Waiting on Trail (Friday), hip-hop pioneers Nappy Roots (Saturday) and the deliciously greasy Southern rock of the Statesboro Review (Tuesday).
Pagosa Springs hosts the inaugural Outlaw Snowdown alt-country festival Friday through Sunday. The three-day event will feature some of the genre's heavy-hitters performing on the Town Park main stage (in a heated tent) from 5- 10 p.m. each night. Additionally, attendees can catch après-ski sets at Kip's from 3-5 and keep the party going at the Bear Creek Saloon — the official after-party HQ of the Outlaw Snowdown — after the show each night. Saturday (the Supersuckers, Lydia Loveless) and Sunday (Band of Heathens, Elizabeth Cook) are the biggest nights.
Bret Mosley & the Guns are back at the Summit at 10 p.m. tonight. Mosley blends the most raw and real elements of Delta blues, roots rock, folk, funk and rap into a cohesive and lively sound. The Summit's weekend slate also includes an Erik Kiefer happy hour from 6-9 p.m. Friday, 2011 DMC world champion DJ Vajra at 10 p.m. Friday, Rupnow & friends from 6-9 p.m. Saturday and Jack Ten High at 10 p.m. Saturday.
Moe's events this week include Saturday's MDS Fresh Jams, which features new, underground Chicago juke music as spun by Michael Dark, Benjamin K, DJ Treazon and DJ Ralphsta. Appropriate dress is suggested. Moe's is also giving away a big screen HDTV in a beer pong tournament tonight.
Elsewhere: Old North State brings its bluegrass/folk mix to tonight's Ska-B-Q at the World Headquarters in Bodo Park from 5-7 p.m.; Black Velvet boogies down at El Rancho from 5-8 p.m. Friday; the Jelly Belly Boogie Band is back at the pride of Gem Village, the Billy Goat Saloon, at 8 p.m. Friday; and the Miserabillies countrify the Lost Dog from 5-7 p.m. Sunday.
This week's Top Shelf list features things my stepmother loved during her 70 years on earth:
1. Willie Nelson
2. Her Irish heritage
3. St. Bernards
4. Her children and grandchildren
5. My old man

I like Shotgun Willie Nelson and them rockin' Rolling Stones? E-mail me at chrisa@gobrainstorm.net.