Ear to the ground
"I kept trying to turn off the porch light, but it wasn't on."
– Local insomniac discussing last Monday's full moon

---
A new kind ­ of snowmo
Don't be fooled by the name. Despite having the same moniker as another popular winter pasttime, the similarities between ski mountaineering (or "snowmo" as it is known in iron-lung athlete circles) and snowmobiling end there.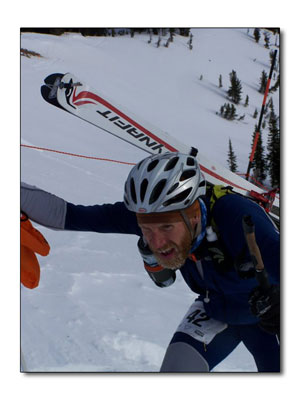 Formerly known as "randonee," ski mountaineering requires no fuel other than that in its human tank. Hugely popular in Europe, it is quickly gaining fans stateside, with Durango racer Scott Simmons at the front of the pack.
On Jan. 7, Simmons took second place in the Ski Mountaineering National Championships, held in Jackson Hole. The grueling course took competitors up the mountain on a circuitous route, which ended in a hair-ball boot-pack/ropes course up the famed Corbet's Couloir. In all, racers gained a total of 8,000 feet in elevation.
Simmons completed the course under sunny skies in 2:40:59, two minutes behind winner Luke Nelson, of Pocatello, Idaho.
Two other local racers, Miles Vanzara and Jen Gerbasch, also complete the course, coming in at 3:28:56 (24th) and 3:39:56 (8th), in their respective divisions.
The three have been spotted at Chapman Hill on their über-lightweight gear, which has enquiring gear heads wanting to know. "It's a Dynafit style binding with two pins and two prongs that click into the bottom of the boot," said Simmons of his cutting-edge set up, which was new this year. "It's super lightweight, doesn't weigh much more than skate gear."
Simmons, who has been racing snowmo for a couple years, said he typically trains for a couple hours a day. Some favorite missions include Hermosa Park Road and the environs around Purgatory. As for the downhill part, he relies on his two sons, 10 and 8. "I usually let them get a head start at the ski area and then try to catch up. They're getting harder to catch."
However, Simmons might be the one who proves hardest to catch as the snowmo season kicks into high gear. His race card includes the Teva Winter Games in Vail on Feb. 10-12, followed by the North American Ski Mountaineering Championships and Grand Traverse, both in Crested Butte.
Although he laughs at the prospect of quitting his day job to race full time, he insists he'll continue for the love of it. "It's a really cool sport, climbing a mountain and seeing how fast you can ski down."