In search of white gold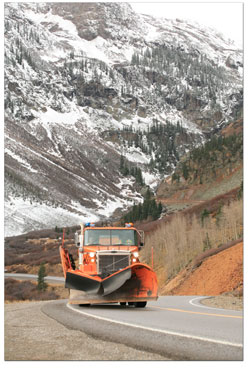 An optimistic CDOT snowplow heads up Red Mountain Pass in low-tide conditions. The last notable snowfall was in mid-December./Photo by Steve Eginoire
Snow enthusiasts grin, bear and even persevere in face of mini-drought
by Tracy Chamberlin

Colorado's white gold has gone missing. Snowpack levels across the state haven't been this low since January 2002, the year of the Missionary Ridge Fire.

According to the National Resources Conservation Service, Colorado's snowpack is 71 percent of its average and only half what it was last year at this time. It's the fourth lowest level to fall on the state in the past 30 years.
And it's not just a local problem.

Vail has not even opened its Back Bowls yet, something that hasn't happened in decades. The snowpack in Wyoming and southwest Montana is only 80 percent of average.

Park City, Utah, has a mid-mountain depth of 20 inches, and Squaw Valley, Calif., has a base depth of only 12.

"I've never seen (a season) that's been countrywide like this," said Aaron Brill, owner of Silverton Mountain. "Usually it's more isolated."

Although most of the country is facing an atypical season, Southwestern Colorado does have some of the best conditions in the state.

Wolf Creek comes in at No. 1 for the deepest snowpack with a mid-mountain depth of 51 inches. Silverton is second with 47.

Comparatively, Crested Butte reports a mid-mountain depth of 18 inches and Breckenridge has only 59 of 155 runs open.

Purgatory places high with a 32-inch mid-mountain depth, a total that beats out Vail, Steamboat Springs and Aspen, which hosts the Winter X-Games on Jan. 26.

An early December storm dropped several feet on Purgatory, which carried it through a dry holiday break. But the dearth in snow hasn't equated to a drop in visitors.

"The trend we've seen is that we're picking up reservations," said Kim Oyler, director of communications at Durango Mountain Resort. Customers who usually go skiing in Tahoe, Salt Lake City and northern Colorado are making reservations at Purgatory.

And the lack of snow hasn't hampered plans for the resort's annual Winterfest, set for this weekend. The two-day event will feature dog sledding, the Town Downhill race and ice climbing demos at Cascade Creek, among other activities. Nor has the low snow stopped Silverton Mountain from offering $50 heli-drops this weekend. According to Brill, the drops, which will be in the un-skied Pyramid zone, were planned from the start of the season to mark the end of the unguided skiing season until April.

Nevertheless, time is ticking on a return visit from Old Man Winter. DMR would need 1.85 inches per day, or almost 13 inches a week, to reach its annual snowfall by the end of the season in April. Wolf Creek would need 2.6 inches per day, or more than a foot and half. every week.

"We haven't had much help from Mother Nature lately," Oyler added. She does, however, credit the grooming team with keeping the slopes fresh and the mountain's customers excited about the conditions.

Another way resorts can take matters into their own hands is with snowmaking. DMR finished blowing snow in the terrain parks at the end of December, and has no plans to fire up the compressors again this season.

Not all ski areas have snowmaking capabilities, however, and none can make snow on every inch of terrain. DMR can only access 250 of its 1,360 skiable acres. And snowmaking can't help backcountry enthusiasts, who have no choice but to rely on Mother Nature.

"It's different with backcountry," said Bob Rule, owner of San Juan Ski Co., a snowcat operation based out of Purgatory. "We have to provide good, quality untracked snow."

Rule's business is one of the few independently operated Snowcat skiing companies in the region. Last week, he suspended operations until the white gold falls again.

Over the past four to five years, his business has struggled alongside the economy, and this season he upgraded his fleet with the addition of a new snowcat.

Although Rule doesn't have the big money of a resort to fall back on, he does take into account that years like this will come. And he's also not writing off the season just yet.

In his 15 years, he has seen these conditions before. Another six to 12 inches, and he'll be up and running again. "We're not that far away from being able to operate," he added.

There is one outdoor activity that benefits from the current conditions: ice climbing.

"If there's not great skiing, there's usually great ice climbing, and vice versa," said Josh Kling, owner of Kling Mountain Guides.

Sunny days that melt the surface layer and cold nights that smooth it back over make for ideal climbing.

As for when this trend might change, the projections are as dry as the skies.

The National Weather Service forecasts sunny days for Durango with daytime highs around 40 degrees and nighttime lows in the teens.
Weather.com predicts similar conditions over the next 10 days. The only difference being a 60 percent chance of snow Jan. 20.

The Farmer's Almanac also predicts a dry winter for the region with below-normal snowfall and the greatest accumulations in mid to late February.
They're also showing temperature and precipitation below normal for the next three months. It isn't until April that precipitation levels are slated to rise above normal, so it could be a late season or a wet spring.

Currently, the snowpack is well below last year's levels in all the major river basins across the state, and less than half what it was last year in the northwest and west parts of the state.

Despite this, the National Resources Conservation Service reports reservoir storage is still in good condition, due to last spring's above-average snowpack. The San Miguel, Dolores, Animas and San Juan River Basin storage is 98 percent of last year and 102 percent of average. The Rio Grande Basin is the only one in the sate that is significantly below average.

The current situation doesn't just affect powder hounds. Everyone from kayakers to ranchers to thirsty people in California depend on water from the Rocky Mountain snowpack.

The National Weather Service Climate Prediction Center expected a dry season for southern Colorado from La Niña, but the snow was still expected to fall in the northern part of the state. However, the zone of heavy precipitation was recently shifted north into Canada, leaving most of the state in the cold, dry air.

"Every now and then you have a year like this," Rule said. "You just figure out ways to make it work."