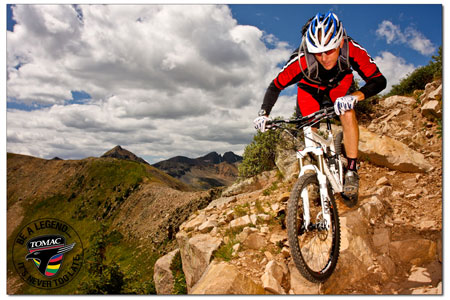 When not coaching son Eli, an up-and-coming motocross racer, John Tomac enjoys high-altitude rides in the San Juans, not far from his hideaway in McElmo Canyon./Courtesy photo
The living legend
Catching – and keeping – up with Johnny T.
by Brandon Mathis

The year was 1975. A 7-year-old Michigan kid named John Tomac took to BMX racing. Soon, he stomps other racers in his class. By 1984, he wins a national title and sponsor: a company called Mongoose.

In 1986, BMX takes him to Southern California where, under the wing of his sister's boyfriend, Tomac is introduced to the dawn of a new age: the mountain bike. The following year, Mongoose builds Tomac his first signature series mountain bike, and a legend is born.

As quickly as the sport grew wings, so does Tomac. At mock speeds, he dominates every class of competition, from cross country racing to dual slalom to downhill. By 1988, Tomac acquires enough points to make him World Champion in the National Off Road Bicycle Association series.
Oh yeah, Tomac crushes it on the road as well. Adopted as a training tool, road racing came easy to him. That same year, he wins the Tour of the Rockies, but he doesn't squeeze the brakes there.

In 1989, he goes on to win the NORBA World Champion title again; adds a Downhill Championship to his list; then hits Europe, winning a German and European XC championship. Back stateside, his U.S. Cycling Federation Team wins a road championship to boot.

By 1990, Tomac had become an undeniable force of nature, racing off road for Yeti and on road for 7-11. He went on to win multiple world titles, racing in more than 100 events. While he stocked up off-road accolades, he also raced major European road events like the Tour of Flanders and, a week later, the Tour of Paris-Roubaix. In the 1990 Durango MTB Worlds, the event that put D-town on the bike map, he took fourth on his Yeti, mounted with a strange suspension fork made by a little known company called Manitou.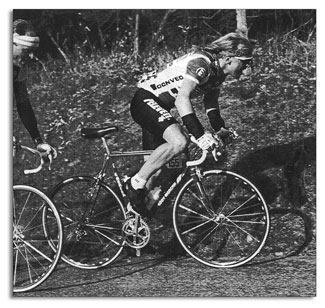 John in vintage form, circa the pre-helmet era, in what he called his "early road days." Tomac was a serious contender in both on- and off-road circuits for two years./Courtesy photo
The story continues, and the Legend of John Tomac flourished. In 1991, he claimed more World Championships, top finishes and two World Cups.
When does this guy stop?

He doesn't, continuing to earn more titles and dominating the field. By 1993, sponsor Raleigh fabricates a John Tomac race bike, priced at $6,300, a pretty penny even by today's standards. Now zeroing in on mountain biking, Johnny T is considered the most unbeatable man on two wheels. He wins staple races on American soil, like the Sea Otter Classic in Calif. and the Cactus Cup in Ariz.

As if he isn't about as bad ass as can be, in 1996, approaching 30 years old, he wins the qualifier XC race for the Olympics in Georgia.
Throw in more World Championships, World Cups and X Games medals, and4 what else can a man of this caliber do? How about found a company. In 1999, Tomac Bikes was born.

From Michigan to California, Belgium to Durango, the Tomac family now makes its home in scenic and remote McElmo canyon, west of Cortez. Tomac Bikes, based in Nebraska, has created a name of respect in the two-wheeled world and aside from astonishing back to back first place finishes in 2004-05 at the Kamikaze Downhill in Calif., Tomac has turned his attention to new projects like coaching. One area of focus is his son.

Eli, 19, is following in his father's footsteps, but this time with a 250CC motor. He's already won a Supercross National Championship title and is well on his way to winning more.
Tomac, now 44, also works with World Cup DH racer Aaron Gwinn and XC racer Sanji Jorgeson.

During a phone interview, the man behind the legend shared some insight on what it's like to have a lifetime of competition behind him, the joy of passing it on to the next generation, and why he still loves to ride.

"When I started the bikes were a long way from where they are now," Tomac said. "It was friction shifting, we didn't even have index shifting – we didn't have clipless pedals, we didn't have any suspension. A decent bike was 26 or 28 pounds," he said. "When I stopped racing in 2000, the downhill bikes had 8 or 9 inches of travel ... and if it's a XC bike and it's a hard tail, then it's probably 10 pounds or something silly."
He said it's not the sport that has changed so much, but the technology and the athletes themselves.

"Fundamentally the sport is still pretty close to the same thing, but the athletes are much more specialized," he said. "That kind of changed in the '90s. When I first started, everyone did a little bit of everything, but as the sport evolved, downhill racers became downhill racers and XC became XC racers."

Still, no one has come close to repeating Tomac's rule. Despite his legacy he keeps a humble attitude and says he just wants to help others rise to their abilities.

"I think you have to be interested," he said. "It's not that I was completely self-coached, I had some help along the way, but I did a fair amount myself, and that required me to study the sport – study the preparation and techniques and tying everything together."

After racing professionally for 15 years, Tomac started his own mountain bike team. "I enjoyed helping those kids out at, and I still enjoy helping younger people reach their potential in their sport, whatever sport that is," he said. "I don't claim to be a super expert."

From his desert solitude, Tomac works with Eli developing a program of consistency and cardio. After all, according to Tomac, motocross and mountain biking share a lot in common.

"It's quite similar to downhill racing, really," he said. "A lot of the control, muscles that you use for control and balance, and certain techniques cross over, I mean you're on two wheels."

As for the cardio, he calls on what he knows. "The biggest thing I help Eli with is having a good consistent program," he said. "(Eli) mountain bikes and road bikes some, but we mountain bike way more. It's his main cardio training."

When not training, Tomac still loves the simple joy of riding. The trails near his home offer superb singletrack in a remote setting, but when he has time, he hits the high country. "I get out as much as I can, but it's not enough," he said.

His company is established and running, but he isn't immersed in the day to day. He did say through the ranks, he paid attention to how the business aspect of cycling works, having "had more vision than just racing."

Tomac also said the Pro Challenge is a good thing for U.S. cycling and great for Colorado.

"As a pro road racer, I've been there," he said. "It's pretty cool that they're coming through our area, but I'd like to see them go over Red Mountain Pass."
For now he is focused on coaching, and Eli. He said it's all about improving on a good foundation, "Taking it from there, and continually working to make yourself better," he said.

Like father, like son.

"It's cool," said Tomac. "I've been helping Eli since he was 7, and I've been there the whole way. You get to know what it takes, so it's cool to see it pay off."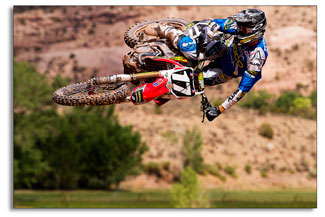 Eli in fine Tomac family form