Split livers, Tutu to Brews and speed racers

by Chris Aaland

The mix-tape is making a comeback. And you can thank musicians who have soft spots in their heart for old guys driving 1970 GMC pickup trucks in dire need of fresh tunes.
"A lot of my friends drive these old beat-up cars that have cassette decks in them," insurgent bluegrass banjo wizard Danny Barnes recently told KDUR's Bryant Liggett. The full interview airs on my "Cask Strength" radio program at 7 p.m. Monday night on KDUR.
Barnes brings his new duo, the Split Livers, to the Ska Brewing World Headquarters at 7 p.m. Tuesday for a free show brought to you by KDUR and Durango Acoustic Music. Split Livers features Barnes, the creative force behind the Bad Livers, and Wayne Gottstine, singer and mandolin player for Split Lip Rayfield.
Barnes and Gottstine first joined forces in 2008 when they toured with ex-Open Road bassist Eric Thorin as three-fourths of Jeff Austin and Friends, joining the Yonder Mountain String Band frontman for a series of now-legendary dates. It was an odd mix of bluegrass, newgrass and alt-country and sowed the seeds for future collaborations.
"I never really played with them more than once or twice back in the day," Barnes said of the time when the Bad Livers were winding down and Split Lip was heating up. "I never really interacted with Wayne too much and those guys. I met him through Jeff Austin (and) we did a little tour in Colorado together. He just became one of my friends because we're similar in age and have some similarities in writing songs for our bands."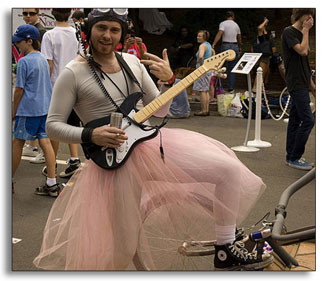 Barnes, who has appeared in Durango in the last five years as a sideman for Robert Earl Keen and Tim O'Brien, said he likes doing duet projects with people ranging from Nick Forster of Hot Rize to Robbie Fulks, Bill Frizzell and O'Brien. "It's just lean and mean. The older I get, if I really want to hear someone play, I want to hear them stripped down."
For those of you with cassette decks, Barnes and Gottstine won't disappoint.
"We made a recording, and I'm putting it out on my little label called Minner Bucket Records and it's a cassette only," Barnes said. "(Wayne) came up to my house to practice, to learn songs. We threw down six Bad Livers and six Split Lip Rayfield songs. He had a whole bunch of songs that were four-track demos and stuff that he was working on that didn't have a home. And I have tons of stuff. I filled up a 90-minute tape kind of like mix-tape style, just a whole bunch of stuff, compendium of our solo output. It just kind of goes insane from there. I'm not even track-listing the stuff. It's a mystery. We sell them for $10 and we just hand-draw on the tape."
So dust off your old Walkman.
The USA Pro Cycling Challenge comes to town this week with expectations of giant crowds filling restaurants, bars and hotels prior to watching the world's greatest cyclists race to Telluride on Monday. Events run Thursday through Monday at a variety of locations, including in front of the train station, in Buckley Park, at Durango Arts Center and at Fort Lewis College. Saturday's highlight is a street party on Main Ave. in front of Carver's on Sunday featuring the Kirk James Blues Band, Andrea's Fault, the High Rollers and Ralph Dinosaur. New Belgium is a sponsor of the U.S. Pro Cycling Challenge, so suds will flow throughout the event.
Leave it to the Ska boys to kickstart the party. The Tutu to Brews bicycle parade departs Buckley Park at 5:30 p.m. tonight (Thurs., Aug. 16) and tutu-wearing riders will mosey through downtown and down the Animas River Trail to Bodo Park, where Farmington Hill will sooth the pretty riders with their honky-tonk sounds. Get your drink on at a mini-local beer fest at Ska.
Ska also hosts Saturday's 2 p.m. for the Tour de Farms. Patrons can sample delicious, locally grown eats and listen to bluegrass by Wild Mountain and the indie rock of the Crags.
Of course, the real event is the 125-mile Stage 1 race to Telluride on Monday. Opening ceremonies are at 8 a.m. at 12th and Main, with the race to start at 10. Riders begin with a five-mile loop that encompasses most of town and circles the college. If you want to avoid the madness at the starting line, there are good vantage points on campus and on such local routes as Wildcat Canyon Road and U.S. 160 West … just plan to get there in advance, as many roads will be closed. Riders eventually head through Hesperus, Mancos, Dolores, Rico, over Lizard Head Pass and on into Telluride. Go to usaprocyclingchallenge.com for road closures, schedules and more.
Moe's madness is highlighted by the Splatterdays Urban Art Show featuring live hip-hop, break dancing, an MC battle and go-go dancer tryouts from 8 'til close Saturday. Moe's FAC gets bluesy with the Kirk James Blues Band from 6-10 p.m. on the patio Friday. Regular occurrences like tonight's Salsa Night and Sunday's Jazz Church are also on tap.
A wild week at the Summit includes new local ska outfit Buster's Ghost tonight; DJ Distinct and Skittles on Friday; a twin bill with the Lawn Chair Kings and Buster's Ghost on Saturday; a Smith Optics party Sunday and Kentucky Deluxe on Monday.
Of note: the Scrugglers do a free show at the Irish Embassy Pub at 9 p.m. Friday; the Pete Giuliani Trio stays up 'til 1 a.m. Friday and Saturday for late-night sets at the 49 Lounge at the Sky Ute Resort and Casino; Psychedelic Mojo is back at the Balcony at 6 p.m. Saturday; and Black Velvet does a 4:30 p.m. gig at the Secret Garden at the Rochester Hotel Wednesday;.
This week's Top Shelf list is a shout-out to Todd Wells. The former FLC national champion mountain biker competed in his third Olympic games last Sunday. Wells, age 36 and the second men's rider in the race, had his best-ever Olympics, finishing the 20.4-mile course in 1:31.28, a little over two minutes behind the gold medalist. Here are Wells' Olympic finishes:
- 2012: 10th place, London.
- 2008: 43rd place, Beijing.
- 2004: 19th place, Athens.

Fat bottomed girls they'll be riding today?
Email me at chrisa@gobrainstorm.net.