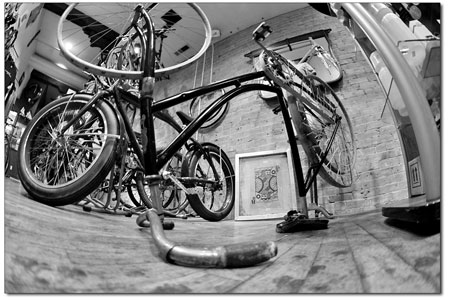 A vintage bicycle at Velorution Cycles. "Art & Bike," a collaborative exhibit between Velorution's Joey Ernst and Studio &, opens with a dual reception Friday night at both venues./Photo by Stephen Eginoire
Artists and peddlers
A collaborative show between Studio & and Velorution Cycles

by Stew Mosberg

Considering the publicity and anticipation surrounding the USA Pro Cycling Challenge, is it any wonder other local happenings have been lost in the shuffle? Just about every place in town is focused on the world-class event, and although Durango is regarded as one of the nation's top biking communities, we don't live by spokes alone. That very notion occurred to artist Clint Reid and bicycle pro Joey Ernst, owner of Velorution Cycles. Combining their individual expertise proved to be a natural for an appropriate art exhibit.

Reid, a web designer with J3-Media by day and an accomplished artist at Studio & by night, suggested he and Ernst share their respective spaces, which happen to be a few doors away from each other on Main Avenue. Switching gears, so to speak, the two locations will swap art forms: while "&" displays new and vintage bicycles and parts, Velorution will exhibit work by local artists.

Working through the details with fellow Studio & artists, Ernst and Reid eventually decided the weekend of the Challenge would be a great time to collaborate. After the call to artists went out, Reid realized that like the elite cyclists, the artists would also be challenged, "Pushed," he says, "in a new direction, creating pieces with materials they might not have considered in the past – a chain ring, a handle bar, rusted metal."
Just the Facts
What: Art & Bike
Where: Studio &, 1027 Main, and Velorution cycles, 1077 Main
When: Opening reception Fri., Aug. 17. Show runs through Aug. 19
An opening reception will be held simultaneously in each space on Fri., Aug. 17, and according to Reid, will be a great opportunity to "hang out and talk art and bikes with people who love, well ... bikes and art."

Describing the experience as a veritable fun fest, Reid said there will be art, bikes and refreshments (Zubberfizz is donating beverages) at both venues. "You can expect to see bike enthusiasts extolling the virtues of the two-wheeled motorless transportation, as well as a bunch of art enthusiasts," said Reid.

Reid further hinted that a group of wandering minstrels and at least one individual willing to accept bicycle-related dares are expected to show up.

Ernst is the quintessential bicycle pro. Active in the sport since his childhood in Madison, Ind., he later turned his passion into a career and moved from Colorado Springs to Durango almost three years ago. After working at Poppa Wheelies, he took over and turned it into Velorution, where he services pros and local enthusiasts alike. The store name derives from the French word "velo" for bicycle combined with "revolution," and Ernst says there were several variations of the word play that led to the choice.

Ernst's custom stylized bikes already have a strong following and more than a few will be on view during the show, along with one that is more than 100 years old and features wooden parts. Other compelling velocipedes on display, and built by Ernst, include a spiffy sparkle-and-glitter model and a sturdy heavy-duty version that sports snow tires about the size you might find on a Mini Cooper.

Among the artist joining the festivities are Tim Kapustka, one of the original members at &. Kapustka will have biking related T-shirt designs at the show as well as a couple of limited-edition screen prints. One, which is titled "UniCone," includes imagery of a unicycle and an ice cream cone in two different versions. In addition, the graphic designer has created some posters that call on people to "Ride Your Bike."

Elizabeth Kinahan, the newest member of & has fused her art with bicycling by creating apropos images on copper, a technique she has been developing over the last few years. "The concept for this particular process," she remarked, "has evolved since a copper plate found its way into my hands several years ago. I've experimented with different solutions to get the copper to turn different shades of that beautiful turquoise color."

Miki Harder, who is famous for her raven sculpture as well as her illustrations, combined her love for the ubiquitous birds and her enjoyment of biking. The metal worker fashioned pipe into wheels and created penny farthing bikes, those front-wheel dominant tall bicycles of yesteryear, and then attached what she refers to as, "happy as hell ravens riding them."

The Art & Bike shows will be on view through the weekend at &, 1027 Main Ave., and a few doors north at Velorution Cycles, 1077 Main Ave.