Dirtbag Living
Female dirtbags: the missing link
by Luke Mehall

There are many sacrifices to live the dirtbag life, but my most major gripe has always been women: there simply are not enough of them in the dirtbag culture. However, that all changed when I moved to Durango.

Durango is an anomaly of mountain towns, because there seems to be an even ratio of men to women interested in the outdoors. We've got women of all types who ski, boat, climb, bike, hike and camp in the great outdoors.

Take "Kat" – she is always either working in the field or out on an adventure in the wilderness. She's an avid rock climber, who lives out of her truck, and works as an outdoor educator. Originally from Maryland, she fell in love with the dirtbag lifestyle after working at a camp in New Mexico, followed by an internship with Outward Bound.

"I'm definitely a dirtbag," Kat says. "I could have pursued a career path where I made more money, but I'm really happy with the life I live."
For Kat, her climbing led her to the life she does. "I've never done anything that makes me so focused and in the moment all day. Once I tasted that, there was no turning back."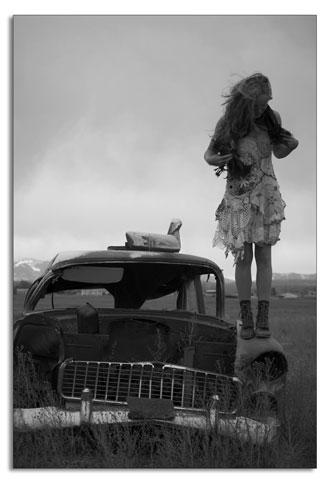 Kat Fritz, in a dress she made herself./Photo by Daniel Nilsson
She also feels it is easier to "get away" with some common dirtbag practices as a woman. "People just don't expect it from the ladies. It's a thrill to live on the fringe."

Kat described one instance where she unknowingly ended up sleeping on a farmer's land in her truck, and he discovered her. "He was really angry until he realized I was an innocent, young woman. His family ended up inviting me in and making me dinner."

Like many women in Durango, Kat enjoys having outdoor adventures with other ladies. "It's very empowering, and there's less ego than with men."
Even at the ripe age of 23, Kat realizes that women are less likely to live in a dirtbag fashion as long as men do. "All women should start dirtbagging when they are young," she advises.

My roommate and landlord, Renee, is another local woman who could be considered a quintessential dirtbag. She's lived out of her truck with her boyfriend, climbing and camping all over the United States.

"For me, being a dirtbag is all about forsaking money for the purpose of a dream, and being able to travel," Renee says.

She's also incredibly creative with her resources, regularly dumpster diving and knitting her own gifts and clothes. She and her boyfriend have several chickens and an elaborate garden that supplies food in the warmer months.

At 25 years old, Renee is quite young to be both a dirtbag and a homeowner, but she plans to use the house as a way to provide income through renting, and still be able to travel and climb.

Like Kat, Renee feels a strong bond with other female dirtbags, "I grew up in Southern California, and didn't get along with other women. I just thought it was me, and then I moved to Durango, and met so many rad chicks."

Renee also feels the women of Durango, and other various mountain towns, are forging a new identity of a Western woman. "When you hear stories about the wild west and mountain people, it's almost always the story of a mountain man. The mountain woman is still emerging."

Of all the dirtbags interviewed for this series, my new friend "Rose" has been the most elusive. Initially she was excited to be interviewed, but then began avoiding my phone calls to meet up. When I saw her at a get together, she apologized for blowing me off, and just said she didn't want her name to be in paper. She finally agreed to an interview when I told her we could use a different name to protect her identity.

Rose, 32, has lived a life of dirtbagging and adventure. She's climbed and traveled to Africa, China, India, Nepal, Egypt, Turkey, South America and Mexico. While in Africa, she climbed Mount Kenya and Kilimanjaro and has also done big rock climbs in the Black Canyon. Among her occupations: waitress, barista, nanny, landscaper and house sitter. For her, the dirtbag life has always been about reducing expenses, avoiding rent and then spending all your hard-earned money on adventures.

Rose also values her adventures with other strong and independent women. "Women can tend to be insecure, and it is great to find those that are not like that," she said. "My friends and I can do things that really strong men can do, and that is really empowering. We use our time in the outdoors together to catch up as well. The women I do stuff with in the outdoors are also more flexible, polite and accommodating than some men I've climbed with."

While Rose has already seen more than many people will in their lifetime, she says her journeys now are more inward. She tries to focus more on relationships and being grounded. She feels this makes her outdoor experiences, though less frequent, all the richer.
"I enjoy climbing more now, I don't equate my performance with who I truly am," she says. "Just focusing strictly on outdoor activities isn't going to make me a happy person."

Rose has lived in Durango for nine years and says she never expected to stay here so long. Part of the reason she has stayed is the community, people who strive to live a healthy, balanced life. "We grow up later here in Durango, there's not as much societal pressure to live in a certain way like there is in other parts of the country."
As for the future, Rose strives to maintain her physical fitness and pursuits, build a career and strengthen relationships with those who are important to her. "I feel like you really can have it all in Durango..
Luke Mehall just finished his first book, Climbing Out of Bed, which is available as an e-book on Kindle. In the book he writes about climbing, mountain town culture, and, yes, women. His blog can be found at lukemehall.blogspot.com.