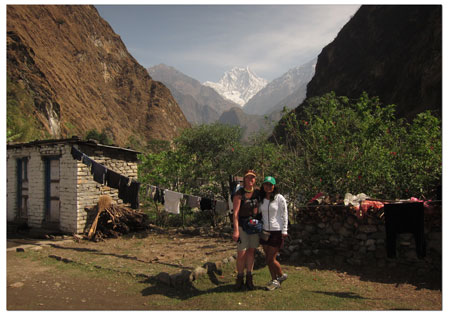 Cathy Wakeman stands with friend Kanchi "Sony" Maiya, who was born in Nepal and sells clothing her sister still makes there, in Tatopani, Nepal in April 2011. The friends traveled together to Nepal to celebrate Maiya's 30th birthday with her family at their guest house in Tatopani, which means "hot water" because there's a hot springs there./Courtesy photo
Eyes of the world
Cathy Wakeman travels the world for Animas Trading Co.
by Jen Reeder

Cathy Wakeman was hiking through a jungle in Vietnam with her husband, Doug, when they happened upon 10 local boys at the base of a waterfall – wringing a duck's neck. Instantly, alarm bells went off in her mind. But the boys gestured for the Wakemans to come closer, where they could see a pot of water boiling so they could cook the duck. Her fear evaporated once she realized they were merely preparing a Vietnamese picnic and were offering to share. So they swam in the waterfall's pool in between courses of fruit, bread and sauces, and of course, duck.

"They served us first. It was the most amazing experience," Wakeman says. "That's why I love to travel."

It's a good thing Wakeman loves to travel, since she heads overseas each year to shop for new inventory for her bohemian clothing store, Animas Trading Company. Though the store is located at 1015 Main Ave. in Durango, its merchandise hails from far-flung locales like Asia and Latin America. Since starting as a salesperson in 1993 before working her way up to manager and eventually, in 2007, owner, Wakeman has traveled to India, Thailand, Vietnam, Indonesia, Ecuador, Guatemala (before the popularity of Guatemalan shorts began to wane) and Nepal in search of items for the store.

"I've never had a bad experience traveling – it's always been really positive," Wakeman says. "People, I just feel, are so wonderful."
Wakeman says buying clothing and accessories directly from locals helps keep prices low, since it cuts out the wholesaler. It also allows her to have more variety, since she can just buy a few items instead of having to buy, say, a minimum of 60 dresses from a wholesale vendor. She has been buying from some of the same families in Bali for about 16 years, and knows the routes to their shops so well that she gives taxi drivers directions.
"When I show up at their shops and peek in, they get all excited to see me. They always remember me, so that's a really fun part of the job, seeing the people every year … I've had dinner at their houses," she says, adding, "Good food!"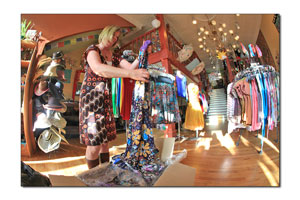 Wakeman credits her livelihood with an unlikely source: The Grateful Dead. Wakeman's passion for the band drew her to Animas Trading when she was working as the morning DJ at KSUT and at a jewelry store called The West back in the early '90s. Animas4 Trading's original owner, Ron Kirschnick, was also a Deadhead and kept the band's tour schedule on a blackboard near the register.
They would talk about the music and even went to a show together before one day Kirschnick said, "If you ever want to leave The West, you have a job here."

"So that day I quit my job," she says.

Kirschnick showed Wakeman the ropes during a six-week "buying trip" to Bali, Thailand, Nepal and back to Bali – then straight to the most exotic destination of all: an annual clothing trade show in Las Vegas.

"Las Vegas was interesting jet lagged," Wakeman laughs.

There she met other like-minded purveyors of bohemian clothing, many of whom had started their careers vending in Grateful Dead parking lots. She's made lasting friendships with many of them over the past 17 years, often running into them at festivals and concerts around the country.

"Back in the heyday, there used to be big parties where somebody would rent out the club at the Luxor and hire the Radiators to come play so we all had a place to hang out and party together," Wakeman says.

Wakeman has also become friends with vendors from other cultures at the trade show, like Kanchi "Sony" Maiya, who was born in Nepal and sells clothing her sister still makes there. In April 2011, the friends traveled together to Nepal to celebrate Maiya's 30th birthday with her family before heading off on a trek.

"The family made a big family-style meal and we had a Bollywood dance party. It was so much fun!" Wakeman says. (She returned the favor by hosting Maiya in Durango for this year's Fractured Fairytales-themed Snowdown and dressing her in an Alice in Wonderland costume from Animas Trading.)

"I would never have met her if it weren't for all of this," Wakeman says.

Durango resident Beth Ruybal says she shops frequently at Animas Trading because the inventory is unique, and because Wakeman supports "fair-trade" policies by buying directly from local vendors overseas.

"I think it's awesome that she goes over there – she's into fair trade and gives them a good price for everything," Ruybal says. "I think that's really cool."

Supporting small businesspeople overseas also appeals to Amber Tracy, the manager at Animas Trading, who has a degree in anthropology from Fort Lewis College. "A lot of what you learn in anthropology is basically helping other people – what you can do, getting out there and experiencing and being able to tell what's going on in different parts of the world – and I think this directly affects them," Tracy says.

Wakeman often takes her husband, Doug, on buying trips so they can travel together after the work is done. She also loves taking longtime employees.

"It's always great to say, 'Do you have a passport? Would you like to go on a trip?'" she says with a grin.

Earlier this year, Wakeman took Tracy on her first overseas buying trip, traveling to Thailand and Bali. Wakeman enjoyed having a pair of "fresh eyes," while Tracy caught the travel bug because she liked meeting the local people so much. She said Wakeman makes a point of shopping early in the mornings because culturally, it's considered good luck to sell one's wares in the morning.

"So when we would come and do retail business with them early in the morning, they would say, 'Thank you for good luck!' and slap the money on top of the merchandise they still had in the store as a blessing for good luck for the rest of the day and the rest of the year," she says.

And they always recognized Wakeman, called her by name and were happy to see her.

"She's popular here, she's popular there – she's popular everywhere," Tracy says.