Big Kids, Ganggreen and summer stages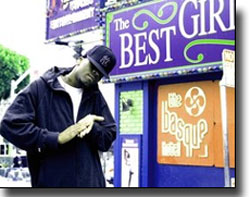 Ganggreen tops off a poetry slam and night of Hip Hop at an all-ages show Friday at the Abbey
by Chris Aaland

Ryan Owens, a sports scribe who works for that other local paper, turned me onto the world of uber-violent, adult cartoons a few months ago. To make a short story long, we were both in Pueblo covering college basketball playoffs. After watching the Fort Lewis men's and women's basketball teams secure semifinal wins, we slouched into our chairs on press row to do our thing: in his case, write and file a story with his editor; in mine, load photos, stories, box scores and statistics to the college's website — the bane of my existence.

Coaches, administrators, parents, fans and others had already gathered at the hotel bar for cocktails or at nearby restaurants for some grub while the sporting press plied their craft. By the time we joined them for a few rounds at the deceptively good Shamrock Brewery for microbrews and appetizers the likes of Scotch eggs (which I've sworn off now for nearly three months), it was nearly closing time.

Fortunately, Ryan stocked his sink with ice and a few cold beers in anticipation of a late night. That's when he unleashed Adult Swim on us. It's a collection of downright gory and raunchy animation that the Cartoon Network airs after hours. I'm not sure if I found them enjoyable or not, but have watched them sporadically at home since. Occasionally, I'll hear Otto sneak down the hallway to catch a glimpse. After watching a cartoon decapitation with a mixture of shock and awe, he reminded me that the things these heroes and villains are doing "aren't nice." Then I shuffled him back to bed, reminding him that real cartoons are happily stocked with unicorns, teddy bears, talking mice and other such harmless icons. Just because the TV program Daddy was watching was cast with animated characters, these futuristic G.I. Joes aren't for children.

Just like cartoons, some of local events are for the big kids; others are for the little tykes. Fortunately, we live in a town chock full of both.

For mature audiences: The Salt Fire Circus and Bare Bones Burlesque present their newest show, "The Elixir," Thursdays - Saturdays from May 19-21 and May 26-28 at the Durango Arts Center (Thursdays and Fridays feature one show at 7:30 p.m.; Saturdays have 6:30 and 9:30 p.m. affairs). Typically, tickets are about as hard to come by as those to the Follies. But if you have connections, by all means use them. Burlesque dancers and actors are joined by gypsy musicians, twirlers, jugglers and their ilk. Tami Graham, the Salt Fire ringmaster, plans to take the act on the road through Colorado mountain towns this summer. No doubt, though, this is our treasure, a troupe of the freakishly weird and beautifully talented folks who call Durango home.

For Otto and his little amigos: The Stillwater Foundation presents "A Party in the Park," an event showcasing summer opportunities for Durango youth, from noon 'til 5 p.m. Saturday in Buckley Park. This event features Stillwater's jazz, rock, bluegrass and steel drum bands and Escalante Middle School's jazz band, plus demonstrations from Ballet Folklorico, Dance in the Rockies and Durango Kenpo Karate. More activities include art, baseball and softball batting cages and a jumpy castle.

For all ages: the Abbey and Brickhouse LLC are teaming up for a poetry slam and a night of hip-hop featuring Ganggreen on Friday. Many other rappers, including Mister Midas, Gunna and Jay-Bird are also on the bill. The poetry slam begins at 8 p.m. Brickhouse's participants range from middle school kids to middle-aged adults, reciting very emotional poems about fathers abandoning children, nature and consciousness, and more.

A sure sign of warmer times: the Lawn Chair Kings rock the Balcony at 6 p.m. Friday. Nordberg says to pack the whole family to this shindig.

The Summit's lineup features the hip-hop stylings of Eternal, best known as a member of the West Coast Killa Beez, a Wu-Tang affiliate, on Saturday. Also on tap: DJ

BjCK spins on Thirsty Thursday, J. Wail is at 9 p.m. Friday and new local band the Blue Eyed Ramblers play at 9 p.m. Wednesday.

Elsewhere: Fuzzy Killing Machine drops into the World Headquarters for tonight's Ska-B-Q; Hello Dollface appears at the Starlight's weekly FAC from 6-9 p.m.; Pete Giuliani returns to El Rancho for a 5-8 p.m. acoustic set Friday; and Black Velvet has a pair of local dates this week, first at Rylee Mac's at 5 p.m. Friday, then at the Balcony at 5 p.m. Monday.

A friendly reminder: the Palace Restaurant will host a beer-paired dinner at 5:45 p.m. tonight as part of American Craft Beer Week. Five gourmet courses will be paired with five different Ska beers. Following dinner, the movie "I Am!" from last year's Durango Independent Film Festival will be screened at the Back Space Theatre on 11th and Main. Cost is $50 per person or $95 per couple. Find out more information on Ska's Facebook page.

Since the local music scene is a bit thin this week, today's Top Shelf list looks forward to some summer festival highlights:

- Otis Taylor on the first-ever Blues on the Rails, Saturday, June 4. The Durango & Silverton crew has teamed with Telluride Blues & Brews to produce a train trek featuring the Boulder blues icon and other acts.

- Town Mountain at the Pagosa Folk'n Bluegrass Festival, Friday-Sunday, June 3-5. While the lineup seems a bit on the shiny, happy side of the musical fence for me, Town Mountain is a rough and rowdy bunch of North Carolinians and my favorite bluegrass band. Ever.

- Robert Plant & Band of Joy at Telluride Bluegrass, Thursday-Sunday, June 16-19. All of the usual suspects will be there, along with an assortment of songstresses like Sarah McLachlan, but the real ticket is this Plant guy. I hear Led Zeppelin was a pretty good band in the day.

- Steve Martin & the Steep Canyon Rangers at RockyGrass, July 29-31. A bluegrass marriage made in heaven — or at least on a front porch in North Carolina, if you trust the liner notes.

- Los Lobos at the Four Corners Folk Festival, Sept. 2-4. Los. Freaking. Lobos.

Valhalla, I am coming? Email me: chrisa@gobrainstorm.net.
In this week's issue...
March 17, 2022

Lake Powell drops below threshold for the first time despite attempts to avoid it
March 17, 2022

Purgatory Resort set for expansion but still faces hurdles
March 10, 2022

New health care studio takes integrated approach to healing