A new American dream
'23 Feet' shows highs and lows of the simple life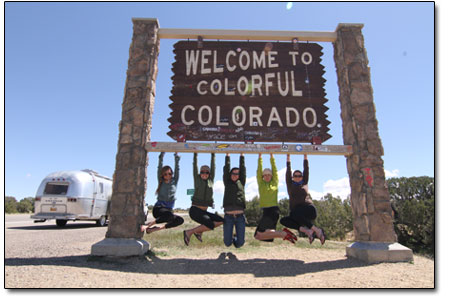 The "23 Feet" crew celebrates the return to Colorado with a few supporters. Pictured are (left to right) Emily Nuchols, Sarah Menzies, Allie Bombach, Jenny Nichols and Anna Brones./Courtesy photo
by Luke Mehall

Less than a year ago, three women set off from Durango in a truck pulling an Airstream trailer. Their goal was to make a film about living simply in order to pursue one's passion for the outdoors. This Tues., May 24, they make their return and will host a free showing of the film, "23 Feet" at the Ska Brewery. They'll also put a unique twist on the event to embody the spirit of the endeavor: the "bike-in" film will be shown outside on a screen attached to the Airstream.
"I might shed a tear when we roll into Durango," said former Durango resident Allie Bombach, filmmaker for "23 Feet" who now lives in Portland, Ore. "It's definitely going to be a homecoming."
Bombach, a Fort Lewis College graduate, convinced two friends Lisa Montierth and Greer Glasser, also former Durango residents, to hit the road last summer. Living out of Bombach's 23-foot 1970 Airstream, they filmed footage across the western United States. Without a script, they hoped the story and characters would appear on the journey.
"It was a build-it-and-they-will-come sort of approach," Bombach noted. "My style in life is to jump and hope there is water beneath me. We knew the people were out there; we just had to find them."
Inspiration to create the film came after Bombach suffered difficult times on the road. After spending her savings on a biodiesel truck and the Airstream, the truck's engine blew up, and she was stranded in Boulder. Low on morale, she stashed the Airstream and hitched a ride with her friend and professional adventurer Timmy O' Neill to the 5 Point Film Festival in Carbondale.
"After seeing so many inspiring films at 5 Point and hearing story after story from my friends' adventures, I was inspired to make my own film," she said. "That event really put the wind back in my sails, and the filmmakers there encouraged me to document my own adventures with the Airstream. I was already planning a move to Portland, so the timing was perfect to embark on this project."
To prepare for the journey, Bombach sold 90 percent of her possessions and moved the remaining ones into the Airstream. Montierth and Glasser made similar reductions in their material possessions. While preparing for the adventure, Bombach says they felt supported by the Durango community.
"Simple living is no strange idea in Durango," she said. "Durango is alive and thriving with people who live simply. There's a lot that is accepted there."
Bombach mentioned her friend and raft guide Kevin "Delfo" Delves, who lives behind the Mild to Wild raft shop in an old school bus, as an example. The Durango resident is the first of several individuals profiled in the film who embody the spirit of living simply in order to pursue a passion for the outdoors.
As the women left Durango and traveled west, their story unfolded, as did several trials and tribulations. Bombach's newly purchased truck broke down twice and had to be towed once. On a low budget, they camped in many rogue places: alley ways, Wal-Mart parking lots and behind schools on Sunday nights.
"We ended up having a collection of cards from police officers as we were asked to leave from various locations," Bombach said.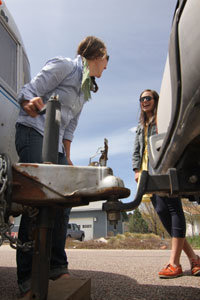 Sarah Menzies (left) and Allie Bombach prepare the Airstream for takeoff./Courtesy photo
Glasser recalled one funny evening when they were camped next to their truck, which was broken down at the time.
"We were starving and getting swarmed by mosquitoes," Glasser said. "As we cooked up our ramen noodles, we covered our faces and hands in scarves, by the time we were getting ready to eat we looked like three bandits about to rob a bank."
One defining moment for Bombach was when her truck broke down outside of Yosemite National Park in California. The trio ended up leaving the truck and the Airstream and hitchhiking into the Tuolumne region of the park, only bringing camping essentials and the video camera. Upon arrival, they camped next to Ron Kauk, a leading rock climbing pioneer from the 1970s. Kauk still lives a simple climbing existence, trading wood cutting for a campsite, and spending his days on the rocks and waking up early to watch the sunrise. He ended up being one of Bombach's favorite characters while out on the road filming. She also left an impression on him with her effort to showcase those who live simply.
"This film catches my attention so much," Kauk said. "I look at it as a work that encourages simplicity in nature to get back to the basics. It's an opportunity to pause and reconsider our lives. It also captures the real American Dream, living with freedom."
As the Airstream moved up the coast to Oregon, Bombach wanted to find a surfer to interview, something she found more difficult than she first imagined.
"They were all in the water, it took us a few days to actually get a hold of one to interview," she said, adding that she was finally able to connect with someone via a Facebook request. Bombach also shared that Facebook was essential to setting up their summer tour, which began in late May.
"We asked our fans where we should go for the tour this summer, and where we are going is based on the feedback we received," Bombach said. "We also added some unique features to the tour to encourage conversation and community at the showings."
The screenings of "23 Feet," about half an hour in length, will be shown on a screen hooked onto the side of the Airstream. Most of the events are $5 or under, many are free. If the showing does have a fee, the proceeds go to a good cause, such as Kauk's Sacred Rok program, which aims to get youth into climbing and the outdoors.
Sponsorship for the film has also been attained through creative means. The fund-raising web site Kickstarter helped generate more than $9,000 from 246 backers.
The Durango showing will have its own share of creativity. A townie caravan to the Ska Brewery will take off Tuesday at 7 p.m. from Buckley Park. At Ska, the band Waiting on Trial will warm the crowd up before the outdoor showing. (Music from Waiting on Trial is also featured in the film.) The showing will take place outside, under the stars starting at 8:30 p.m. Attendees are encouraged to bring something to sit on, whether it be a crashpad, yoga mat or a lawn chair.
Bombach is especially excited about the Durango showing and bringing the outdoor community together. "The outdoor community is one that is spread out all over, this tour offers a chance to bring us all together," she said. "We can get to feeling alone out there traveling and being on the road, it's great to bring people together to remind ourselves we are part of a community." •
For more information about the film visit www.23feet.org
In this week's issue...
March 17, 2022

Lake Powell drops below threshold for the first time despite attempts to avoid it
March 17, 2022

Purgatory Resort set for expansion but still faces hurdles
March 10, 2022

New health care studio takes integrated approach to healing