The Hot 8 Brass Band, Mr. Clegg and The Moustache Ride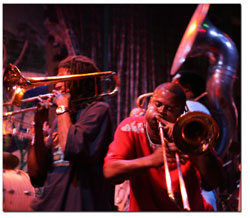 Hot 8 Brass Band plays the Concert Hall tonight, May 5

by Chris Aaland

The crawling letters across the bottom of my TV screen said it all Sunday night. There were no scores or statistics, no updates from the NBA and Stanley Cup playoffs. Instead, ESPN flashed one message in bold letters: OSAMA BIN LADEN DEAD.
With a rush of emotions, I scanned the news channels. I felt pride that our military pulled off such a tactical and precise strike against the face of terror. I felt anger and sadness over the thousands around the world who have lost their lives to al Qaeda. And I felt a strange confusion over what this all meant, unsure what to think of the spontaneous parties at Ground Zero and the White House. I didn't feel like breaking into song and dance. I was angry that terrorists hijacked the last decade of our lives.
New York Times journalist Thomas Friedman summed up what I couldn't quite put my finger on. In a CNN interview Monday, he told Anderson Cooper that 9-11 isn't the defining moment for America. That day is still reserved for July 4, when we declared our independence from English tyranny.
Maybe this divided nation can stop its bickering. Maybe Donald Trump and the birthers can finally put their doubts of President Obama to rest. Maybe we can see that millions of Muslims embrace peace and are overthrowing their own tyrannical governments, choosing peace and progress over religious extremism. Maybe there's hope.
If you see any music this month, consider the Hot 8 Brass Band, which plays the Community Concert Hall at 7:30 p.m. tonight (Thurs., May 5). No band has been affected more by Hurricane Katrina than the Hot 8. Formed in 1995 by Big Bennie Pete, Jerome Jones and Harry "Swamp Thing" Cook, the Hot 8 play a defiant version of swing based in New Orleans' second line, street parade tradition. Following Katrina, they've been featured in countless news specials; Spike Lee's essential documentary "When the Levee Broke: A Requiem in Four Acts;" and the most recent episode of HBO's popular and groundbreaking series, "Treme." While these, no doubt, exposed the Hot 8 to international acclaim, there was unthinkable tragedy, too, as three band members lost their lives in post-Katrina violence on Crescent City streets. In response to these setbacks, the band has recommitted itself to bringing people together to celebrate, heal and learn.
For decades, Johnny Clegg has been the face of South African music. A singer, songwriter, dancer, anthropologist and musical activist, Clegg has long blended Afropop, jazz, Zulu chants, native dances and English lyrics. He was knighted by the French government in 1991 as a Chevalier des Arts et Lettres (Knight of Arts and Letters) and received an honorary doctorate in music from Johannesburg's University of the Witwatersrand in 2007. He was also picked No. 23 in the SABC3's Great South Africans, alongside the likes of Nelson Mandela, Stephen Biko and F.W. de Clerk. Clegg plays the Community Concert Hall at 7:30 p.m. Sunday.
The Summit's schedule is highlighted by a Thursday night blowout entitled "The Moustache Ride," featuring DJs Grizzly (from Boston), ChronPaul (from Boulder) and Peter Robot. It's also $2 you-call-it night, so this might get crazy. The First Friday pairing of live visual artists and musicians has Drastek, Ephameracans, Def Rare & High Point on tap. There's also DJs CSO & Reddot Saturday, the weekly open mic/jam session Tuesday and DJ Double D's karaoke/gong show Wednesday.
This week's Starlight slate includes Thursday's weekly Salsa Night; an FAC with Lush & Andrew Stevens from 6 - 9 p.m. Friday; DJ Double D at 9 p.m. Friday; and Benjamin K on Saturday.
Could the Ska-B-Q get any better? In short, yes. Now that spring is here, it's time for Zia Taqueria's silver trailer to start slinging out grub. It reopened Monday, but the official grand opening is slated for Thursday's Cinco de Mayo bash from 5 to 7 p.m., featuring $3 pints, $2 tacos and the reggae and rock stylings of Ten Cent Raise.
Elsewhere: the Miserabillies countrify the Diamond Belle Saloon at 5:30 p.m. tonight; Dave Luna plays a solo acoustic happy hour at El Rancho from 5-8 p.m. Friday; the Get Backs are back at the Billy Goat Saloon in downtown Gem Village at 9 p.m. Friday; Pete Giuliani goes solo at Vallecito's Schank House from 6-10 p.m. Saturday; 10Day hosts a CD release party at the Abbey at 8 p.m. Saturday; Kirk James enters the crazy, upside-down world of breakfast music by playing the Brickhouse Café at 10 a.m. Saturday and Sunday; High Altitude Blues does a Mother's Day gig at 4 p.m. Sunday at the Balcony; and Black Velvet is at the Balcony at 5 p.m. Monday.
In honor of the Hot 8 Brass Band, this week's Top Shelf list features 10 other contemporary Louisiana artists that I dig:
1. Trombone Shorty. Troy Andrews may be just 25 years old, but his trombone and trumpet playing belie his age.
2. Kermit Ruffins. A champion of jazz standards, Kermit is one of the founders of the Rebirth Brass Band.
3. Dirty Dozen Brass Band. Yeah, I once had a plate of barbecue ribs thrown at me by one of their members backstage at the Abbey. But I still love these guys.
4. Preservation Hall Jazz Band. They've been playing Dixieland and traditional New Orleans jazz since the early 1960s.
5. Rebirth Brass Band. The Frazier Brothers and company fuse second line with funk, soul and hip-hop influences.
6. The Funky Meters. Bassist extraordinaire George Porter, Jr., was one of the founders of the original Meters. With drummer Russell Batiste and guitarist Brian Stoltz, he continues to funk things up.
7. Allen Toussaint. The 73-year-old pianist is the living link to the golden age of New Orleans music and is a national treasure.
8. Dr. John. Mac Rebennack's alter ego is perhaps the best-known perpetrator of Nawlins voodoo.
9. BeauSoleil. Based in Lafayette, the Cajun musical vehicle driven by fiddler Michael Doucet has helped keep a culture alive.
10. The Neville Brothers. There's no denying the importance of the R&B of Art, Charles, Aaron and Cyril.
I believe there'll come a day when the lion and the lamb will lie down in peace together in Jerusalem? Email me at chrisa@gobrainstorm.net. •
In this week's issue...
March 17, 2022

Lake Powell drops below threshold for the first time despite attempts to avoid it
March 17, 2022

Purgatory Resort set for expansion but still faces hurdles
March 10, 2022

New health care studio takes integrated approach to healing