The bike thieves
Stolen bike season makes its local return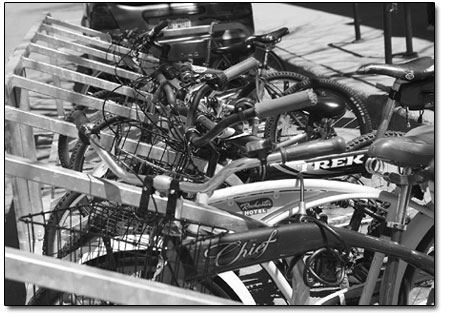 A row of bikes is lined up in a rack outside of Carver Brewing on Main Ave. Spring is a prime time for bike thefts in Durango, with more bikes out and opportunistic thieves on the lookout for one last joy ride or a parting gift./Photo by Steve Eginoire
by Missy Votel

The scenario is the same for countless Durangoans every year and goes something like this: Stumble from house to (back yard, porch, garage, old tree); sense something is amiss; scan memory of previous night's activities (grocery store, after-work ride, bar); come to horrible realization that coveted (cruiser, townie, mountain bike) has been stolen.
From here, reactions run the typical gamut from denial to rage to bicycle vigilante.
"I walking into the garage and said, 'Where the hell is it?' I literally stood there for 10 minutes in disbelief," said downtown resident Kevin Hall of the fateful day a few weeks back when he came home for a lunchtime ride to find his prized possession, a 2010 Trek carbon 29er mountain bike, was not where he left it.
Hall, who usually locks his garage with a combination lock, was confused because the lock was on when he entered the garage, and there were no signs of forced entry. "I was shocked that someone could have gotten in, it took me a while to figure out it was gone," he said.
Hall is among 18 people who have reported bicycles stolen in Durango so far this year. And while the average of a bike a week may seem like a lot, consider that so far, 2011 is far better than 2010, which saw a total of 114 bikes stolen, or more than two a week.
According to Durango Police Capt. Micki Browning, it is difficult to track trends in stolen bicycles because up until new software was installed this year, police did not have the capability to quickly collate such numbers. Furthermore, police statistics only represent people who all to report their bikes stolen. "It's hard for us to get a good gauge if people don't report," she said. "Sometimes, if a person leans their bike up against a lightpole or a tree and goes into the coffee shop and comes out to find their bike is gone they think, 'Shame on me for not locking it up,' and don't report it."
Without concrete numbers, Browning says she believes bike thefts aren't on the rise so much as cyclical, rising and falling throughout the year. "Most college towns have a higher proportion of bike thefts," she said. "We have a pretty steady high turnover in this town, but we see a little spike every year, both at the beginning and the end of the school year."
According to Browning, reporting a stolen bicycle is a crucial first step in finding it. "We recover a tremendous amount of bikes," she sad. "If we don't have a report, there's no accountability."
Aside from the simplest and most obvious step of investing in a bike lock ("and using it"), Browning said people can increase chances of getting their bikes back by writing down serial numbers, taking pictures and getting a license at the Police Department. "It's free and doesn't take a lot of time," Browning said.
For those who've had bikes stolen, Browning recommends going to www.propertyroom.com, a clearinghouse used by police departments to get rid of recovered stolen goods. Browning said bikes are recovered in numerous ways, from people turning them in, finding them in dumpsters or during routine arrests. Last year, 22 reported stolen bikes were recovered locally. So far this year, three have turned up with the police after being reported stolen.
Although one common theory is that bikes in Durango are stolen by "bike thief rings" and sold outside of town, Browning said there has been no evidence of that. "Unless a bike is really high end, there's really no resale," she added.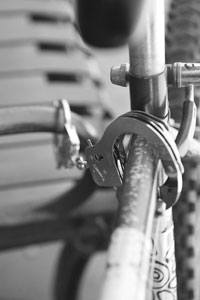 One bike owner takes a novel approach to securing his or her steed in downtown Durango. Last year, 114 bikes were reported stolen, although many more go unreported./Courtesy photo
And, like most theft in and around Durango, Browning said bike thefts usually are crimes of opportunity, where thieves have little more to do than hop on and ride away. But in some cases, thieves are becoming increasingly brazen.
Erik Nyquist thought his Kona mountain bike was safe leaning against the garage, 500 feet up a driveway near Hillcrest. When he came out of his house last Thursday morning, he, like Hall, was shocked to see the bike gone. "It's a big driveway with big walls, I don't know how somebody could've seen the bike from the road. They had to come up the driveway," he said. "At first, I didn't believe it. I just put all this work into it the bike. I was really bummed."
And while thieves may be getting more daring, many victims also take matters into their own hands, relying on internet sites like craigslist and ebay, the small-town grapevine and, in some cases, good, old dumb luck.
After calling the police, both Hall and Nyquist immediately posted their stolen bikes on Facebook. Hall also called friends, the local papers and canvassed the neighborhood with flyers. "That's all I could do, then I went back to work and cried in my coffee," said Hall, who is the City's Parks, Open Space, Trails and Sustainability Coordinator.
The internet turned up a crucial lead for one local who had his bike stolen a few years back. "One of our employees found his bike on eBay," said Mike Gostlin, a mechanic at Second Ave. Sports. Gostlin estimates that the shop hears of at least two to three bikes being stolen every week. While he says most are of the klunker/townie variety – typically victims of late-night joy rides – occasionally, there are pricier steeds on the lam. Such was the case with his co-worker's Trek 29er singlespeed, which showed up for sale online in Farmington. "He called the number, told the guy he lived nearby and asked if he could come look at it. When he showed up, he brought the cops with him."
Local bike enthusiast and Durango Devo head coach Chad Cheeney said he has recovered four stolen bikes over the years. Perhaps the most memorable one was that belonging to his best friend. "It was leaning against a telephone pole as I locked my bike to the same pole. It looked familiar and stumped me," he recalled. He and his wife went into a downtown restaurant, and when they returned, it dawned on him. "I was like, 'Oh yeah, duh, that's my best friend's bike that was just stolen.'"
For Hall, his quick action coupled with a similar stroke of karmic good fortune brought his dream bike back. "At about 2 in the afternoon that same day, I got a call from someone who had seen my flyer while he was out looking for his stolen bike," Hall said. "It was stashed between two houses, two houses down from mine."
How exactly the bike got there is a secret known to only the perpetrator and bike. But for an ecstatic Hall, those were minor details. "I felt like I'd won the lottery. I was certain it was gone."
Hall and his unscathed bike were reunited mere moments – and a $40 reward – later. It was a small price to pay, he admits, but this time, he's not taking any chances. "I have the bike double locked to a post in my locked garage," he said. •
To view recovered property, go to www.propertyroom.com
Missy Votel is still holding out hope that her faithful peach and white Dyno cruiser, "The Salmon Streak," is not swimming in the Animas River and will soon find its way home.
In this week's issue...
March 17, 2022

Lake Powell drops below threshold for the first time despite attempts to avoid it
March 17, 2022

Purgatory Resort set for expansion but still faces hurdles
March 10, 2022

New health care studio takes integrated approach to healing