Food for thought
Food Not Bombs serves up meals with a message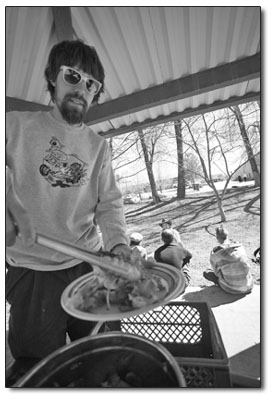 Jack Ferrell dishes up a plate of fresh salad at the Food Not Bombs gathering last weekend. Food Not Bombs serves free meals around the world in the hopes of cultivating peace./Photo by Stephen Eginoire
by Adam Curren

Food Not Bombs has been on the front lines against war, poverty, hunger and the destruction of the environment for more than 30 years. The grassroots, all-volunteer group remains dedicated to nonviolent social change and stands as one of the fastest growing revolutionary movements while gaining momentum across the globe. Not a charity, but a solidarity, hundreds of chapters operate independently in more than 1,000 cities throughout the Americas, Europe, Africa, Asia, Australia and the Middle East. And Food Not Bombs has been serving up portions of peace in Durango every Sunday along the banks of the Animas River.
From the jump, the group's objective has been to share free vegetarian meals and point out the connection between the politics of food, hunger and war. Food Not Bombs gathers around the world for peace and in hopes of ending the occupations of Iraq, Afghanistan and Palestine. The group also often has been first on the scene to provide food and supplies to victims of disaster over the last 30 years. Food Not Bombs was among the first to arrive and provide hot meals to the rescue workers of 9/11 and to the survivors of the Southeast Asian Tsunami and Hurricane Katrrina.
Now headquartered in Arroyo Seco, N.M., the group had its first eccentric beginnings in Cambridge, Mass., in 1980. The paths of Leslie "Jo" Swanson, Brian Feigenbaum, C.T. Butler and anti-nuclear activist Keith McHenry collided in an impressive display of duration, passion and focus. In the last three decades, the group has not deviated from its three core principals: 1. Food is always vegetarian 2. Nonviolence is practiced and preached, and 3. Each group works independently by consensus.
"Each chapter recovers food that would otherwise be thrown out and makes fresh, hot vegetarian meals that are served in ouside public spaces to anyone, without restriction," McHenry explains. "For nearly 30 years, the movement has worked to end hunger and has supported actions to stop the globalization of the economy, as well as an end to the exploitation and destruction of the earth."
Despite the seemingly peaceful mission, authorities have been cracking down on Food Not Bombs since shortly after its inception. Volunteers have been systematically investigated by the FBI, Pentagon and other intelligence agencies. In 1988, the group was labeled by the FBI as one of the most dangerous domestic terrorist groups in the nation. "I believe pressure exists because FNB conveys a very clear message to authoritarian principles: people who are poor and hungry can help themselves," Swanson says. "They don't have to wait for a handout, they can feed themselves and then create homes, care for each other, educate themselves and eventually move this world toward a more equitable society."
Members of the San Francisco chapter have been arrested more than 1,000 times. After a volunteer's recent arrest in Orlando, Fla., Food Not Bombs appeared before the U.S. Court of Appeals on Feb. 15 to defend its first amendment rights, according to McHenry.
The Durango chapter of FNB is in its second incarnation and was reformed early in 2008. Leading the charge is one of the co-founders of the original Durango chapter – Nathan Coe, who's also been involved with chapters around the country since 2001. Five to 15 volunteers gather on most Sundays and serve as many as 100 people in Durango's Iris Park, near the fire station.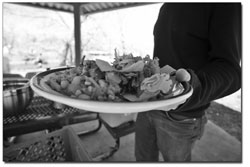 Vegetarian chili and greens await the hungry at the Food Not Bombs gathering last Sunday./Photo by Stephen Eginoire
Cold temperatures, winter weather and low turnout have Durango FNB on a short hiatus. However, the group always has food support available for those in need. The group is currently in negotiations with Manna Soup Kitchen to cook and serve Sunday meals for the rest of the winter. Once nice weather returns, Durango FNB will begin serving outdoors again. For the spring and summer, the local chapter hopes to foster its relationship with Manna while bringing their food down to the park as they've done the last several years.
"The local community has always been very supportive – we've received lots of positive feedback with very little, to no negative," Coe says. "We reject the divide between 'us' and 'them.' Anyone is free to eat and share with us, be they houseless and destitute or wealthy and privileged."
Ultimately, the precarious economic and global food situation will presumably have an effect on the local FNB chapter. "It's likely that we'll be responding to what will prove to be the increasing instability of the global economy, corresponding to rising food and energy prices," Coe says. "We will respond as always and reclaim and redistribute resources that the global economy would otherwise necessitate be wasted."
The group plans to continue weekly meals as able, while continuing to establish relationships with regional food bank networks. In the face of dogged adversity, Coe commented on what feeds his passion to stay involved with FNB, saying, "There's nothing more important than creating the world we strive for in the here and now. As they say, 'be the change' you wish to see in the world. We wish for a world, and actively work to create one, where food is a basic right of living beings, rather than a privilege available only for those able to pay the price."
And that change is sweeping well beyond Durango. According to "Jo" Swanson, efforts are currently in motion to help provide food and organize FNB groups in Egypt, Jordan and Tunisia. FNB is also aligning with groups like Earth First!, The Leonard Peltier Defense Committee and the Free Radio Movement. And each time the whip has been cracked, FNB grows larger. "We genuinely believe that we could make the world a better place, limited only by the scope of our imaginations," Swanson says. "People who have made the commitment to end hunger and war, even at personal risk, tend to be pretty high-quality individuals. Those are the people I want to be with." •
For more info on the local chapter, contact Nathan Coe at Dirtyhands@riseup.net. For info on a national and global level, contact Keith Mchenry at keith@foodnotbombs.net
In this week's issue...
March 17, 2022

Lake Powell drops below threshold for the first time despite attempts to avoid it
March 17, 2022

Purgatory Resort set for expansion but still faces hurdles
March 10, 2022

New health care studio takes integrated approach to healing