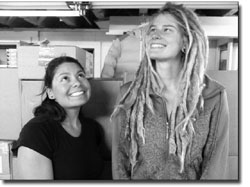 Diver:Cam and Krista from Gswartz
Interesting facts:Cam and Krista are also roommates and between the two of them there are 5 ½ gallon ice cream containers in the freezer at any given time.
Got a dirty little secret?
Looking for guidance to remedy a sticky situation?
Seek help from the master of the kitchen! The Dish Diver has solutions to life's little messes. Send your problems to "Ask the Diver." - By mail to Durango Telegraph - Attn Diver -534 Main Ave., Durango, CO 81301; by email at telegraph@durangotelegraph.com, or by fax at 259-0448.
Dear Diver,
Sometimes, when I'm riding the chairlift at Purg, I have an uncontrollable urge to jump off, even though I'm 40 feet in the air. I also get this strange fear when I cross the train tracks downtown that a train is going to come screaming out of nowhere and T-bone me. Am I going crazy or have I just been in Durango too long?
– OCD in Durango
Dear Obsessed and Compulsed Durangatang,
Don't worry you're experiencing a normal response to something that can cause you great harm. Remember, curiosity is healthy, but also killed the cat. We, too, have had the urge to jump off the chairlift and sometimes even envision ourselves doing it. The thing that holds us back is the reality that a broken femur would mean being laid up at home watching horrible made-for-TV movies while all your friends are out having fun. Not to mention the medical bills would mean that this was the most expensive chair lift ride EVER. As for the train coming screamin' out of nowhere … well are we talking about the same train cause it goes real slow, blowin' its horn real loud giving ample warning that it's about to roll by with all those smiling and waving tourists. Maybe you should seek professional help for anxiety about reading The Little Engine That Could, and remember you think you can.
– Yours truly, Divers
Dear Diver,
What ever happened to the Durango St. Patrick's Day parade? It seems like there was one a few years back, but there was never a follow-up. We have a parade for every other holiday and nonholiday event in this town, so why not St. Patty's? Seems like it would be a good excuse for locals to go out and flaunt a little green pride .
- John the Leprechaun, Durango
Dear Lucky Charms,
Have you found the pot at the end of the rainbow? Well Durango sure has. We can see it now, all the "MMJ" dispensaries in town could sponsor it. It would take hours, but it would be the greatest and longest and greenest parade to ever grace Main. Giant leprechauns frolicking in their horrible little boots, people wearing "Kiss Me, I'm Irish" T-shirts, green mini-skirts and orange wigs. Ever wonder what happens to all the green coloring from the beer you ingest? Well we don't know either, but we are sure you can get a 'scrip for that…
– Sincerely, the Divers
Dear Diver,
Well, Durango has gone again and gotten itself in a "Top 10" list in a national magazine. I know it's exciting to get a little recognition, but I am worried it's just gonna bring more gapers to town, create more traffic, clog up the trails and increase competition for he already limited job supply. Wouldn't we be better off hoarding our stash, if you know what I mean? Maybe a few more stories about locals "going postal" would scare them off. Aren't there plenty of good places for posers along I-70?
– My Lips Are Sealed
Dear your lips should be puckered,
Obviously you fail to recognize that Durango feeds off of gapers and tourons, it's just the way the world works. It is exciting that our little slice of the pie even gets an honorable mention at the national level. So yes, bring on all the gapers and trail cloggers because more people means a need for creating more jobs, meaning all our unemployed raft guide friends can finally move out of the hallway closet and buy their own drinks. Plus it adds to the dating pool. If you still don't like it, there is always Mancos. As for our "potentially postal locals" don't let the paranoia of getting rammed by the trains send you to the big house.
– The Divers
In this week's issue...
March 17, 2022

Lake Powell drops below threshold for the first time despite attempts to avoid it
March 17, 2022

Purgatory Resort set for expansion but still faces hurdles
March 10, 2022

New health care studio takes integrated approach to healing