'Gimps on Ice'
Reaching new heights at the annual climbing rendezvous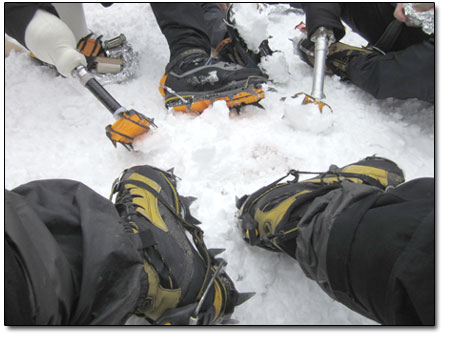 Creativity is an essential tool for the amputee climber. The annual Gimps on Ice festival brought dozens of disabled ice climbers to the Ouray Ice Park in early March./Photo by Luke Mehall

by Luke Mehall

The Ouray Ice Park provided the backdrop for a recent rendezvous of rebirth. The 4th annual "Gimps on Ice" festival brought amputee and disabled ice climbers together for a weekend of renewal beginning March 5.
For Mike Reddy, "Gimps on Ice" felt like a homecoming to the San Juan Mountains, where his life was forever changed two years ago. Reddy was one of 38 participants in the event, organized by Paradox Sports, a nonprofit out of Boulder that provides opportunities and adaptive equipment to people with disabilities. Reddy, now a PhD student at Yale University, took a 150-foot fall while climbing Mount Sneffels in 2009. He was rescued by his climbing partner, a nearby party and the Ouray Mountain Rescue Team. The fall left him with a spinal cord injury, a fractured right ankle and a diagnosis that he would never climb again.
"It was an experience that changed my life forever," Reddy said. "I was left feeling truly broken, defeated and lost."
Even with his injuries, Reddy felt the overwhelming desire to return to climbing so he connected with Paradox Sports. He received visits, first from co-founder and wounded veteran DJ Skelton, and then from Malcolm Daly, an amputee climber and executive director of the organization. Flying in from Colorado, Daly took Reddy climbing for the first time since his accident in a Connecticut climbing gym.
"Malcolm is a really special guy," Reddy said. "Paradox Sports is an organization that really reached out to help me."
The weekend of March 5-6 was the second time Reddy had climbed ice. "I don't climb as eloquently or as hard as I used to, but that doesn't matter, it is the feeling that I'm after," he said.
Alongside Reddy, on the ice walls that Ouray is famous for, were other disabled climbers: one missing an arm; others missing a foot; some without both feet. A look up to the wall revealed climbers using artificial feet with crampons made for ice climbing. Nearby, Daly had a bucket of crampons labeled, "Daly Bucket of Feet."
Although the event has doubled in size since last year's event, the ice climbing site was well managed by the Paradox Sports crew. Some climbers aren't able to hike in themselves, and Chad Butrick, director of operations for Paradox, carried a couple participants in on his back to a point where they could be lowered into the canyon by a carefully rigged rope system.
Heidi Duce, a 20-year-old climber who grew up in Ouray, climbs with a prosthetic for her right foot. A below-the-knee amputee, she was born with a congenital defect that resulted in her not having a fibula, foot or ankle bones.
Growing up next to the Ouray Ice Park, Duce always wanted to climb the icefalls and even had a family friend, Chris Folsom, who would have taken her climbing. The problem was her parents wouldn't let her go.
"Chris would tell my parents that he would take me ice climbing," Duce said. "But, they never relayed the message to me. When I turned 18, I finally got to go and was immediately hooked."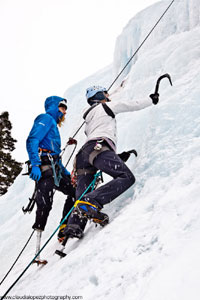 Chad Jukes, left, helps Kate Sawford tackle her first lead in the Ouray Ice Park. /Photo by Claudia Lopez
"Chris would tell my parents that he would take me ice climbing," Duce said. "But, they never relayed the message to me. When I turned 18, I finally got to go and was immediately hooked."
Folsom, and his wife, Deb, are passionate supporters of the community and have their own organization called Amped Outdoors, with a similar mission as Paradox. A man of many trades, Chris even makes special crampons that Duce and others use.
Duce now attends Mesa State College in Grand Junction, where she studies adaptive physical education. She enjoys helping others climb as much as she enjoys it herself, and her favorite thing about the Gimps on Ice weekend is being around other amputee climbers.
"Ice climbing opened the doors to what is now my passion in life," Duce noted. "The outdoors are very important to me, and I hope to work in the field of recreation therapy once I graduate college."
Duce received the illustrious "Got Stump" award two years ago, a storied T-shirt that is awarded by Paradox every year at the Ouray Ice Festival to a disabled climber who embodies the spirit of the organization. The shirts are also sold as a fund-raiser for the park and have raised more than $50,000 thus far. Duce's award, which is worn at various climbing endeavors, comes with one important rule: it can't be washed.
"Yes, it smells," she joked.
Pete Davis, a 31-year-old amputee climber from Ridgway, received the "Got Stump" award this year. Another congenital amputee, whose right arm was formed only to his elbow at birth, Davis, lived in Durango for 10 years and is a Fort Lewis College graduate with 20 years of climbing experience. He now works as an ice farmer at the park, maintaining the drip systems that create the waterfalls.
Davis has always felt a need to reach out to other amputees, and enjoys the sense of community that Gimps on Ice and other Paradox events bring. "This is a celebration of ability, whatever ability you have," Davis said. "It's about getting people from our community together. Not often as an amputee do you get to hang and climb with people that are similar to you."
Gimps on Ice enjoys an abundance of support from the Ouray community. Restaurants, coffee shops and breweries host the group. One establishment, Mouse's Chocolates and Coffee, catered to the group by opening two hours early. A special batch of coffee, called "Gimps on Ice Blend," was created by Kristopher's Culinaire and a "One Arm, One Leg IPA" was brewed up by the Ourayle House Brewery.
Claudia López, a photographer from Boulder, makes the annual trek to Gimps on Ice. She said it is her favorite event of the year. "It centers me and sets the mood for the rest of the year," López said. "It is important for me to be here."
López also noted that every year there is a "rock star," an individual who wins over the hearts of the entire group. This year, it was Austin Bushnell.
Austin lives in Buena Vista and has an undiagnosed medical condition. He requires assistance walking, and has many mental and physical issues. Still, his father, Robert, tries to expose him to as much as he can. He's climbed an artificial wall once before, and has even hiked a 13,000 foot mountain near Buena Vista. His brother Nathan was there climbing and supporting, as well as a family friend, Tom Moody.
Hanging off an adjacent rope, Folsom was by Austin's side the entire way as he inched up the frozen wall. Austin's balance issues were evident, and the basic motion of kicking the crampons into the ice and swinging the ice tools were difficult. Folsom improvised every move to cater to Austin's needs, at one point even swinging his own tools into the ice so that Austin could stand on them for an inch of progress. Austin completed one climb and made a heroic attempt at another, with cheers from the crowd for both efforts.
His father was inspired and impressed by the event. "My pride to see Austin have this experience is hard to explain, you have to live it," he said. "The people of Paradox Sports express the most genuine interest in helping everyone succeed, with an overwhelming openness and friendliness. This event was full of people who are truly living."

In this week's issue...
March 17, 2022

Lake Powell drops below threshold for the first time despite attempts to avoid it
March 17, 2022

Purgatory Resort set for expansion but still faces hurdles
March 10, 2022

New health care studio takes integrated approach to healing