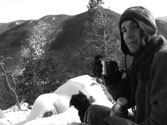 Diver:Kurt from Home Slizzle
Interesting facts:Kurt has probably made enough pizza to feed all of Haiti for a week but still loves it.
Got a dirty little secret?
Looking for guidance to remedy a sticky situation?
Seek help from the master of the kitchen! The Dish Diver has solutions to life's little messes. Send your problems to "Ask the Diver." - By mail to Durango Telegraph - Attn Diver -534 Main Ave., Durango, CO 81301; by email at telegraph@durangotelegraph.com, or by fax at 259-0448.
Dear Diver,
With the Durango yoga boom well under way, I have a quick question. How do I choose? There are so many options – vinyasa, power, hatha, couples, restorative, hot, cold and oh so much more. My warrior's pose is spinning. Please point me in the right direction.
– Stiffening up in Durango
Dear stiffening and curious,
Hold thine asana holy warrior. Keep your eyes on the road, hands upon the mat. Ultimately this spiritual practice is a personal endeavor. You must find your own way but here are a few tips. As any experienced yogi will tell you, if it gets boring, try a new position. Perhaps you could try hot and heavy in the morning or a restorative afternoon delight. Iyengar uses props to enhance the experience. These include ropes and swings. They can be awkward at first, but I'm sure you will rise to the challenge. As you test the waters, you'll find that variety is indeed the spice of life.
For many, cost is an issue and there are helpful books with lots of pictures. There is no substitute for a good instructor but $10/session is an invigorating way to find flexible new people who might be interested in playing around on your ropes.
But honestly, yoga isn't what it used to be. Yesterday I caught my roommate doing yoga on the couch in the middle of the day. What can we do?! Hope this helps, and remember, we all get a little stiff sometimes.
– Diver
Dear Diver,
What's with all the whining about the lack of snow this winter? I don't know about you, but I had a bunch of good powder days and I didn't miss moving a dozen feet of snow from my downtown Durango driveway. Getting a trace in town and a foot at the area works for me. What're people thinking?
– Toby, via email
Dear lesser snowman,
Agreed. Those of us who lust for warmer climes certainly have received global warming gracefully. For those who must wine, plant grapes. I've planted a grapefruit orchard. While the not so distant future might deem shovels, skis and boards obsolete, we might still enjoy some fresh tropical fruit.
For those who miss the snow, dreaming of endless powder, there is good news. Big oil is deriving petrochemical snow. Imagine the profitability! Not to mention the convenience. It only goes where you want it to go, HD snow on demand, blue, purple, orange, the colors of your football team. In Oregon, I've heard they've already switched to sawdust!! Who really needs snow?
So while we may never again ski to work or wonder why your neighbor's snow blower graced the entire block but the 30 feet in front of your house, we can at least start riding our two-wheeled friends a few months earlier.
But seriously, enjoy the snow cones and sledding while they last, and get ready to brush up against a mighty saguaro.
– Loving the sunny slopes
Dear Diver,
The Great American Recession has my family headed for a spring break staycation this year. I know people pay the big bucks to visit the 81301, but I need a little guidance. What exciting Durango diversions can you recommend for this budget-conscious traveler?
– On the Loose on Main Avenue
Dear Coupon Cutter,
First things first, start by telling your family that you have decided to live like the majority of people on earth and that half of all humans live on less than a dollar a day. Then everyone gets dressed for a day of vacation fun, you give them 98 cents, a hug and tell them we all can't be Bill Gates.
Now if there is one thing I've learned from rainbows, it's that one can't have too much fun bangin' on some drums in the woods. I assume all Durangotangs have drums. When this proves tiresome or if a neighbor pulls the public nuisance card, you might walk to the mall and look at all the pretty things you can't afford (some call this shopping). You could trade in your buck for a scratch ticket or take a nap in the park. On Sunday, you should check out Food Not Bombs for some free grub and good folks.
Of course, the best things to do might be Frisbee, hide and go seek, snipe hunts, rock climbing, fishing, canoeing, sowing starts for spring, dinners at home, etc. Or you might consign your children to the PS3 and depart with the spouse to Rainbow Hot Springs for some yoga.
– Best of luck, Diver
In this week's issue...
March 17, 2022

Lake Powell drops below threshold for the first time despite attempts to avoid it
March 17, 2022

Purgatory Resort set for expansion but still faces hurdles
March 10, 2022

New health care studio takes integrated approach to healing