FLC womens hoops and Spanks for everything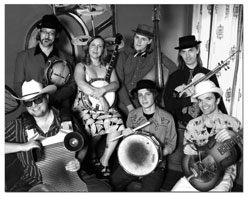 Asylum Street Spankers bring their farewell tour to the Hank this Thursday

by Chris Aaland

They've gone mad again. March Madness, that is. One year removed from becoming Durango sports darlings, the Fort Lewis College women's basketball team is back at it. The Skyhawks once again host the NCAA Division II Central Regionals Friday through Monday in Whalen Gym. Last year, they proved that home court advantage is the easiest route to a national championship game appearance. The Fort knows if it can pick up three more wins (they're currently riding a 46-game home winning streak), an encore trip to St. Joseph, Mo., and the NCAA Elite Eight is in the cards. The Skyhawks play at 6 p.m. Friday against rival Adams State. Should they continue to win, games are slated for 7 p.m. Saturday and 7 p.m. Monday.
This weekend also gives fans a chance to say goodbye to Abby Jackson, the feisty senior point guard who has led her team to a ridiculously gaudy 117-14 record during her career. That's 89.3 percent of her games, for all you math buffs out there … or just pretty damned impressive, in layman's terms.
Speaking of goodbyes, the Asylum Street Spankers are calling it quits after nearly 17 years. Their farewell tour stops at the Henry Strater Theatre at 7:30 p.m. tonight (Thurs., March 10). The move saddens longtime fans — me included — and leaves a gaping hole in the Texas musical landscape. In recent years, cofounders Guy Forsythe and Wammo dropped out, leaving Christina Marrs as the last original Spanker. The band has seen more changes than anyone can count, with more than 50 musicians among A.S.S. alumni. In many ways, the Spankers are a collective of the best of the Austin scene … kind of like a community music garden. The end is so near, in fact, that a big ol' Texas finale is planned for April 9 in Austin, and we're one of the final five shows. Rolling Stone called these guys "Inspired, lunatic brilliance" while the Washington Post dubbed their live set "a mind-altering experience."
The Millwood Junction in Mancos hosts what's billed as "A Trio of Duos" at 7:30 p.m. Saturday. This musical potpourri includes Katya Chorover, Kim & Chris Lindell and Baby Toro. The headliner, Chorover, captivates audiences with her warm, dark voice and intimate songs. She combines elements of Americana, folk, pop, blues and country. The other two acts are no strangers to local fans. The Lindells play infectious, Dead-inflected music that weaves together original roots rock, cosmic country, folk-noir, New Orleans backbeats, funky reggae and newgrass. Baby Toro churns out post-punk ambiance fueled by reverb and echo.
Called "one of America's funniest female comics" by Jay Leno, stand-up comedienne Kathleen Madigan offers exceptional comedic timing, the right amount of irreverence and a hilarious perspective on life's everyday occurrences — and she's at the Community Concert Hall at 7 p.m. Saturday. The only comedian ever to go unchallenged on NBC's "Last Comic Standing," Madigan also defeated the ever-popular Larry the Cable guy and other notable comics to win the 2007 Sirius Radio Comedy Cup.
The renowned Parsons Dance, in collaboration with Grammy-nominated vocalists from the rock group East Village Opera Company (EVOC), presents a modern retelling of a classic tragic love triangle in the unique, multi-media stage production "Remember Me" at 7:30 p.m. Wednesday at the Community Concert Hall. "Remember Me" melds two dramatic and timeless disciplines — opera and dance — and re-imagines opera arias as popular songs. Integrating the backbeat of a rock band and the gritty edginess of the streets of New York with stunning, operatic vocals and Parsons' innovative choreography, "Remember Me" is reminiscent of the early "revolutionary" rock operas like "Jesus Christ Superstar" or The Who's "Tommy."
Gub'na Hick sure makes past Colorado governors look like sticks in the mud. The former Wynkoop owner has enlisted Steamworks to organize and sponsor "Pints & Bites," a semi-fancy event that pairs microbrews and appetizers while raising funds to preserve the historic governor's residence at Boettcher Mansion. Get buzzed at said residence (400 E. 8th Ave. in Denver) at 5:30 p.m. Monday. Gourmet munchies from 10 Colorado chefs will be served alongside suds from Steamworks, Ska, Breckenridge, Bristol, Great Divide, Left Hand, New Belgium, Odell's, Oskar Blues and Wynkoop. Grammy-winning pianist Jacqueline Schwab performs and cost is just $30. Visit www.coloradoshome.org/programs-events/ for more information and to buy tickets.
Today marks the 32nd anniversary of Porter Wagoner bringing James Brown onstage at the Grand Ol' Opry. In honor of the hundreds of stuffy Nashvillians who no doubt had their faces melted off by the Godfather of Soul, the Miserabillies take their honky-tonk act to the Diamond Belle Saloon at 5:30 p.m. tonight.
This week's Summit schedule features Smiley Coyote, Beatnik Basis & Twos on Thirsty Thursday, the usual 6-9 p.m. acoustic happy hours with Eric Kiefer on Friday and Rupnow & friends on Saturday; new local act Elder Grown at 10 p.m. Friday; and the Bret Mosley Band at 10 p.m. Saturday.
The Starlight has its weekly Salsa Night with DJ Caliente from 8 'til close tonight and Musica del Mundo from 9 'til close Sunday.
Elsewhere: Beat Feat plays rock, funk and punk at this week's Ska-B-Q in Bodo Park tonight; Black Velvet makes two appearances this week, first at Rylee Mac's at 5 p.m. tonight, then at Sweeney's at 5 p.m. Saturday; and Back Alley Blues is back in the swing of things with a reunion gig at 8 p.m. Friday at Desperado's Bar & Grill.
This week's Top Shelf list recalls five of my favorite A.S.S. songs. Spanks!
1. "Hick Hop," from "Mercurial," 2004. Something about two rats copulating in a wool sock. And Skynyrd.
2. "Funnel of Love," from a Wanda Jackson tribute album, 2004. Paying homage to the greatest rockabilly filly of them all.
3. "Startin' to Hate Country," from "Spanks for the Memories," 1996. Wammo and crew cry out for the legends to save the genre from the big belt buckle crowd.
4. "Jesus Walking on the Water," from "God's Favorite Band," 2009. This loving cover of the Violent Femmes classic is but one highlight from this agnostic gospel live set.
5. "D.R.I.N.K." from Mercurial, 2004. Nobody ever made getting wrecked more elegantly sexy than Christina Marrs does.
If it weren't for heavy drinking, we'd never play Sweet Jane? E-mail me at chrisa@gobrainstorm.net. •
In this week's issue...
May 11, 2023

New hostel offers hikers, skiers and other frugal fun hogs place to hang their hats
May 4, 2023

Proposed apartments spur efforts to preserve historical burial grounds
May 4, 2023

Small mountain hamlet to remain resort-free, for now