Fighting Tigers
Local teen girls take love for hockey to the next level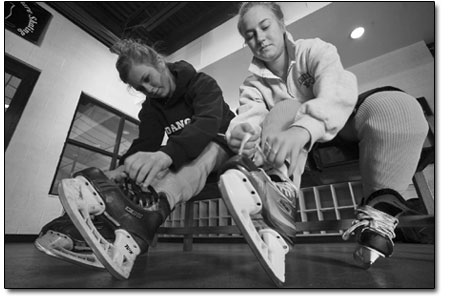 Allison Millar, 16, left, and Sarah Martin, 15, lace up at Chapman Hill on Tuesday. Without a competitive local team for girls thier age, the two two play for the Colorado Springs Tigers and hope to take their skills to the college level./Photo by Steve Eginoire
by Stacy Falk

Youth hockey is notoriously challenging. Not only is the sport itself rigorous and punishing, but the schedule is enough to make even the most ardent supporter think twice. And then there's the cost – for travel, tournament fees and the massive amount of gear, which seems to be outgrown on a yearly basis.
For girls in this remote corner of Southwest Colorado, the challenges can be even greater. Although there is a burgeoning U14 girls program, older girls, who may have grown up playing with the boys, find themselves out in the cold. Although they are allowed to practice with the Midgets, the highest level in youth hockey, advanced female players are not allowed to play with the team, which is an all-male checking league.
Despite these odds, dreams of collegiate hockey or even the Olympics aren't too far-fetched for two local high school girls.
Alison Millar, 16, daughter of Lynn and Wally Millar, and Sara Martin, 15, daughter of Aimee and Steve Martin, agree that boys and girls hockey are completely different games. And there are not quite enough players to support a team of girls their age in the Four Corners region.
"It's difficult at times, I am not sure they understand where we're at," said Millar before practice with the Midgets. "The boys definitely give us a hard time on the ice."
Steve Martin, who also coaches the Bantams, said that all of the years playing with the boys has really helped shape the girls' skills. He said that Sara has attended the Rocky Mountain Development camp in Salt Lake City for the last two years, where she has been able to see where she stands in relation to other girls her age.
And practicing with boys teams such as the Midgets, despite its inherent frustrations, has paid off. Both Millar and Martin, who have been battling pucks with the guys since they were 6 years old, were recently selected to play for a highly competitive girls team based out of Colorado Springs.
"There was also the opportunity to play with Telluride or Albuquerque," said Steve Martin. "But this opportunity seemed like the better choice."
Last summer, the U19 Tigers, a Tier II team, advertised open tryouts. Millar and Martin, who had attended previous selection camps, wasted no time.
"You can't just sit back and expect to make it, and you can't just rely on your parents," said Sara Martin. "If you can't put in the time it takes, then it's not worth it."
The girls, who also had offers from a variety of prep schools, saw the Tigers as a window of opportunity to make a serious decision about their future. It would allow them to remain close to family and friends and graduate in Durango, where Martin is a student at Animas High School and Millar is a student at Durango High School.
"I haven't played with girls my age before this," said Millar, who also plays with the Durango Betties, a competitive women's team. "It's interesting at first as compared to playing with the younger girls or the other women's teams. I am really growing to like it."
The Tigers are in the midst of a complete makeover, bringing in skaters from all over the Front Range, Steamboat Springs and Craig. Under the direction of coach Rich Furia, who took over in 2009, the Tigers are skating against Tier I teams with the top girls in North America.
"Girls hockey in Colorado is growing pretty fast," said Furia. "Our goal is to put all the really good players together, so they have the opportunity to advance and play collegiate hockey at the Division 1 to Division 3 level."
So far, the new approach is bringing results. The Tigers returned victorious from State Championships at the Pepsi Center in late February and placed third in the Rocky Mountain District Championships last weekend in Salt Lake City. Although they didn't earn a berth for U19 Nationals in Anaheim at teh end of the month, Furia said he is confident that if the girls give 100 percent next year, both physically and mentally, they can beat any team.
Millar said confidence is key when playing at this higher level. "You have to know that you have the skills and be mentally prepared to play this level," said Millar. "The coaches will flat out tell you if you don't have what it takes."
Furia, who works as a volunteer, successfully placed all of last year's senior Tigers on collegiate teams and plans to do so with this year's. He said there are already schools scouting both local girls and that there is a good chance they, too, will play collegiate hockey.
"They've realized their potential and have hit a maturity level in their hockey," he said. "They've come a long way in the last few months."
Sara said that with the Tigers there's a different element to the game. Not only are you playing to win for your team, but you are playing for scouts, and you have to know the boundary.
Furia notes that Martin thinks more than most players. "She is a very serious, cerebral player with a lot of speed, very good with the puck, and she's a bit of a sniper out there."
As for Millar, Furia says even though she's leading the team in penalty minutes, it's because she's going after the puck with tenacity. "She's tough on the boards, she follows directions, she has very good fore-checking and back-checking skills and incredible speed."
The girls said they are willing to except that if they are offered a spot on a collegiate team, it could be anywhere. "I would play no matter where I got an offer," said Martin. "I would thank my family and the entire hockey community in Durango for helping me get there."
"I'm not even allowed to ski anymore," said Millar. "It's part of the deal."
Every weekend is dedicated to traveling. If it's not practice in Colorado Springs, it's tournaments that span the country. Since they joined the team, the girls have already been to Albany, N.Y.; Providence, R.I.; Rochester, N.Y.; Hartford, Conn.; and San Jose, Calif. And the season does not stop once the ice in Durango is gone. The girls intend to stay on the ice through the summer, which means even more travel.
The biggest challenge, says Millar, is missing school. "Most teachers are understanding, but we are expected to keep our grades up," she said. Another challenge, adds Martin, is not being able to spend time with friends or attend the social events that accompany high school life.
"It feels like we are losing a connection to our friends here, and that we're not as close as we could be," said Millar. "I hope they know we're not just ditching them."
Another local hockey superstar, Tig Moore, 16, daughter of Scott and Ayla Moore, knows exactly how they feel. With aspirations of playing D-1 hockey, Moore spent her sophomore year playing in Kenora, Ontario, on a Division AA high school team.
As if burn-out isn't enough to worry about, there's always the financial commitment.
"We are stepping way out of the way, with money and time, for our kid's passion for hockey," said Lynn Millar. "The bottom
Both girls said that they plan on getting summer jobs to help pay for equipment and travel. They also said that the dedication of their parents has been key in allowing them to pursue their love of the game.
"We are behind our kids 100 percent and 120 percent driving, that is making sure they get where they need to go," said Wally Millar. "If we are going to go down this road, we need to be just as committed." •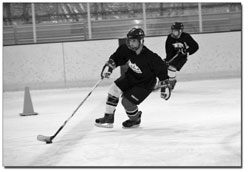 Millar runs drills with the Durango boys midgets team. Millar and Martin practice with the boys but are not allowed to play in league games./ Photo by Stephen Eginoire
In this week's issue...
March 17, 2022

Lake Powell drops below threshold for the first time despite attempts to avoid it
March 17, 2022

Purgatory Resort set for expansion but still faces hurdles
March 10, 2022

New health care studio takes integrated approach to healing