The life of a micro-chocolatier
Durango home to handful of small chocolate makers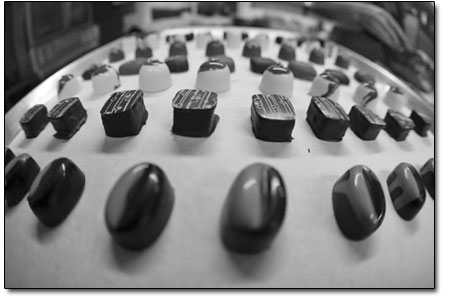 A sampling of Cocoa Euphoria's wares waits for distribution in the kitchen at Colorado Timberline Academy. The new Durango chocolatier is dedicated using as much local fare as possible./Photo by Stephen Eginoire
by Karin L. Becker

Life is like a box of chocolates, and for chocolatiers, success is as uncertain as guessing what's inside that box. Chocolate, it seems, is not only a hard craft but a hard way to make a living.
Although working with chocolate seems a dream and conjures up images of Willy Wonka's Chocolate Factory, the medium poses many obstacles. Temperature, humidity, elevation, seasonal changes and light can all affect chocolate. It is extremely heat sensitive and must be brought to the correct temperature while being melted (also known as "tempering"). Furthermore, chocolate must be stirred constantly during the process. Making fine chocolates, especially delicate truffles, is all about having a balance between skill and food science.
"If properly done, the end result will be chocolate with a glossy finish and a nice snap when you bite into it," says Kendra Mackenbach, co-owner of the newly opened Cocoa Euphoria. "If it appears streaky and dull, it will have an inferior taste and texture."
Choosing the chocolate as well as the other ingredients that flavor the concoctions is another major consideration. Most chocolatiers try to create a signature taste that differentiates them from competitors. For Silverton Chocolates owner Josh Galloway, his New Mexican green and red chili truffles and Omega 3 Bons Bons distinguished him.

Likewise, Kakawa Chocolate House in Santa Fe separates itself with historical chocolate drinks. Using recipes from Thomas Jefferson and the ancient Aztecs and Mayans, their elixirs provide a history lesson as well as a stimulating drink.
Cocoa Euphoria aims to create its signature taste from local fare – like Desert Sun coffee beans, Montanya Gold Rum and lavender flowers from Willow Tree Herbs – while also appealing to a local audience.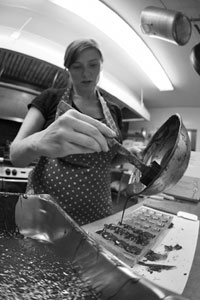 Fairlight Whritner, of Cocoa Euphoria, pours chocolate into molds at the Colorado Timberline Academy. The chocolates can now be found at a variety of local stores and outlets. /Photo by Stephen Eginoire
The secrets to making chocolate as well as where to procure it is precisely the information many emerging chocolatiers are willing to pay for. This intellectual property is, ironically, paying the bills more so than the scrumptious delights. At least that is how it goes for Galloway, who recently closed his shop due to financial constraints. "I needed to make more money to make a living," he said.
Since closing, he has transitioned his efforts into consulting and found it to be more lucrative. Although he still does tastings and weddings, his focus is on consulting where he can bill by the hour. "It's a current trend," Galloway says as he ticks off a list of small chocolate shops that have closed their doors and gone into consulting.
For emerging chocolatiers like the women behind Cocoa Euphoria, starting small is the key to their strategic plan. When Fairlight Whritner, a graduate of the Culinary Institute of America, met Kendra Mackenbach, the art teacher at Colorado Timberline Academy, they discovered they had a shared dream of starting their own chocolate company. With Whritner's experience as a pastry chef for Cosmopolitan restaurant and Mackenbach's artistic background, the two found they had complimentary skill sets.
Making chocolate is as much gastronomy know-how as it is art. Mackenbach hand-paints all of their truffles, and since their cocoa butter comes in primary colors, it takes an artist's eye to create the color palette. Once a truffle is made, design and layout play a role. Organizing truffles into a six-piece box takes a good eye to make the grouping look good. "Our focus is to make our chocolates look as good and they taste," Mackenbach said.
Joining forces with competitors is an unlikely but successful tip that has worked with Kakawa House. Together with the five other chocolate shops in Santa Fe, they created a map of the "Santa Fe Chocolate Trail." Tourists endeavor to complete the tour, and since each shop specializes in a different chocolate creation, stores don't mind referring customers to the other stores.
To provide some ballast to sustain a micro-chocolatier business, a strong online presence and healthy tourist economy is key. Galloway still receives orders on his Silverton Chocolates websites, and Kakawa House attributes its success to tourists. "Texans keep us going," says Kakawa chocolatier Arianna Rossi.
Cocoa Euphoria is just branching out with representation at PJ's Gourmet Market, Sutcliffe Winery Tasting Room and the Spaaah Shop. By summertime, they'll be available at Nature's Oasis and Durango Natural Foods as well.
For those interested in dabbling in chocolate, the advice is the same whether it be from one who is closing his doors to ones who are just opening theirs: use only quality ingredients, be serious about your business, and go to school to learn theory and technique about chocolate. •
In this week's issue...
March 17, 2022

Lake Powell drops below threshold for the first time despite attempts to avoid it
March 17, 2022

Purgatory Resort set for expansion but still faces hurdles
March 10, 2022

New health care studio takes integrated approach to healing