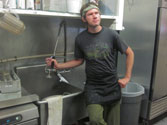 Diver: Dan Groth, of Raider Ridge Café
Interesting facts: Once an "Ask the Diver" greatest hitter, Dan is back in Durango and back in the pages after being lost for several years in the murky Northwest
Got a dirty little secret?
Looking for guidance to remedy a sticky situation?
Seek help from the master of the kitchen! The Dish Diver has solutions to life's little messes. Send your problems to "Ask the Diver." - By mail to Durango Telegraph - Attn Diver -534 Main Ave., Durango, CO 81301; by email at telegraph@durangotelegraph.com, or by fax at 259-0448.
Dear Diver,
I've joined the local poultry revolution and now have a backyard chicken coop. The birds are great, the eggs are better, and they eat a bunch of our scraps and are good playthings for my 2- and 4-year-old. However, we're getting a little tired of single-egg omelets. How do I get my birds to lay more eggs?
– Old McDonald,
Durango
Dear Egg-desirer,
My guess is that you live in the part of Durango which, due to a lack of crystal-structure presence and a resulting negative vibe, are not conducive to any sort of constructive, harmonious activity – whether by the will of human, animal co-creature, or the throbbing of certain minerals (When I enter these parts of town, I involuntarily frown). The only real solution to your problem would be to erect an enormous pyramid in your back yard. It must be built with crystals and be precisely 12.5 meters tall with angles corresponding to the exact vertical angularity of the 2,450 zodiacal shift, and paralleled to the sound frequency emitted by Jupiter.
– Diver
Dear Diver,
Who's the Diver's pick for the next president of the good ole U.S. of A.? Things are starting to heat up on the campaign trail, and I'm curious who you think voters will plop into the White House. Also, just for kicks, who's the Diver's dream prez?
– Signed, Polling
Dear Polling,
Well, I'm going to be voting for Mayor McCheese. He has been in office for 24 years now and is a puppet and rubber stamp for the policies of Ronald McDonald (who I am no fan of), but his opponent, the supposedly reformed Hamburglar, is a frightening prospect for leading this country. With his heavy support in the Fry Guy community and amongst the upstart Milkshake Party, he has a good chance of winning – but I feel like voters will opt for the stability and continuity that Mayor McCheese represents. My preferred candidate is, of course, Grimace. He and I have talked on numerous occasions (being old chums from back in our Harvard days), and I have urged him to run on a third party ticket, but he has a steadfast loyalty to Ronald McDonald, which will prevent him from doing so. Such is the sad state of this once-proud nation that we must continue to settle on Mayor McCheese! Sad.
– Diver
Dear Diver,
I just read that the City's downtown beautification campaign includes a weekly stipend to pow
erwash the sidewalks. Quick question – why is the impoverished City of Durango wasting thousands of dollars and thousands of gallons of wet stuff to clean concrete in the drought-stricken West?
– Feeling a Little Crusty
Dear FALC,
Actually, Durango's beautification campaign calls for "Power Chords," not "Power Washing," as you erroneously state. Every morning and evening, one of a rotating group of the town's hottest riff-meisters will let forth some of the hottest, nastiest mammoth power chords ever heard – at full volume. The bold, gargantuan tones will reverberate through all the hills and valleys of La Plata County, announcing to everyone how awesome our city is. It will at the very least show the "we-think-we're-so-hot" residents of Hermosa who's really the boss!!
– Diver
In this week's issue...
March 17, 2022

Lake Powell drops below threshold for the first time despite attempts to avoid it
March 17, 2022

Purgatory Resort set for expansion but still faces hurdles
March 10, 2022

New health care studio takes integrated approach to healing