Animal instinct
Eno exhibits the paintings of Phyllis Stapler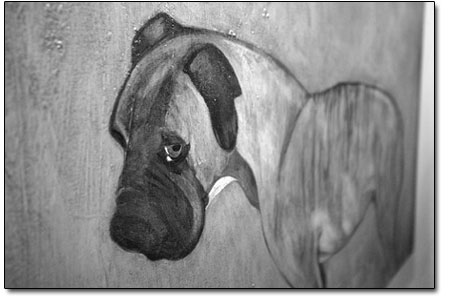 One of Phyllis Stapler's favorite subjects looks out from the walls of Eno, which is dedicated to mixing libations, food, art and music. The wine and coffee bar is exhibiting Stapler's work through the end of April./Photo by Stephen Eginoire
by Stew Mosberg

The art one sees at Eno, arguably Durango's only wine bar, always seems to fit its modern ambience. From the time Eno opened last May, the selection of artwork has been exemplary and is worth going to see, whether you are enjoying a beverage or not. Alison Dance, the owner of Cyprus Café, opened Eno around the time Monica Ellis closed Ellis-West gallery. Dance saw the need for a venue to showcase contemporary art and knew some local artists who fit the bill. "The concept of mixing art with a wine and coffee bar made sense," she said. "It is a pleasure for me, for the patrons, and for the artists."

Dance has been hanging solo shows ever since and hopes to exhibit new installations every three months.
The current show, running through April, includes almost 20 works by local artist Phyllis Stapler, a Georgia peach if ever there was one (she's originally from Atlanta). And speaking of fruit, Stapler's work is all about natural things with an emphasis on the animal kingdom. While some of the species she features are extinct or exotic, there are also horses, big cats, polar bears and even a bat on display.
The images are not super realistic but are more flat and symbolic, albeit recognizable. Her compositions are sparse with very few elements to distract from the main subject. Nature rules the work in that an animal in the foreground will be accompanied by a flower, a celestial orb, something organic.
On closer inspection, there is an interrelationship between the figurative and the flora. The overall construction is graphic, sweeping in a circular fashion, moving from the central figure of the animal to the branch, to a floating leaf, or to a red-orange, perfectly round sun.
One of Stapler's paintings at Eno, titled "Freak of Nature," represents the birth of a two-headed calf. As odd a subject as it might seem, the artist explains the work by saying, "When news broke a couple of years ago of a two-headed calf being born on a dairy farm, I became fascinated with how anomalies in the animal kingdom could evoke such conflicting emotions – fear, curiosity, revulsion and even reverence are common reactions to unusual or abnormal creatures. Mythology is filled with oddities and monsters possessing extraordinary abilities and qualities."
The theme of all Stapler's paintings at Eno reflect her views on animal rights. However, by her own admission, the work is also deeply psychological. "I am committed to sourcing the subconscious mind for material," she explained. "I always have done this, but lately feel more compelled to really trust this information."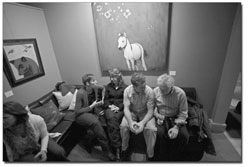 The artist, second from left, mingles during an opening last Friday at Eno. Nature is one of Phyllis Stapler's leading muses./Photo by Stephen Eginoire
Stapler said she believes that placing her subjects in a "monochromatic negative space" represents a symbolic, protective force-field around them.
Two other paintings on display include a strange, striped dog. In fact, one is described in the title as a yellow dog, but they are actually Tasmanian tigers. "I am fascinated with them," she admitted, "and have done several paintings of them. I just sold one, in fact, to a woman in New Zealand. It is my current muse. I titled the first one yellow dog but they were actually carnivorous marsupials."
Fascinated by artists such as Charles Burchfield, Meret Oppenheim and Jose Bedia, Stapler's resulting inspiration borrows from their surrealism, stylization and spirituality. Stapler admits to working slowly, and at any given time, may have several pieces in various stages of completion in her studio. Although Eno's space limits the size of work that can be displayed, she has completed a watercolor in the past that ran 10 feet in length. She also is currently preparing numerous 4- and 6-foot canvases.
The Eno exhibit includes several giclee prints, but the original paintings are acrylic with an oil varnish, mounted on a panel, or in the case of the larger ones, painted on canvas. Both "AKC Dog" and "Tasmanian Sunset" (the fruit bat) have a high-gloss, self-leveling acrylic gel covering the surface that smoothes out all the texture. "These really were for fun, and they will head to Albuquerque along with the Two-Headed Calf," she said.
Stapler gave assurances that anything going to the Harwood show or that is sold at Eno will be replaced to fill the gaps, which might be reason enough to go back a few times.
People familiar with artists from the past might find Stapler's work vaguely similar to Henri Rousseau's animals and subject matter. His paintings were also highly stylized and his animals always had a mysterious quality about them along with a touch of whimsy. His canvases frequently include fauna and flora and posses a dream-like feel, much like Stapler's work.
Evolution of style and subject are important to an artist's success. Looking to the future, Stapler mused, "I have been saving up a few somewhat disturbing dream images for a while now. Between Cerberus and my late cat Luna talking to me with one head and two bodies, I've got my work cut out for me." •
Phyllis Stapler's paintings will be on display at Eno, 723 E. Second Ave., through the end of April. For more information, call 385-0105.
In this week's issue...
July 21, 2022

Land swap approved in Southwest Colorado, but not without detractors
July 21, 2022

The latest strategy to save the San Luis Valley's shrinking aquifer: paying farmers not to farm
July 14, 2022

Despite SCOTUS ruling, San Juan Generating Station plans to shut down