Rally rumbles up business
Study reveals $2.3 million impact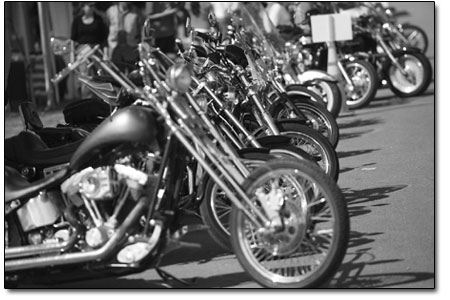 Hogs line Main Avenue during Ignacio Bike Week last Labor Day Weekend. A team of Fort Lewis College students and professors have released a socio-economic study on the rally's economic impact on Southwest Colorado. They found that bikers contribute more than $2 million to the local economy during the four-day event./Photo by Stephen Eginoire
by Malia Durbano

Are your ears still ringing from Labor Day weekend? Was the economic impact of thousands of motorcycles cruising local roads big enough to justify the additional noise and traffic?
Make your decision after considering the findings compiled by students of Deborah Walker, Fort Lewis College associate professor of economics. Their tabulations show that Ignacio Bike Week 2010 generated approximately $2.3 million for the local economy.
To gather its data, the class went to ground zero at last year's rally and got on-the-ground numbers. Attendee expenditures were tabulated in several areas including: special events, casino fun, food, drinks and meals; items bought; transportation; and accommodations. According to the study, food and drink represented the largest expense for rally goers.
The students, who were commissioned by the Ignacio Chamber of Commerce to conduct the economic impact study, surveyed 346 attendees and 11 vendors and used that data to extrapolate where the 18,000 estimated attendees came from, stayed and spent their money during the rally.
Eric Huggins, associate professor of statistics at Fort Lewis College, also lent his expertise to the study. "Basically, we wanted to be sure that we surveyed as varied a group as possible," explained Huggins. "The more data we collect the better, but it's not feasible to survey everybody. We wanted young riders, old riders, riders from different locations, riders of expensive bikes, riders of inexpensive bikes. The key for any survey to be significant is for it to be unbiased."
Local organizers were already contributing to the economy before the event began. They reported spending $72,164 in La Plata County, including a $1,108 bill for advertising the event.
Walker revealed, "The estimated total rally attendance for 2010 was 18,000 people, and total attendee expenditures in all categories totaled $2.9 million. This represents spending both in and outside La Plata County.
Almost half of riders, 49 percent, said they did not spend any money on accommodations. "The 27 percent who stayed in hotels, motels or bed and breakfasts contributed a significant $509,265," Walker said. "Twenty-two percent stayed at local campgrounds. Nearly 64 percent stayed in either Durango or Ignacio."
Even considering these numbers, Jonathan Schraub, Holiday Inn manager, stated, "We were sold out every night of the rally. It definitely increased our room revenues. We're glad to have them in town." He noticed that next door, Applebee's was also "hopping."
Local restaurants verified the findings that food and drinks were the categories that brought in the most revenue. Mike Hurst, manager at Carver Brewing Co., said, "It is one of our busier summer weekends. We welcome bikers with open arms. We're certainly one of their stops … and we hope they keep coming back year after year."
The 40 vendors at the Rally also contributed to the overall bottom line of the holiday weekend. The average vendor spent $1,266, generating an estimated $50,636 impact overall, most of which was generated by booth fees.
The students extrapolated direct, indirect and "induced" effects of the Rally, as generated through the "ripple" effect, of between $1.5 million - $2.3 million.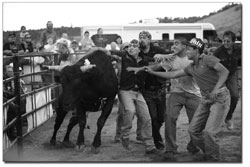 Participants try to snag $20 bills from a bull's horns during a recent rally in Ignacio. Downtown Durango businesses have also reaped financial rewards from Ignacio Bike Week with many merchants and restaurants reporting increases in revenue./Photo by Stephen Eginoire
Elias Pfeifer, a senior economics major, surveyed riders Friday at the rally in Ignacio and Sunday at the parade in Durango. "Some people were really friendly and gladly took the survey, some politely declined and others didn't respond at all," Pfeifer shared. "Being a part of something this big was exciting. It was interesting to see how just one weekend could really have such an impact. It was also great having a real world experience instead of just an academic experience."
Pfeifer and his fellow students – Trevor Callison, Jeremiah Foose, Ryan Riebau, Elizabeth Stone, and Stephanie Waechter – conducted the interviews and compiled the data from the surveys. They learned that 77 percent of respondents had attended some iteration of the Four Corners rally in the past. Eighty-seven percent of first-timers heard about Ignacio Bike Week by "word of mouth," and a whopping 98 percent said they plan to come back again. The FLC report also revealed that most riders were from the Southwest.
To ensure results were as accurate as possible, Walker explained two assumptions used to tabulate Ignacio Bike Week's total economic impact: assumption one was that all the money spent was a direct result of the rally and would not have been spent otherwise; and assumption two was the percentage of money that would have been spent with or without the rally, which was then subtracted from those revenues.
"We knew we couldn't count all the revenue generated from the weekend," Walker explained. "We had to figure out a way to separate what would have normally been spent if there were no rally."
Scientifically generated numbers show one side of the story. But, Durango merchants and restaurants see Labor Day Weekend from a more personal angle, and many agree that the rally is beneficial.
Eric Kiesel, owner of Half Price Tees, said "absolutely" the bike rally is a boost for his business, some years better than others. "This year was good, but not even close to what it used to be in 2006 or 2007," he said. This year brought in about half as much business as those years, he said, citing the poor economy as a factor.
Kiesel added that the complaints over the rally's noise level are far outweighed by its benefits. "Are the bikes loud and irritating? Sure, but it is absolutely worth it," he said. "They ride by my house at 3 a.m. and keep me up half the night, but they are very respectful customers. I love the bikers – they have money and they spend it."
In this week's issue...
March 17, 2022

Lake Powell drops below threshold for the first time despite attempts to avoid it
March 17, 2022

Purgatory Resort set for expansion but still faces hurdles
March 10, 2022

New health care studio takes integrated approach to healing