Man Meat
Durango's Cook Man Food lands a television spot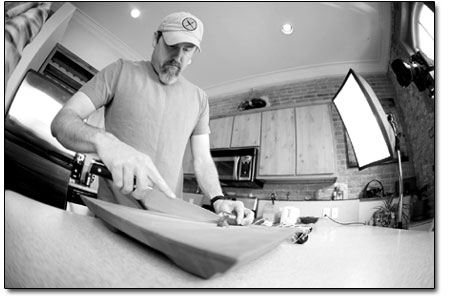 Todd Youngblood preps jalapeño peppers before filming an episode of Cook Man Food in his downtown Durango apartment on Monday. The show focuses on "man food" and recently landed a TV spot on Albuquerque's KASA Fox./Photo by Stephen Eginoire
by Jen Reeder

Anyone wanting to host a great Superbowl party this weekend won't want to miss Durango's bacon heroes, Dan Mantineo and Todd Youngblood, this Friday morning at 6:30 a.m. on Albuquerque's KASA Fox. That's right: the men who brought you the "Cook Man Food" website – featuring recipes for treats like SPAM footballs – have landed a TV show celebrating a love of the outdoors and hearty "man food."
What began in November 2007 as an idea and a blog and evolved into video recipes has grown into a TV show following Mantineo, Youngblood and their guy friends on outdoor adventures. Their first televised episode took them off-roading in Moab, while pausing to show viewers how to cook meals like the "Juicy Lucy," a cheeseburger stuffed with cheese, bacon and jalapeños (and then topped with more cheese).
"We like to go around and do the things we truly enjoy and make food a big part of the adventure," Youngblood says. "In Durango especially, there are so many people that kayak and ski and also hanglide once in awhile and are always doing these crazy things. They're always going and doing. We thought it would be really good to show that demographic – whether it be skiing or pond hockey or whatever."
Co-founders Youngblood and Mantineo, who have been friends for 11 years, hatched the concept of Cook Man Food when they realized they were eating better than other campers and hikers – they'd be grilling pork tenderloin wrapped in bacon next to groups eating ramen with ketchup.
"One of the first times we filmed was climbing fourteeners over in the Sangre de Cristos – we did Crestone Needle and Crestone Peak – and we brought our turkey fryer to base camp. So there were people eating freeze-dried food and salami and crackers, and we were deep-frying chickens," Youngblood recalls.
Their big break came when they decided to do a webisode on injecting hot sauce into a chicken before deep-frying it. They asked the hot sauce company for some free sauce in exchange for inclusion in the episode and got an entire box full of hot sauce samples.
"That was a big day for us," Youngblood says. "It was cool."
Then last April, Durango videographer Carl Geers joined up with Cook Man Food.
"Carl's been a big part of getting our video levels up and making us look very professional," Youngblood says. "He sees in frames, so he's able to visualize what we're cooking and how to make it appealing to people."
In addition to a deep passion for bacon and guy weekends, Youngblood and Mantineo share the same early inspiration for their cooking: their moms. Youngblood's mother cooked virtually everything from scratch, and Mantineo's mom has the philosophy "you don't need a recipe," he says.
"My dad can do toast, and he can do bacon and eggs and that's about where he stops," Mantineo says. "I really was inspired to cook from my mom."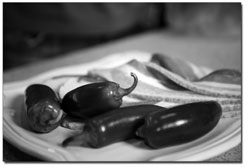 Jalapeños and bacon, two Cook Man Food mainstays, awaiting transformation into bacon-wrapped, sausage-stuffed poppers./Photo by Stephen Eginoire
In fact, at CookManFood.com, the disclaimer directs readers who "find our site repulsive and disgusting" to Mantineo's mother's website, CookWomanFood.com, which has recipes for vegetable dishes and fancy desserts that have been passed through his family for generations.
"A lot of those recipes are my grandmother's, so there's lots of good stuff on there," Mantineo says.
After working in a bakery during high school, Mantineo served in the Navy from 1995-2001 and took the opportunity to sample the local cuisine at every port. "I went to 14 different countries, and everywhere I went, I always made it a point to go eat off the beaten path and just study as much as I could about local cuisine," Mantineo says.
Youngblood also served in the Navy, from 1993-97, where he worked as a cook. "It wasn't the most glamorous position in the Navy, but it was something I enjoyed doing the entire time I was there," he says. But their primary bond is definitely pork. Mantineo's favorite bacon recipe is bacon-wrapped jalapeños stuffed with cheese. Youngblood also favors chicken breast stuffed with dill Havarti and wrapped in prosciutto.
"I don't think there's been a time in my life where I've ever turned away a piece of bacon," Mantineo muses.
This means that he needs to work to stay fit when eating "man food" three meals a day.
"I spend a lot of mornings at 5:30 in the gym working out, 'cause if I don't – I didn't work out in November or December, and I put on 15 pounds," he says. "We are an outdoor cooking show, so we have to be in shape to do a lot of these things that we're doing."
Mantineo's wife, Amy, has been supportive of the Cook Man Food venture, while Youngblood's passion for bacon almost created issues with his fiancée, Erin McElwain.
"She likes sausage more than bacon, but we've worked through our meat differences and everything's a go," he jokes. The Cook Man Food team won't let success go to their heads – they plan to continue raising money for local nonprofits as they have over the past three years, whether by donating catered meals or through the San Juan Brewfest, which Youngblood organizes annually to benefit the United Way.
"We try to stay grounded in what we're doing and make sure we're givin' back just as much as we're getting,'" he says. As for the future of Cook Man Food? The sky is the limit – literally.
"A big dream of ours is to actually do a beer and barbecue mini-event on the top of a 14,000-foot peak, just because nobody's ever done that, and it would be a lot of fun," Youngblood says. In the immediate future, episodes will include skydiving and rafting adventures and, of course, more creative recipes and a healthy dash of humor.
"I think we're going to work a Tofurky into one of our future episodes, so stay tuned," Mantineo says. •
The next episode of Cook Man Food airs this Friday at 6:30 a.m. on KASA Fox (channel 2). For more information, visit www.CookManFood.com.