The 'Black Sheep,' Phosphorescent and Finnders & Youngberg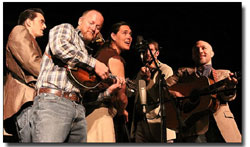 Finnders and Youngberg comes to The Hank @ 8p.m. Saturday

by Chris Aaland

Just as winter unleashed what may be its last gasp of overnight frost and sporadic snow last week, most of us welcome the spring by dusting off river and trail gear, prepping gardens and lawns and doing the clean-up and maintenance chores we largely ignored over the winter. I can't wait for lazy Sunday barbecues, weekend treks into the San Juans and street festivals loaded with food, drink and music. It seems the month between the departure of the college students and the arrival of tourists gives us local yokels a chance to showcase our true colors. It represents a cultural rebirth of sorts, as this week's varied entertainment menu suggests.
Martin Sexton returns to town at 7:30 p.m. Sunday at the Smiley Auditorium. I saw Martin four or five times from the late 1990s through the middle part of the last decade. He's a versatile performer who is tough to pigeonhole: a singer whose voice is classic blue-eyed soul, an innovative songwriter who paints pictures of life's beautiful and simple moments, an underrated guitarist who incorporates elements of blues, rock and jazz into his music, and, above all, an entertainer. From jam-band hippies to thirty- and forty-something hipsters, to diehard Bleaker Street-era folkies, Sexton has built a loyal following. I used to be a singer-songwriter fanatic back in the 1990s (perhaps that genre's second most fertile period, next to New York's great coffeehouse days of the late '50s and early '60s), and rate his first three albums – 1992's "In the Journey," 1996's "Black Sheep" and 1998's "The American" – among the finest folk records of the era. While my musical tastes have surely changed in the past 10 years, Sexton remains an important figure in the modern folk scene.
One of the most critically hailed artists of 2010, Phosphorescent plays the Abbey Theatre at 9 p.m. Monday. Essentially, it's the musical vehicle of Matthew Houck, much like Iron & Wine is the working name of Sam Beam. The Phosphorescent sound is a unique one: equal parts contemporary New York City sophistication and 1970s Nashville cool. Imagine if Lou Reed and Willie Nelson had a bastard child, and you're at least on the road to appreciating Houck. Rolling Stone, Paste and Mojo magazines have all raved about Phosphorescent, while David Letterman and David Dye (host of NPR's "World Café") have hosted them on their programs. Phosphorescent recently released "To Willie," a tribute album to the Red Headed Stranger. Its artwork pays homage to Willie's underappreciated "To Lefty," itself a mid-'70s tribute to Lefty Frizzell. The Brooklyn-based Family Band opens. Southwest Sound is giving away single tickets to the show with the purchase of a Phosphorescent CD or vinyl album.
One of Mexico's best (legal) exports, Ballet Folklorico "Quetzali" de Veracruz, comes to the Community Concert Hall at 7:30 p.m. tonight (Thurs., April 28). Celebrating its silver anniversary and touring with the award-winning musical ensemble, Tien-Huicani, the troupe has built a global following with its visual fiesta of color and folklore. On this tour, Quetzali presents dances from four distinct regions of Mexico as well as "Danza de los Concheros," which pays homage to Central America's indigenous roots.
Since Saturday marks the entrance of Fort Lewis College's 48th baccalaureate class into the real world, my guess is there will be a handful of revelers looking to get their boogie (as well as their drink) on that night. Fortunately, options abound.
Finnders & Youngberg, a quintet that's footed firmly in bluegrass with honky-tonk and folk leanings, is back at the Henry Strater Theatre at 8 p.m. Saturday. This crew has been here before, playing a couple of Durango Bluegrass Meltdowns and the odd show at the Hank. They've recently released their sophomore album, "FY5," featuring a new lineup and a new name (note the extra "n" in Finnders). The record is strong: I gave it a spin on my "Cask Strength" radio program this past Monday, and found it both heartfelt and entertaining. The name change is due to some ugly legal proceedings stemming from the divorce of one of the band's couples. Mike Finders, the chief songwriter in the group, is truly one of the greatest regional songsmiths to marry words to music, not to mention one of the nicest guys you'll ever meet. In Aaron and Erin Youngberg, you have musicians who have long shaped the Northern Colorado roots music scene through their work in Hit & Run Bluegrass and the Billy Pilgrims.
Oakhurst plays the Summit at 9 p.m. Saturday. Long favorites of the Colorado jam-band crowd, their music is rooted in Appalachian-style bluegrass, fused with indie rock and a citybilly attitude. While their previous two albums delved into more alt-country and jam terrain, their third effort, "Jump in the Get Down" is more of a traditional bluegrass album, with just enough of an edge to appeal to rock fans.
The Abbey welcomes DJ Vadim & the Electric on Saturday. Hailing from London, DJ Vadim brings reggae, hip-hop and soul beats to town.
Elsewhere: Hello Dollface blends blues, soul and indie rock at tonight's Ska-B-Q at the Ska Brewing World Headquarters; the Steve Andrews Band is at the Summit at 9:30 p.m. tonight; Kentucky Deluxe brings its dirty, rootsy sound to the Starlight's weekly FAC from 6-9 p.m. Friday; Midwest Dilemma unleashes its American folk rock on Ska on Friday; DJs B-Side & Mowgli spin at the Summit at 10 p.m. Friday; the Jelly Belly Boogie Band plays the Derailed Saloon from 6-9 p.m. Friday; and Black Velvet does the Diamond Belle Saloon at 5:30 p.m. Friday and 6 p.m. Saturday.
In honor of Martin Sexton, this week's Top Shelf list is a baker's dozen of my favorite singer-songwriter albums of the 1990s:
Peter Rowan, "Dust Bowl Children," 1990.
David Olney, "Roses," 1991.
Robert Earl Keen, "A Bigger Piece of Sky," 1993.
Dave Alvin, "King of California," 1994.
Guy Clark, "Dublin Blues," 1995.
Joe Ely, "Letter to Laredo," 1995.
Fred Eaglesmith, "Drive-In Movie," 1995.
Steve Earle, "I Feel Alright," 1996.
Terry Allen, "Human Remains, "1996.
Martin Sexton, "Black Sheep," 1996.
Greg Brown, "Further In," 1996.
Buddy Miller, "Poison Love," 1997.
Lucinda Williams, "Car Wheels on a Gravel Road," 1998. •
She needs another lover like she needs another dose in her blood? Email me at chrisa@gobrainstorm.net.
In this week's issue...
March 17, 2022

Lake Powell drops below threshold for the first time despite attempts to avoid it
March 17, 2022

Purgatory Resort set for expansion but still faces hurdles
March 10, 2022

New health care studio takes integrated approach to healing