Roadside assistance
Convicted Choppers revs up custom rides for Durango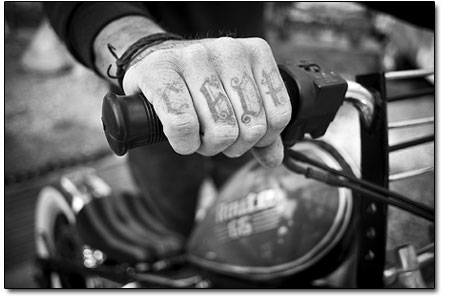 The word "Chop" decorates Vince Keating's fingers as he revs the engine of one of his creations. Keating's Convicted Choppers chop shop transforms junk and scrap into motorcycles, bikes and hot rods./Photo by David Halterman
by Angelina Skowronski
"Kawasakis and Suzukis are like weed-whackers, those things don't die," says Vince Keating from his home-based custom chop shop in nearby Oxford. Tom Petty's "Refugee" plays on the stereo, which sits next to a Slayer flag and a CD library that includes everything from Iron Maiden to Willie Nelson.
Keating's mesa dwelling overlooks his in-laws' property (they share a fence) with a majestic back drop of the San Juans in the distance. An old chalkboard fills the space of the shop doors. Scribbled on it in white chalk are names and numbers too important to write down on paper. A small wood burning stove rests in the corner. This is where the business Convicted Choppers lives.
Keating primarily "chops" – combines parts from several bikes to make a new one – older "metrics" (foreign made motorcycles). "The younger generation appreciates Japanese and Chinese bikes and motors because they can beat on 'em," says Keating, as the fragrance of engine oil swirls with the changing of the winds. He also works on "standards" (American made), but only by request. On this day, the smell of oil is wafting from a 1976 Harley Davidson Ironhead Sportster, a bike he is working on for a marine stationed in Afghanistan.
"I sold my first chopper on eBay for $2,000 and it just snow-balled from there," he explains. And he's already had a fairly storied career in the world of custom motorcycles. Convicted Choppers is a makeshift museum with photos, trophies, and news and magazine clippings of Keating and his bikes.
Keating is every bit a chopper magician. Tattoos reading "chop" and "drop" grace his knuckles; his ears are pierced with gauged holes; and thick, black-framed glasses add a touch of sophistication to his demeanor. Full-time custom fabricator, part-time Purg lift operator, year-round family man, Keating intermingles his stories between his shop, bumping chairs at Lift 8 and his wife.
Last year, Keating's 1973 Honda CB 750 bike was in the top 10 at the Smoke Out West chopper show in Santa Rosa, N.M. A diamond in the rough, the bike was originally purchased for $200 from a junkyard in Denver. Keating took home top honors because of the bike's originality, a sight few and far between these days in the motorcycle world with the popularity of DYI chopper kits. "There are shoppers, and then there are choppers," he puns.
Keating is also regarded for his signature Southwestern-weave bike seats (he buys the blankets off reservations while on bike trips), and he has worked and learned his way into being a custom vintage motorcycle master. His fortes are endless, and he uses his welding talents on motorcycles, bicycles and cars alike.
"My first project was a bicycle made from an old piece of gym equipment I took from the college's weight room," Keating explains. "I took the seat from it and combined it with a BMX bike frame."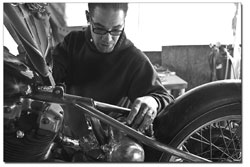 Vince Keating looks over a work in progress at his shop in nearby Oxford. One of Keating's bikes took a top 10 slot at last year's Smoke Out West Chopper show in California./Photo by David Halterman
A few of his custom bicycles now serve as eye candy in Durango. A 9-foot bicycle chopper hangs from the rafters of Steamworks, built for part-owner Brian McEachron. Another of Keating's pedal-powered bikes is a gold-flake tandem built for Durangoan Devin Finucane and his then 5-year-old son. A single parent, Finucane would pick up his son from school on the two-wheeler and get more than just stares from the soccer moms. And last but not least, tourists and locals alike regularly spot a black tricycle stocked with wheelie bars and chrome and gold rims ridden by Jesse Hoff.
Keating's newest projects are his cars, appropriately labeled "rat rods" in auto-mechanic circles. Parked outside his shop, as if awaiting a debut in a parade, are a 1942 Willy's Chassis equipped with a four-cylinder Ford Pinto engine and a 1937 Fork pickup he scored in a junkyard. The Ford was originally folded in half, but with his craftsmanship and patience, Keating welded it back together using the frame of a 1954 Chevy truck and scrap metal found in bins at the Animas Air Park.
The four-wheelers are also testaments to local pride. Keating uses old Ska kegs as fuel tanks for some of his relics, setting them apart from traditional rat rods. "I like to keep it local," he remarks.
But the most treasured of his autos sits in the back of the lot, tires flat from age and windshield shattered from life, a 1960 Lincoln Continental. "In high school there were some punk rock kids who drove it," Keating begins. "After college, I came back home and saw it parked outside the same house as it was in high school. One day I asked the lady of that house if I could buy it. It took me about a year of hassling her before she finally sold it to me."
The Continental looks the size of a modern-day limo, a bonafide land-yacht. "It's my keeper, a life-long project," he says. "One of these days I'll be driving my kids to school in that thing. That's why it's sitting out back."
With all these projects and so little time, his day planner is organized by his other half, Aspen.
"I've got this deal with my wife," he admits. "When a new project comes in, she writes it down in her book, and I have one year to do something with it. If I don't, it's gone."
Aspen and Vince's courtship is not a story for Match.com romantics. During his early days of building log cabins at Vallecito, Keating was offered water by a cute girl while working on the staircase of her father's home. Soon after, Aspen followed Vince to Coos Bay where she attended culinary school. They tied the knot in 2007, and returned home to Southwest Colorado.
Today, the pair resides in the nest of Convicted Choppers. Industrial art of every fashion is scattered across the yard. On this day, the stereo speakers thump the beats of the Temptations' "Ain't to Proud to Beg," the winds carry the engine oil scent due west, and Keating returns to his shop to start chopping his weed-whackers. •
For more information on the work of Vince Keating, visit www.convictedchoppers.com.
In this week's issue...
March 17, 2022

Lake Powell drops below threshold for the first time despite attempts to avoid it
March 17, 2022

Purgatory Resort set for expansion but still faces hurdles
March 10, 2022

New health care studio takes integrated approach to healing