Off road in the La Platas
USFS plans for motorized use in La Plata Canyon

SideStory: The snowmobile loophole – USFS upholds winter motorized regs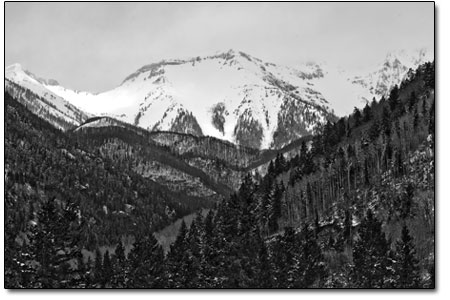 Fresh snow dusts the La Plata Mountains early this week. The Forest Service is currently accepting comments on its plan for motorized recreation in the La Plata Canyon and Junction Creek areas. The "landscape" is no stranger to all-terrain vehicles. Off-road abuses forced the agency to enact an ORV closure order in the La Platas last summer./Photo by David Halterman
by Will Sands

The Forest Service is continuing to apply the brakes to motorized recreation in the San Juan Mountains. In the wake of huge growth in motorsports and off-road abuses, the Forest Service is working to get a grip on the local throttle. Last week, the agency started accepting comments on its plan for motorized travel in public lands in La Plata Canyon and the Junction Creek area.
Back in 2004, Forest Service Chief Dale Bosworth named off-road vehicle abuse as a top threat to public lands. The move came in response to the sudden appearance of more than 60,000 new miles of renegade roads on forests throughout the nation. Bosworth ordered regional and local offices to stop this spread and confine motorized travel to designated roads and trails.
The San Juan National Forest immediately picked up the charge and started regulating motorized recreation in "The Lakes" landscape. The Lakes stretches between Lemon and Vallecito reservoirs and includes portions of Missionary Ridge and Middle Mountain. Three years ago, the agency completed the process and officially designated 52 miles of roads and trails as open to motorized travel in The Lakes.
"Unregulated motorized use is one of the biggest threats to public land nationwide," explained Nancy Berry, recreation forester with the Columbine District. "There has been a big increase in motorized use and there have been problems. Now, the goal is to get the use onto designated routes and keep people out of delicate areas."
Motorized excesses have also found their way into La Plata Canyon. The La Plata Mountains are a big draw for motorized users during summer months, and this popularity has not come without costs to the land. The route up La Plata Canyon is a county road, a place where ORVs are prohibited. Consequently, riders have been following user-created trails parallel to the road to avoid a fine. However, the new routes are not sanctioned by the Forest Service and are trashing delicate alpine and riparian areas.
"La Plata Canyon has presented us with an interesting dilemma, because the main route is a county road and mixed uses are not allowed there," explained Berry.
Last summer, the Forest Service took a firm approach to the problem and issued an ORV closure order for the La Platas. The order confined motorized use to existing roads until the agency can complete a travel management process.
"We issued a closure order where we made it clear and official that motorized travel is limited to Forest Service roads in the La Platas," said District Ranger Matt Janowiak. "We're trying to put the brakes on violations until we can designate a trail network and establish routes up there."
The agency is currently in the midst of that process and started accepting public comments on its plan for 60,000 acres encompassing the La Plata Mountains and Junction Creek drainage last week.
"The focus is on where motorized users can and can't go," Berry said. "Because of the topography, that's pretty clear-cut in the La Platas and around Junction Creek."
The Forest Service's plan calls for motorized access largely where it already exists. Off-road vehicles would continue to be allowed up Boren and Bedrock creeks and into U.S. Basin as well as along Junction Creek Road. In addition, a route would be designated up Neptune Creek for vehicles less than 50 inches wide, namely dirt bikes and four-wheelers. The remainder of the area would be strictly off-limits to throttles.
"The goal is to keep ORVs on roads and trails and not going off," Berry said. "The terrain is so steep in most of these places that that's not really even possible. The truth is, there's not a lot that would change in La Plata Canyon or Junction Creek."
The conservation community is eager to see motors confined to existing routes in La Plata Canyon. Jimbo Buickerood, public lands organizer for San Juan Citizens Alliance, applauded agency efforts to rein in motorsports.
"There have been significant, inappropriate encroachments in La Plata Canyon, and the Forest Service felt they were significant enough to enact a forced closure," he said. "We're really happy to see this current planning effort because this is an incredibly fragile area that gets intense use."
Buickerood noted that travel management is frequently contentious, and that recent closures in the Boggy Glade area, near Dolores, raised hackles. However, he added that the process has always been above-board and open. With this in mind, he commended the efforts of the Forest Service.
"Progress is slow, but progress is being made, and we feel like the Forest Service has bent over backwards to accommodate all users in this process," he said. "The door's been open, people just haven't always taken advantage." •
The Forest Service is accepting written comments on travel management for the La Plata Canyon and Junction Creek areas through May 23. Comments can be sent via e-mail to nberry @fs.fed.us or by mail to P.O. Box 439, Bayfield, CO, 81122. More information can be found at: www.fs.usda.gov/goto/sanjuan/projects.
In this week's issue...
March 17, 2022

Lake Powell drops below threshold for the first time despite attempts to avoid it
March 17, 2022

Purgatory Resort set for expansion but still faces hurdles
March 10, 2022

New health care studio takes integrated approach to healing