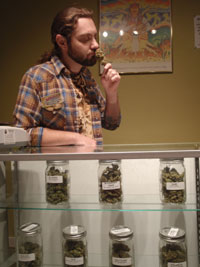 Diver: Kevin from Animas Herbal Wellness
Interesting facts: Kevin is the greenest diver to grace the pages of the Telegraph
Got a dirty little secret?
Looking for guidance to remedy a sticky situation?
Seek help from the master of the kitchen! The Dish Diver has solutions to life's little messes. Send your problems to "Ask the Diver." - By mail to Durango Telegraph - Attn Diver -534 Main Ave., Durango, CO 81301; by email at telegraph@durangotelegraph.com, or by fax at 259-0448.
Dear Diver,
I'm thinking about taking up the game of golf. Crazy right? But I want to start grooving my swing now so I'm not a laughing stock when the golden years arrive. Where's a good spot for a Durangoan of modest means to pick up some sticks and find a little game?
– Mr. Masters, Durango
Dear Miser Master
Yes golf is great – there's lots of green, fun little karts and ball washers. But I hear it's expensive, you need specialized tools every time you want to tee up and take a hit, and green fees can be astronomical. Up north near Cascade, they have an exclusive course where the fairways are a hybrid, a cross of "Bluegrass, Kentucky Bluegrass and Northern California Sensemilia," but you need more than a prescription to play there. But there are cheaper ways, I'm sure you can start a little plot in your back yard, pick up some (thai) sticks and "find a little game." But don't forget to bring along grandpa's green golf medicine to keep your arthritis and glaucoma in check.
– Diver
Dear Diver,
Why are there two City Markets in Durango and why are they so different? The places are under the same corporate umbrella, but don't even carry the same products. What's going on? Is "corporate" pulling our strings and secretly manipulating the Durango populace?
– Looking for my value card
Dear Value Schmalue,
I also hate having to go to two City Markets depending on what munchies I crave. You got to go all the way (2 miles) north for Salsa Verde Doritos, frozen pizza rolls, and Ben and Jerry's OR half way to New Mexico to get Cool Ranch Doritos, frozen pizza bites and Häagen-Dazs. Good luck getting sour cream and onion chips with some dip, man, some beef jerky, some peanut butter, some Häagen-Dazs ice cream bars (make sure chocolate, gotta have chocolate), some popcorn, and graham crackers, graham crackers with marshmallows (the little marshmallows) and little chocolate bars and we can make s'mores, man, also celery, grape jelly, Cap'n Crunch with the little crunch berries and Funyons all in one trip.
– Diver
Dear Diver,
My wife wants us to spend the weekend in Farmington for a short shopping holiday and I've agreed to go along for the ride. Can the Diver offer any pointers for spring fun south of the border? Lodging and culinary tips would also be greatly appreciated.
– Stan, via email
Dear Needs a Sedative Stan,
So the wife wants to go to Target. Yep, mine too. Don't worry that is what edibles are for. Eat some brownies, cookies or candies and wash it down with a medicated soda and let the wife drive. You will feel so good you won't really mind being in the Land of Enchantment or you will just pass out and be asleep the whole time. As far as food while you are down there, they got a great burgher joint that is the antithesis of McDonald's, a little blue shanty where you order at the window and wait in the parking lot for your actual beef burger. Just make sure you are home before 4:20 and remember just because our medicine's legal here doesn't mean it's legal everywhere.
– Diver