A solar renaissance
Sustainability Alliance pitches CLEAN energy policy

SideStory: Green Expo returns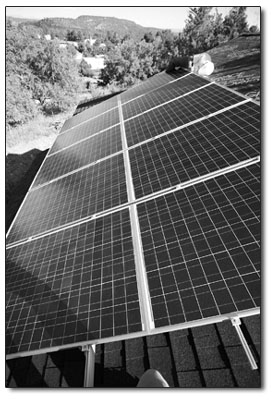 A solar array collects energy near Durango. A group called Clean Local Energy Accessible Now is lobbying LPEA for a policy that would set a fixed rate people would be paid for selling solar power back to the grid. /File photo
by Will Sands

A local group is hoping to trigger a renewable energy boom in Southwest Colorado. The Sustainability Alliance of Southwest Colorado (SASCO) is banking on a time-tested plan to open solar power to the masses and convert the region's rooftops into an economic driver and a major source of clean power.
Known as Clean Local Energy Accessible Now (CLEAN), the program has already gained traction elsewhere in the United States and internationally. Once a CLEAN policy is adopted, electric utilities like La Plata Electric Association agree to pay a fixed rate for electricity generated from local renewable sources tied to the grid. Excess energy generated from solar, wind or microhydro usually spins back into the grid anyway and is bought back by utilities. However, the rate flexes. Last year, La Plata Electric Association paid owners of photovoltaic systems 70 cents for every kilowatt hour of energy produced. That price dropped to 50 cents for 2011 and is set to fall by another 10 cents for every year hereafter.
A fixed rate would offer home and business owners assurance that they will recoup their investment and serve as a draw for lenders who might underwrite renewable energy investments. The CLEAN policy is also a perfect fit for Southwest Colorado, according to Harry Riegle, chair of SASCO's Smart Energy Committee.
"We live in one of the most solar-rich environments in the country, and we'd like to see Southwest Colorado capitalize on the new energy economy," he said. "What we've seen is that the CLEAN policy has been used with great success in places like Gainesville, Florida, and Germany, and they do not have nearly the abundance of renewable resource that we do."
To this end, SASCO has asked LPEA – a cooperative whose service territory covers all of La Plata County and much of Southwest Colorado – to adopt a CLEAN policy. Such an adoption would fix rates for 20 years and spur major solar development, according to Riegle.
"We're looking at it primarily as an economic driver for Southwest Colorado," he said. "We think the policy would lead to the installation of 2 megawatts of solar power in the first year alone. And that would bring $10 million a year to our local region."
Riegle went on to argue that a CLEAN policy could democratize solar power and open it to the masses. SASCO has approached a variety of lenders in Durango, and they all expressed willingness to underwrite loans for solar arrays if LPEA could fix the rate.
"We've talked to the banks and they see it as a no-brainer as long as there is guaranteed income coming from LPEA," he said. "Currently, the only people who can take advantage of solar power are rich folks. The CLEAN program would make it so anyone with a roof could take advantage."
However, LPEA is still not on board, and Mark Schwantes, director of corporate services for the co-op, opted to not comment directly on the CLEAN policy. However, he did note that the utility has done its part to further the growth of solar in recent years. An LPEA rebate has been one incentive that has led to a spike in local power. Last year, 95 solar arrays were installed in the LPEA service area, well up from 17 in 2006. In total, 252 renewable energy systems – the vast majority of them solar – have been tied to the LPEA grid and are currently generating 1.13 megawatts of power.
Riegle countered that a CLEAN policy could blow this number out of the water in the first year alone. Once the rate is fixed, SASCO says it can bring 2 megawatts online in the first year and 3 more megawatts in the second year. The group has also run the numbers and estimates that it would only increase the average LPEA customer's bill by 32 cents per month.
"The LPEA board is considering it, but we've heard two concerns from them," he said. "First, they're worried about being obligated for a 20-year period. Second, they're concerned that it will drive up costs. But the fact is, we're only talking about an average of 32 cents."
SASCO has also heard reservations about CLEAN from a surprising source – several local solar installers. Riegle noted that the program would encourage a huge volume of solar development that exceeds the local workforce and might draw other installers to the region.
"I've heard from a lot of installers that it would create unwanted competition," he said. "Our answer is that we will try to restrict it to local installers, but that's not saying people won't try to take advantage."
Nonetheless, SASCO hopes that all of Southwest Colorado can take a broader view of the CLEAN policy and see that major benefits could outweigh minor costs.
"We see it as an investment in Southwest Colorado's future," Riegle said. "It's vital to our security and energy independence. Plus, with solar we can generate our own clean energy and keep money circulating locally."
As the next step, SASCO is taking its CLEAN push to the streets in the hopes that it can pick up believers and momentum along the way. Riegle hopes that residents of Southwest Colorado and LPEA's Board of Directors will eventually see the proposal in a positive light.
"We don't have much to lose," he said. "The sun's going to be around for quite a while." •