Puppy party
Puppy socialization parties sideline aggression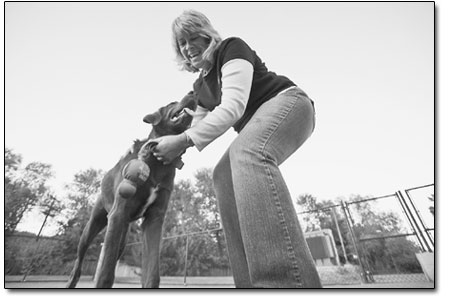 Instructor Juliet Whitfield, owner of Durango Dogs, plays with a young lab during a puppy socialization session at the Durango Recreation Center last Wednesday./Photo by Stephen Eginoire
by Jen Reeder

Karen and Dick Larese often foster puppies from the La Plata County Humane Society, giving them back when the puppies are 8 weeks old and eligible for adoption. But about a year ago, when they were fostering Penny, a 6-week-old border collie mix, they were so concerned by her timid behavior that they decided to adopt her themselves.
"Penny was afraid of people, of everything," Karen Larese says. "I was concerned that if we brought her back to the pound, she'd be lost in the shuffle."
The Lareses brought Penny to Alpha Canine Academy near Elmore's Corner not just for obedience classes, but for the free puppy socialization classes held on the expansive property each Thursday at 5 p.m. Dogs up to a year old have an hour to frolic off leash together in a yard filled with energetic pups and their owners"The more we exposed her to things, the more comfortable she became," Larese says. "Coming here and seeing the other dogs and learning what's acceptable behavior and what's over the line … it worked. She's turned into the dog that we hoped she would."
Most experts agree that young dogs benefit from interaction with other dogs and people, or "socialization," in the first year of life. The work helps them avoid becoming aggressive as adults and following the path many aggressive dogs take to the shelter.
"I've got a whole shelter full of aggressive dogs," says Anna Anderson, executive director of Annie's Orphans, Durango's no-kill dog shelter.
It is "practically impossible" to adopt out aggressive dogs because most Durangoans want to be able to take their dogs off leash at the river or dog park, Anderson says. While she has a trainer who works with the dogs to tame their aggressive tendencies, it's a slow process. The simpler solution is to socialize them when they're puppies.
"It's imperative," Anderson says. "It really starts them out on the right foot."
Julie Winkelman is the lead trainer and owner of Alpha Canine Academy, which started offering free puppy socialization sessions about a year ago.
"I offer it free because it's so important," Winkelman says. "You have to socialize. More dogs lose their lives because of lack of socialization than lack of health care."
More than a dozen people bring their puppies to Alpha Canine Academy each Thursday to romp in the yard with one another. The puppy pen is for the very young, shy dogs that might not be ready to charge around the yard with the bigger dogs. But soon, most of them are eager to sample the yard's agility hoops and tunnel, splash in the kiddie pool, sit for treats from humans – and of course, play with other dogs.
If a puppy gets too riled up, Winkelman, trainer Toleda Cluff or apprentice Traci Moriarty are quick to give the pooch a time out. Well-behaved pups are rewarded with Zuke's treats, which are donated by the local company.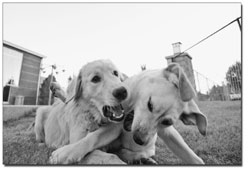 Sage and Rio take a little time out for "socialization" during a Durango Dogs session at the Durango Recreation Center./Photo by Stephen Eginoire
Though the socialization hour is free, Winkelman suggests attendees donate $5 to Dogster's Spay and Neuter Program, a Durango-based nonprofit that provides low-cost spay and neuter services in La Plata County. Socialization hour has raised $1,380 so far this year.
The year has seen other success stories, like Sister, now a 7-month-old blue heeler who was very submissive and fearful when Bayfield residents Ron and Cindy Hale adopted her at seven weeks. Ron says the socialization hour at Alpha Canine Academy has made "a tremendous difference in her life." When she first came, Sister would lie on the ground and the other dogs would jump on her, so she had to stay in the puppy pen. But she gradually grew accustomed to being around other dogs, and now she plays with the other puppies or roams the fence line, unconcerned with their presence.
"The word should go out that everybody with a dog should do this," Hale says.
Recently, another weekly puppy socialization hour began in Durango. At the end of August, Juliet Whitfield, owner and trainer at Durango Dogs, began offering a "Puppy Party" on Saturdays at 11 a.m. at the Rec Center – and she plans to keep it going year-round.
"It's so important," Whitfield says. "Dogs that learn how to be really comfortable with other dogs when they're young will keep that for life."
Meeting on the west side of the Rec Center at the Splash Pad on clear evenings, or inside the Twilight Room when it rains or snows, the socialization hour is open to dogs up to a year old. The $6 fee (or five sessions for $25) offsets the cost of space rental.
Whitfield is assisted by Vivienne Bell, who brings her mellow Scottie, Sarge, to introduce some calm energy into the fray. It can be useful (but not always effective) with so many excited puppies. At the Sept. 15 socialization, a chocolate Lab named Charlie decided to "dig" in the shared water bowl, splashing water in every direction – then peed in the bowl, eliciting a huge laugh from the gathered owners.
Sarah Guinther brought her 5-month-old German shepherd mix, Alice, to a Rec Center puppy party and liked seeing so many puppies playing together.
"The whole pack mentality when they get together is pretty awesome," Guinther says. "It was super fun."
She said it was also informative, because Whitfield instructs owners on how to read body language, and understand if a dog needs to be removed from a situation.
John and Edy Zwierzycki are regulars at the Rec Center puppy parties because they want to socialize their 5-month-old Golden Retriever, Sage.
"She's had a lot of fun," John Zwierzycki says of Sage. "Puppy time does make her sleep well at night and give us a break as well – puppies are challenging!"
Zwierzycki highly recommends the puppy socialization hour, with one suggetion: "The only thing that would make it better would be a cash bar."
For more information, contact Juliet Whitfield at 382-2542 or www.DurangoDogs.com. Alpha Canine Academy can be reached at www.AlphaCanineAcademy.com or 382-5937. Beginning on Oct. 28, Alpha Canine Academy will meet at Healthy Hounds and Fat Cats at 6 p.m. Both puppy socialization hours require owners to bring their pet's shot records. •
In this week's issue...
March 17, 2022

Lake Powell drops below threshold for the first time despite attempts to avoid it
March 17, 2022

Purgatory Resort set for expansion but still faces hurdles
March 10, 2022

New health care studio takes integrated approach to healing