25 years of connections
Community Connections celebrates quarter century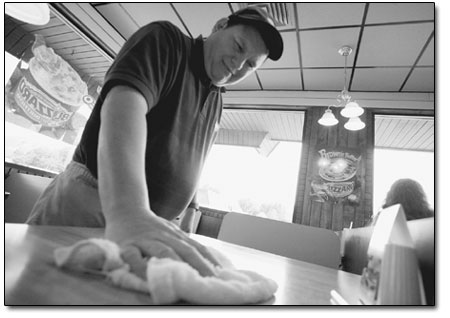 Dominic Luna buses tables at Dairy Queen on Monday with a little help from Community Connections. CCI has been giving people with developmental disabilities a hand up in Southwest Colorado for 25 years./Photo by Stephen Eginoire
by Malia Durbano

Community Connections' name aptly describes the role the nonprofit has filled in Southwest Colorado for the past 25 years.
With a mission to provide people with developmental disabilities with a healthy and fulfilling life within our community, the agency has grown from serving 37 individuals to now employing 150 and serving more than 250 children, family members and adults every year.
Twenty-five years on, Community Connections is mandated by the Colorado Department for Developmental Disabilities to offer comprehensive services for the disabled and is the only such group in Southwest Colorado.4
"We are the only organization providing 24/7 comprehensive services to people with developmental disabilities in the region," says Julie Dreyfuss, Community Connections' Development, Communications & Special Projects Director.
That service can start from a very early age. Sixteen part-time therapists serve approximately 75 individuals ranging from birth to age 18, offering help with speech and language, physical therapy and occupational therapy. "Babies get referred through a variety of sources, including the hospital or the pediatrician," says Rachel Cameron, Early Intervention Program Manager. "A thorough evaluation is done, and if they have a 25 percent delay in any area, we provide services."
Residential and vocational services are crucial arms of Community Connections and vital to getting clients into independent, normal lives. "We provide rehabilitative services and support to empower the people we serve to express their individuality," says Jason Armstrong, Director of Adult Services. "We provide opportunities for them to be who they are as people. We encourage people to become as independent as possible."
As the Day Habilitation Manager, Melia Chavez coordinates daytime activities and provides a meeting place where adults gather each morning. Community Connections' "Holly House" also provides a place for socialization and recreation. "We encourage the expression of each person's individuality," Chavez adds. "We empower them to set their own goals and to self-advocate."
As individuals leave Holly House, they head out to their jobs, to the Rec Center for some exercise or out on an excursion with their Direct Support Professional. Each program is individualized, and people get what they need.
Tim Butler, CCI's job coach, mentors Neal and Dom, who both work at Dairy Queen. Butler says they are both examples of successful community connections. "Employment is the most important thing a person with special needs can get," Butler says. "It gives them a sense of belonging, and being needed. It builds their self-esteem and over all self-awareness. They learn social skills in a real life setting that can't be learned any place else."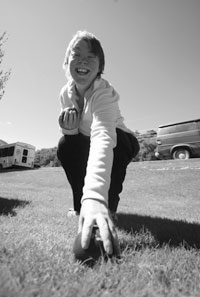 Abby Regal enjoys an afternoon game of bocce ball at Schneider Park on Tuesday. /Photo by Stephen Eginoire
Neal has been making all the waffle cones and waffle bowls at Dairy Queen for almost five years. "I like everything about working here," he shares. He methodically makes sure every waffle is shaped perfectly – especially the chocolate dipped ones.
Dominic, who takes pride in keeping all the equipment, floors and tables clean at Dairy Queen, is "saving my money to go to Disney Land. I like to work and stay busy. It's better than being at home bored."
Twenty-five years is a long run of providing such services in a community. Way back in 1994 and 1995, current Mayor Michael Rendon was a Direct Care Provider. "I did basic care, whatever was needed – help with finances, grocery shopping, etc.," explains Rendon. "It was very rewarding and fulfilling and a whole lot of fun. It was a very positive experience. I still see the guys around town, go say 'hi' and give them a hug."
CCI in turn, gives back to other businesses by volunteering their services at places such as La Plata County Humane Society, Habitat for Humanity, the Discovery Museum and Manna Soup Kitchen.
Jackie Morlan, CCI's executive director, has been with the agency for 23 years. In that time, she has helped the agency grow by remaining true to its ideals and mission statement. "We have gone from serving people in workshops and group homes to helping them into a more independent and 'normal' way of life," she says. "We purchase properties and rent homes to house our staff and the individuals we support. We encourage them to get out into the community and do what everybody else does."
Many individuals now live with host families where they are treated like family members. Vince Garcia and Teresa Rodriguez Garcia really enjoy being a host family. "I can come home after a tough day and forget all about it when I see the smile on Travis' face," Vince says. Teresa shares the sentiment, "It's great to have somebody as part of our family. Travis has an outlook of, 'Life is great – enjoy it!'"
Providing all these services does come at a high cost. Though CCI is ranked as the fourth largest nonprofit in Southwest Colorado, the funding rarely matches up. Medicaid only covers about 30 percent of CCI's costs, and the nonprofit looks to the community to bridge the gap. Donations, grant funding and fund-raisers, including the successful Festival of Trees, help keep Community Connections going.
"Bridging the gap requires constant diligence," Dreyfuss says. "But we get tremendous support from the community."
Community Connections staff also picks up any slack that remains, and they are the ones who deserve the most credit for the nonprofit's 25-year longevity, according to Dreyfuss. "It takes a lot to augment really essential services," she explains. "We appreciate the work our staff does, day in and day out. They make the biggest difference in the lives of the people we serve. Some people have worked here for 22 years – they just get hooked, and the money doesn't matter." •