Passing the torch, 'Dodging Bullets' and Jonathon Tyler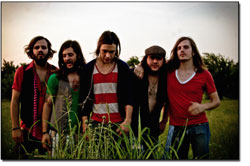 Jonathon Tyler and the northern lights bring their Texas-sized rock n roll to the Abbey on Friday night.

by Chris Aaland

My brother Billy and I decided it was time to pass the torch last Saturday as our great uncle, Curtis Aaland, passed away the day before. For Billy, 16 years my junior, it didn't hit him as hard. He was too young to enjoy Curt in his prime. But for me, Curt's death brought back memories of countless fishing trips, backyard cookouts at his home in the Black Forest northeast of Colorado Springs, and the last of my late grandpa's fishing buddies.
Curt was born on a central South Dakota farm, served in the Korean War and moved to Colorado Springs with his older brother (and my grandfather), John Aaland, in the mid-1950s. My mother was a single mom, so Curt and his daughters essentially helped raise me in my first two years. The late '70s and early '80s saw Curt and Grandpa haul me to Pueblo, Antero, Elevenmile, Bonny and countless other Colorado lakes to instill a lifelong love of the outdoors. These guys were old-school meat fishermen who chose to sink bait underneath red-and-white bobbers and drag lures behind their boats. By my mid-teens, I'd moved on to the fly rod, so fishing trips with them became less frequent. But I was always eager to bust out the old Zebco tackle for a day on the lake with Curt and Grandpa when the chance arose.
So Billy and I hauled my 3-year-old son, Otto, into the San Juans on Saturday, packing fly rods and shotguns. While accompanying Daddy on fishing trips is nothing new to Otto, the blast of a 12-gauge was. To my surprise, he was excited when Billy bagged a pair of grouse — he even carried the birds back to the truck and helped me clean, prep and grill them. He learned the all-important lesson of where food comes from, as I explained the grouse were eating wild strawberries, which in turn meant we ate wild strawberries when we ate the grouse.
I recalled a similar lesson learned with Curt when he brought home a mid-sized northern pike for Grandma to cook when I was 3 or 4. As Billy and I toasted him with shots of Norwegian Aquavit around the campfire, we acknowledged that Curt's torch had been passed.
The 12th annual San Juan Brewfest closes down Main Ave. in front of Buckley Park from noon - 6 p.m. Saturday. This event, brought to you by Durango Mountain Resort and CookManFood, raises money for the United Way of Southwest Colorado. The $20 admission gets you a commemorative pint glass, live music from the Lawn Chair Kings and Baby Toro, plus the chance to sample nearly 30 beers. Participating brewers include the Durango local beer artisans, plus Alaskan, Avery, Back Country, Big Sky, Blue Moon, Boulder, Breckenridge, Colorado Boy, Colorado Native, Coors, Glenwood Canyon, Gunnison, Left Hand, Leinenkugel, Moab, New Belgium, Oskar Blues, Pagosa, Palisade, Sam Adams, Silverton, Smugglers, Stone and Three Rivers. Baby Toro takes the stage at 12:30 p.m. with the Lawn Chair Kings to follow.
The Community Concert Hall and Fort Lewis College Theatre Department present the compelling one-man drama "Dodging Bullets" at 7:30 p.m. Saturday at the Mainstage Theatre on campus. Actor David Barker plays 10 different roles on a nearly empty stage, taking the audience through his interior and exterior life.
The Mighty Diamonds almost came back to the Abbey on Sept. 9. This Jamaican trio has mastered something that's all too rare in reggae (or any other genre, for that matter): three-part harmony. Best known for the classic "Pass the Kouchie," which was reworked as "Pass the Dutchie" by the English group Musical Youth in the '80s, the Mighty Diamonds enjoyed their heyday at the famed Channel One studio and record label in Jamaica in the '70s. Pity they cancelled at the last minute.
Dallas-based Jonathan Tyler & the Northern Lights bring old-fashioned rock & roll with smatterings of blues and soul to the Abbey at 8 p.m. Friday. Their debut album, "Pardon Me," has been called "a Texas-size can of rock & roll whoop-ass" for its Hendrix-laced adrenaline and guitar bombast.
KDUR Summer Raffle tickets have been available for months at the Durango Farmers Market. Saturday is your last chance to purchase tickets ($3 each or a pair for $5), as the drawing takes place on-air at 1 p.m. Monday. Prizes include a season pass to DMR with a Venture Mountain Zephyr snowboard; a monthly bouquet of flowers from Blossom; a date night package with tickets to Shemekia Copeland, lodging at the Rochester Hotel and gift cards to Eno and the Cyprus Café; a bear-proof trash can; and more. Visit www.kdur.org for more information.
FLC's Athletic Training Education Program hosts a unique progressive dinner raffle through Sept. 21. Four lucky winners will receive the chance to treat themselves and three guests to a four-course, progressive dining experience at four of Durango's favorite restaurants: Cosmo, Ken & Sue's, the Ore House and Seasons Rotisserie & Grill. The grand prize winner will also receive a two-night, two-person stay at the Strater Hotel. The drawing takes place between the second and third sets at the Sept. 21 Skyhawk volleyball match; the dinner itself happens on Oct. 2. Cost is $50 per raffle ticket, which might seem like a lot, but can you really treat three friends to a four-course dinner at any of these restaurants for $50? To buy tickets, contact Wayne Barger at 247-7576 or barger_w@fortlewis.edu.
Elsewhere: Orchestra de Salsa plays the weekly Salsa Night at the Starlight at 8 p.m. tonight; Music Destroyer and 1,000 Rogues bring metal to the weekly Ska-B-Q tonight, Sept. 9; Josh Hart plays Friday Afternoon Club at the Purple Haze from 5-7 p.m. Friday; Back Alley Blues returns to the Purple Haze from 8 'til midnight Friday; Double D is at the Starlight late on Friday; Black Velvet plays Sweeney's at 5:30 p.m. Saturday and the Balcony Bar & Grill at 4 p.m. Monday; Dubstep with Peter Robot go from 9 'til close at the Starlight Saturday; and Kentucky Deluxe is back at the Starlight at 8 p.m. Tuesday.
This week's Top Shelf list is a two-word acknowledgement to my late great uncle Curt: tusen takk. •
Will the circle be unbroken? E-mail me at chrisa@gobrainstorm.net
In this week's issue...
March 17, 2022

Lake Powell drops below threshold for the first time despite attempts to avoid it
March 17, 2022

Purgatory Resort set for expansion but still faces hurdles
March 10, 2022

New health care studio takes integrated approach to healing