Local passages
Boys and Girls Club celebrates three years in La Plata County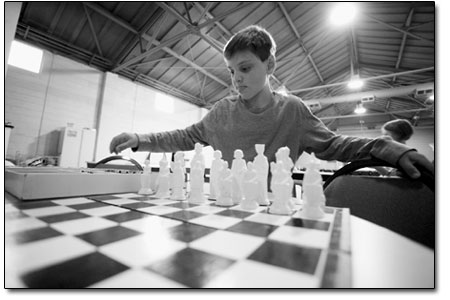 Gabe Vasquez sets up a game of chess at the Boys and Girls Club on Tuesday. Sept. 17 marks the club's third year in La Plata County and is now 450 members strong./Photo by Stephen Eginoire
by Stew Mosberg

Vaughn Morris is proud. Sept. 17 will mark the third year since the Boys and Girls Club of La Plata County officially opened its doors. Morris, a graduate of Fort Lewis College, is the President of the local Boys and Girls Club and a founding member.
The idea for the club originated with Kip Koso, who was the director of the Sun Ute Community Center Director at the time. Koso saw a real need for affordable after-school programs for kids who didn't play sports or have a stay-at-home parent. While working with the county to find a facility, Koso put together a small steering committee to conduct a needs assessment. In turn, the committee began conversations with the people from Boys & Girls Clubs of America. With the assistance of Mike Coffman, Regional Service Director for the national organization, the Club incorporated with the State of Colorado and received tax-exempt status. At the same time, the core group began working on fund-raising activities, ranging from partnering with Bank of the San Juans on a golf tournament to soliciting donations from local businesses.
Discussing his previous experience as a correction's officer in a youth detention center, Morris says he began to understand that the absence of role models or an understanding and encouraging environment for kids fosters poor life choices. "There are no bad kids, only bad decisions," he remarked, adding that this credo is the guiding theme for the Boys & Girls Club.
Careful not to sound too cliché, Morris said that he believes that "children are our future," and as such, programs at the club not only entertain and keep kids from 8 to 18 active and safe, but they also teach them skills they will need to grow into responsible adults. Recalling the first few months of his involvement, Morris said, "I came on board in July of 2007 so my role was really to put the program together and recruit the members. We spread the word throughout the schools and held club registration on a Saturday with 76 kids signing up."
The club had the 100 participants needed for its charter within a week and finished that first year with 213 members.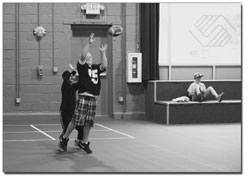 Kids toss the ball whileanother studies in the old armory building that now houses the Boys and Girls Club. According to statistics, the hours after school are the most prime time for kids to get into trouble./Photo by Stephen Eginoire
"Passage to Manhood" and "Passport to Manners" are just two of the programs offered, but the fact that the club includes girls and boys is another opportunity to teach interaction and how to respect each gender, space and social requirements.
Considering the number of youth-oriented organizations in La Plata County, the Boys and Girl's Club has to compete for funding, but collaboration between like-minded groups is encouraged. For example, there are cross-over programs with the Durango Arts Center, Fort Lewis College, Durango Community Access Television, Big Sisters-Big Brothers, and the Girl Scouts, to name a few. Community support has been a helpful element as have businesses who frequently provide services and products for events, training, fund-raising, prizes and rewards.
The Boys & Girls Club's annual operating budget of $400,000 necessitates community involvement and awareness, and since the club is staffed by full- and part-time employees, as well as numerous volunteers, it is always looking for additional help. During the school year, the club is often the only safe environment where kids can go until a parent or supervisor is at home. In the summer, the activity schedule kicks into full gear. A good deal of outdoor activity is provided along with indoor games and field trips.
Interacting with the community through the "Torch Club" gives 11- to 13-year-olds a chance to get involved serving the public and the Club itself, while building self-esteem and leadership skills. In addition, there are fitness and nutrition programs; social development training opportunities; and training is for 14- to 16-year-olds to help them become productive adults
All these activities come at a staggeringly low cost – an annual fee of only $15. Today, the local club's almost 450 members, from ages 6-18, represent a multi-racial, nondenominational constituency and include an almost equal number of girls and boys.
Key to the Boys & Girls Club's success has been the emphasis on relationships between members and with the adult leaders. Activities are conducted in a wide-open, friendly space created specifically for youth programs. With its tech/game center, recreation area, art room and sport court, it can and does provide a broad range of options.
Housed in the 7,500 square-foot former Armory, adjacent to the Durango Community Recreation Center, the once ramshackle building was rebuilt at a cost of $750,000. The upgrades were made possible through the original Founders as well as the generosity of county residents and businesses. Grants from government and the national organization also helped, and La Plata County came up with the funds needed to replace the dilapidated roof. Unlike many nonprofits, Morris said 95 percent of money raised through the club's annual "It Just Takes One" drive goes directly back into club programs and services.
A 2007 national survey of Boys and Girls Club alumni indicates that this structure works. More than half said the club saved their lives, and 90 percent graduated from high school.
"We're trying to fill in the time when most young people get into trouble," Morris said. •
The Boys and Girls Club is open five days a week: Mon.-Thurs., 3-7 p.m.; and Fri., 1-6 p.m. For more information or to volunteer, stop by 2750 Main Ave. or call 375-0010.
In this week's issue...
March 17, 2022

Lake Powell drops below threshold for the first time despite attempts to avoid it
March 17, 2022

Purgatory Resort set for expansion but still faces hurdles
March 10, 2022

New health care studio takes integrated approach to healing