Birth of a velodrome
Track cycling begins to take shape in Durango

SideStory: Top of the nation: FLC retains National Mountain Bike Championship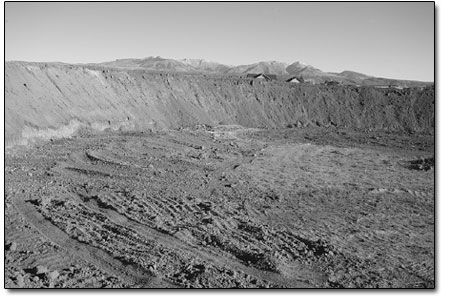 The Dryside Velodrome awaits a few finishing touches near Hesperus. A massive volunteer effort is currently working to bring track cycling to the Durango area, and there is hope that the velodrome, which is located on land owned by cycling coach Rick Crawford, will open the new discipline to La Plata County's riders. The arena will be one of only 25 in the nation and could be up and running in coming weeks./Photo by Steve Eginoire
by Will Sands

Durango is pedaling into a new era. A broad community effort has moved tons of dirt, burned through hundreds of volunteer hours and is on the verge of filling a "big hole" in the local cycling scene, as the Dryside Velodrome approaches completion.
Simply put, a velodrome is an arena for track cycling. And while the arenas come in all sizes, the shape is always a steeply banked oval, consisting of two 180-degree circular bends connected by two straights.
Track cycling has been called the "purest form of the sport," and the statement may not be far off. It is the oldest two-wheeled discipline in the world, and velodromes have hosted heated competitions since before the turn of the last century. It is also one of the fastest two-wheeled disciplines, with cyclists regularly exceeding 52 mph atop fixed-geared bikes with no brakes.
Though Durango is an obvious hub for national and international cycling and has produced a slew of national champions and Olympians, track cycling has ridden past the local scene. That is all about to change.
"Track is the only remaining cycling discipline to develop in Durango," said Rick Crawford, the driving force behind the Dryside Velodrome. "It also just happens to be an Olympic sport that offers more events at the Olympics and Worlds than all other cycling disciplines combined. It's the one big hole that's left in the local scene."
During his decades-long career, Crawford has earned a reputation as one of the top cycling coaches in the world. He has worked with the likes of Lance Armstrong, Levi Leipheimer and Willow Koerber, coached the Fort Lewis College cycling to numerous national championships during his eight-year tenure and is currently director sportif for the On the Rivet professional cycling team. It just so happens that Crawford got his start racing a track bike on the Dick Lane Velodrome in Georgia.
"I cut my teeth cycling on the track as a teen-ager in Atlanta," Crawford said. "The truth is that if I'd never seen that velodrome, I probably would have never gotten into cycling. However, there is one problem with velodromes – they're few and far between."
Currently, local riders interested in racing on a track must travel six hourse to either the Olympic Training Center Velodrome in Colorado Springs or Boulder Indoor Cycling's new covered track. In fact, there are only 24 tracks in the United States and all but two of those are outdoors. Last fall, Crawford and a crew of volunteers and cycling advocates started working to add one more outdoor velodrome to the list. With the help of local excavator Terry James, who donated both time and equipment, the crew started moving dirt on Crawford's property near Hesperus.
"The next thing I know, I've got a giant crater out in my front pasture," Crawford explained. "We've been hard at it this summer. Now we've got most of the earthwork done, and we're not too far from being able to ride in circles on that thing."
The Dryside Velodrome is going to get started with the basics. The track will be clay surfaced and 200 meters in length, sized in between the 142-meter track in Boulder and the 333-meter velodrome in Colorado Springs "because that's all we could fit on the property," Crawford said. Regardless of surface or size, Crawford said he hopes to spark a movement in Durango.
"I'd like nothing more than to see people riding on my land," he said. "Once people start learning to ride on the track, I'm hoping it will start something. Maybe it could be a catalyst for a larger track in downtown Durango someday."
The benefits of the Dryside Velodrome will also extend beyond the athletes – track racing offers some of the best action for spectators of any sport. "Watching track racing is really fun," Crawford said. "It's like Nascar racing on bicycles."
However, the local velodrome needs a couple more big pushes toward opening day. A volunteer work party is set for 10 a.m. on Sat., Oct. 23, and warm bodies are needed to assist with the fine-detail work of tamping and putting a finish on the track. At the end of the work-day, Crawford hopes to "christen the track at moonrise" with a bonfire and celebratory keg tapping.
"In all my years of riding and coaching, I've learned one thing – this cycling thing takes a community effort," Crawford said. "If we can all pitch in, we could be riding on the Dryside Velodrome this fall." •
In this week's issue...
November 17, 2022

How water-loving rodents can help ward off climate change effects
November 17, 2022

Flotilla of stakeholders coalesces on comprehensive plan for Animas
November 11, 2022

Proposed solar farm a complicated affair in southwest La Plata County