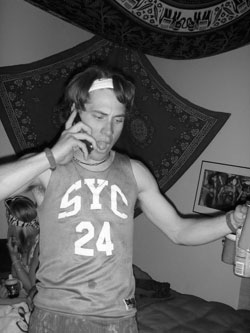 Diver: Alex, of points unknown
Interesting fact:Alex is a habitual line crosser, and whoever invented this so-called line can suck it. One day (coincidentally right around the time he attended Burning Man), he was reborn out of the earth and became Earth Child.
Got a dirty little secret?
Looking for guidance to remedy a sticky situation?
Seek help from the master of the kitchen! The Dish Diver has solutions to life's little messes. Send your problems to "Ask the Diver." - By mail to Durango Telegraph - Attn Diver -534 Main Ave., Durango, CO 81301; by email at telegraph@durangotelegraph.com, or by fax at 259-0448.
Dear Diver,
Now that we're into the "harvest month," I've started making preparations for the best holiday of the year, Halloween. What's the ultimate Durango costume? Please offer me an option that considers form (humor) and function (not freezing my ass off again).
– Masked Man, via e-mail
Masked Man
Halloween is a time for honoring the dead, so when it comes to costumes, don't be something living. Be something gross and messed up and have fun with being dead, 'cause you only live and die once. The ultimate costume is always something sleazy, it's the one time of year when people can be their true, perverted selves. But please don't be a dirty slut, it's so overdone. Just being you can be scary enough. If you're freezing your ass off at Halloween and are worried about it, you should probably move to a lamer town 'cause here in D Town we like to party, no matter how cold.
– Diver
Dear Diver,
A friend and I need help settling a debate. Is it true that all Pringles cause posterior leakage? Or is it just the chips containing that miracle substance Olestra? We recently tested the experiment on a river trip, and let's just say the results were inconclusive.
– Desperately seeking wet wipe
Wet Wipe,
I have heard many rumors about the anal leakage situation and chips. Trust that our "best" team of food scientists are on it. Rumor also has it the Chip Peddler has jumped in on the fight to find out the truth. I recall eating Pringles as a kid and have no memory of my butt leaking, and I think I would remember something of that nature. Let's just say a river trip is not the best place to experiment with such a serious situation. Five handles of whiskey and six 30-racks later, you tell me how your butt feels. Olestra is fake fat, and some hippie from the Boulder Chip Co. probably invented it thinking he or she was saving people's health. Thanks a lot.
– Diver
Dear Diver,
What's the Diver's official winter prediction? I've already read bad news in a couple of publications: you know, La Niña, warm and dry, chance of snow after January. I am hoping for a second opinion. Does the Diver have any good news?
– Bob, Durango
Bob,
Let's just say your name probably says a lot about you. Who do you think I am, Nostradamus? I'm Earth Child, and you can't predict this interconnected ever-changing world that seems to make no sense at all. Mother Nature does what she wants, and it's not the "car's" fault. Earth Child's prediction: average. It'll probably get cold sometime, snow and then get warm again. But remember, every winter is a good winter. If you had a bad one, then you need to re-evaluate how you look at life. If it snows too much or too little, I don't want to hear any complaining or BS excuses like global warming. If you can't hang, get lost.
– Diver
In this week's issue...
March 17, 2022

Lake Powell drops below threshold for the first time despite attempts to avoid it
March 17, 2022

Purgatory Resort set for expansion but still faces hurdles
March 10, 2022

New health care studio takes integrated approach to healing