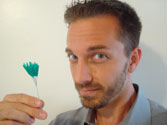 Diver:Todd Flemion, of Root and Branch Medicine
Interesting facts:In his spare time, Todd enjoys inserting acupuncture needles in the tip of a hypodermic needle. 52 in this photo.
Got a dirty little secret?
Looking for guidance to remedy a sticky situation?
Seek help from the master of the kitchen! The Dish Diver has solutions to life's little messes. Send your problems to "Ask the Diver." - By mail to Durango Telegraph - Attn Diver -534 Main Ave., Durango, CO 81301; by email at telegraph@durangotelegraph.com, or by fax at 259-0448.
Dear Diver,
Do you have to drink gin to develop a gin blossom? Let's just say, a good friend's nose is getting red and bulbous, and he's always been a beer guy. Why does a little bit of drink even inflame the nose? Should I be concerned about my own personal habit?
– "Dale" in Durango
Dear Dale,
The bulbous nose has little to do with the type of alcoholic beverage consumed and more with intention and hard-work. Let me remind you of a little ditty that starts with "Rudolf the red-nosed reindeer had a very shiny nose … ." You are fortunate to have such a good friend. He is one of a rare breed who is always in the holiday spirit. These people are able to shine their bulbous noses in the direction of the next drinking establishment and provide a safe route of travel for our city's fine people and visitors. So don't be concerned, start developing these skills yourself by consuming beer, gin, tequila, whateva, and hopefully someday soon, people will be shouting out with glee, "Dale, you'll go down in history."
– Diver
Dear Diver,
Why do certain establishments call it "live music" when a DJ is spinning on stage? Is it really worth $10 to watch someone play his iPod?
– Dancing With Myself, via e-mail
Dear Myself,
You are misreading the word "live." It is not pronounced with a "long i" as in "dive" but rather it is similar to pronouncing "Liv" as in "Liv Taylor." Establishments want you to experience, be present and "live" and breathe the music. Besides, bands are expensive for a club, and recent college grads need love (and work), too. Don't feel like a sucka, just BE the music, na na na na …
– Diver
Dear Diver,
How can I avoid El Rancho late night? I love the place, but it does have addictive properties. It always seems to suck me in, leave me penniless and then I have to clear the entire next day for rest and recovery. Please help – it's almost the weekend.
– Melissa, Durango
Dear Melissa,
Never heard of the place. Good luck.
– Diver
P.S. If you're looking for an alternative. There's a good, family-oriented place at the corner of 10th and Main. They have pool tables and televisions for the sports-enthusiast and they serve breakfast and recovery-breakfast from the Diner. Might be a little tough to make it thru the smoke-cloud in front of the door, but if you succeed, it is worth the visit.