Soup's on
Kitchen manager serves up heaping helping of food, compassion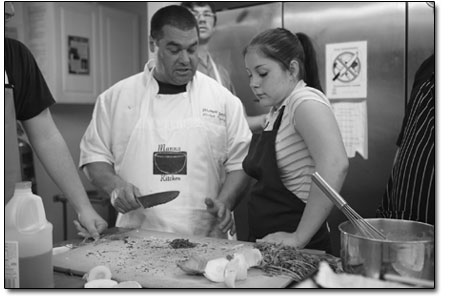 Manna Soup Kitchen Manager Warren Smith passes on a quick cooking tip to intern Sandra Spencer. Smith has been the kitchen manager at Manna for more than a year and brings a love of good food and a love of humanity to his position. By year's end, Manna will have served some 60,000 free meals to Durangoans in need./Photo by Stephen Eginoire
by Jen Reeder

It's a typical morning at Manna Soup Kitchen, and Warren Smith is singing "Come Fly with Me" at the top of his lungs while he stirs a tikka masala curry. He pauses to enthuse, "I ground my own masala when I saw we had some plain yogurt and beef that were donated. It's not standard soup kitchen fare – no tater tot casserole, no hot dog casserole … I challenge you to find a better meal in town for the price.
Smith has been the gregarious kitchen manager at Manna for more than a year, and he's taken the place by storm.
"One of the complaints I got when I first started was my meals were 'too gourmet,' and I made people clean too much. Those are great complaints in my book!" he bellows from across the kitchen."
Durango resident Leo Maloney, who has volunteered at Manna Soup Kitchen for more than a decade, says a staff change last year has been an improvement.
"Sometimes it's a circus, but it's a fun and friendly place," Maloney says.
"The people are all great." Warren resumes his singing, and Maloney gestures toward him, chuckling: "Except we have to put up with that."
There's a lot that goes into preparing 60,000 free meals a year, from cooking to organizing volunteers and picking up donations. Mike Richard, Manna's back office manager, spends much of his Wednesdays at Bimbo Bakeries in Albuquerque, where he picks up 1,700 pounds of bread each week for the sack lunch program. Richard is another member of the new team, calling to Smith, "How long I been hanging out with you?"
"Long enough that I'm not mad anymore," Smith replies with a grin. As the 11 a.m. lunch service approaches, Smith whirls around the room, getting a hug from a woman who says simply, "Thanks, Warren," and fielding questions from volunteers. "Ten thousand questions a day, minimum," he deadpans before racing outside when the Holly House van pulls up. He pushes a man in a wheelchair inside while
Smith continues greeting patrons by name before leading the room in an "Our Father" and announcing that children get to eat first. A line of about 100 people forms behind the families with kids.
"The food's awesome," says Durango resident Jesse Roe, who has eaten at Manna Soup Kitchen off and on for the past seven years. "I've been all over the U.S. and this is one of the best facilities I've ever seen."
For example, Manna provides shower and laundry services as well as emergency lodging and bus vouchers. The client services program provides prescriptions, flu shots, health screenings and emergency medical procedures. For the winter, they collect warm coats, blankets and sleeping bags to give to their clients.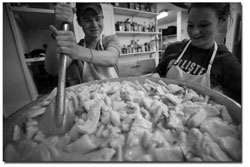 Graham Saunders, left, along with April Quisenberry tend to a pot of chicken dumpling soup at Manna Soup Kitchen early this week./Photo by Stephen Eginoire
"These are good, hardworking people," says Executive Director Sarah Comerford, who also joined the Manna staff last year. Manna offers them support and excellent meals, including the one at Christmas, she adds. "Warren does a buffet-style Christmas brunch and carves the roast. It's very special," Comerford says.
Smith agrees heartily as he eats his own food at lunch once everyone else is served.
"It's gonna be amazing – we'll make everything from scratch. These ladies from Breen make a sweet potato soufflé that will knock you out of your socks!" he says before shouting "You made it!" to a latecomer.
A young girl walks by and waves when Smith urges her to do a "Miss America wave."
"This is the population we want to reach," Smith says. "This is a safe place for kids to come. I have a no-tolerance policy for drugs, alcohol, weapons and fighting – you will be removed from the premises, never to return again."
His eyes brighten as a friend sits down next to him with a tray of food. Smith appraises the meal choices: tikka masala, green salad – and a donut.
"A donut? If you needed to sweeten it up, I could've put my finger in it," Smith quips about his curry as the man grins and defiantly takes a huge bite of donut. Undeterred, Smith continues, "So I told my girlfriend, 'You gotta stop kissing me – you're rotting my teeth!'"
As diners finish their meals and start putting away the folding chairs and wiping down tables without any announcement to help out, Smith jumps out of his chair, exclaiming, "There's our masseuse!" in reference to a volunteer who comes on Fridays.
This is all part of a typical day that starts for Smith at 4 a.m. He gets to Manna before 6 a.m., opening the doors to the people sleeping outside when it's cold and making hot coffee for them.
"I come to work every morning with a smile on my face because I'm doing what I'm supposed to be doing with my life," Smith says.
It was a long road here – Smith ran away from home when he was only 11 and spent time on the streets before doing prison time. He worked at Manna Soup Kitchen as part of his community service and made such an impression that he was eventually offered his job, which he takes seriously despite his jovial demeanor.
"It shouldn't matter what your status in life is – you still deserve a great meal," Smith says. "This is a place to break bread and be a community." •
Manna Soup Kitchen is located at 1100 Avenida del Sol in Durango and is open for meals from 8 a.m.-12:30 p.m. on Monday – Friday, and 8:30-10:30 a.m. on Saturday and Sunday. For more information, call 385-5095 or visit www.mannasoupkitchen.org .