A new local climate
La Plata County Climate and Energy Action Plan released

SideStory: Inside the local greenhouse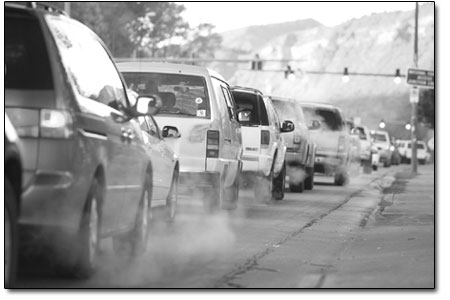 An endless stream of automobiles fills North Main Avenue and fills locals skies with exhaust on Tuesday morning. Transportation accounts for 20 percent of La Plata County's greenhouse gas emissions, according to the newly released Climate and Energy Action Plan. The CEAP also offers up numerous recommendations for reducing the local carbon footprint./Photo by Stephen Eginoire
by Will Sands

La Plata County has gotten its greenhouse gas grades, and there is big room for improvement. But residents of Southwest Colorado need not despair. There is now a road map in place to help the region lighten the load. The long-awaited Climate and Energy Action Plan was released this week following two years of exhaustive work by hundreds of volunteers.
When they signed the U.S. Mayor's Climate Protection Agreement in 2008, La Plata County, Durango and Ignacio resolved to reduce their emissions of carbon dioxide – the largest contributor to global warming. In line with this resolution, the three started developing the Climate and Energy Action Plan (CEAP) and tasked the Four Corners Office for Resource Efficiency, or 4CORE, with coordinating the effort.
The first step to finding solutions was fully identifying the problem. The City and County retained the Brendle Group to complete a Greenhouse Gas Emissions Inventory as a baseline from which to work. That inventory looked at all sources of pollution in the county. Following several revisions and considerable controversy, it was discovered that La Plata County emitted upwards of 7.6 million metric tons of greenhouse gases in 2005, the study's baseline year.
To put that number in perspective, Fort Lewis College conducted a similar inventory and determined that it emits 15,329 metric tons of carbon dioxide on an average year. The college also offered a visual metaphor of its much smaller impact – 15,329 metric tons would fill a column the size of the college mesa that extended 37 miles into the sky.
"We have a lot of work to do," commented Aileen Tracy, executive director of 4CORE. "But this is not beyond us. The plan sets out very attainable goals.
The oil and gas industry is a major contributor to the local footprint, according to the Brendle Report. Activities associated with the development of oil and gas emitted nearly 2.5 million tons of carbon in 2005, more than 30 percent of La Plata County's total load.
But local residents also shoulder much of the blame. Transportation emissions account for approximately 20 percent of the local footprint, and La Plata County's energy usage is not far behind – the tabs for domestic and commercial energy each account for approximately 15 percent of the county's carbon emissions.
However, the Climate and Energy Action Plan was not created to point fingers but to remedy these excesses. Now that the document has been released, 4CORE hopes to engage all segments of the local community to collaborate on setting back local climate change. The group will open the toolbox to local residents in coming weeks in a series of forums, take feedback and set direction.
"We want to create grassroots solutions and have residents, businesses and governmental agencies help us select these solutions," Tracy said. "We want the decision makers to know which measures people are comfortable with."
The Climate and Energy Action Plan contains hundreds of recommendations for cutting carbon emissions. They range from simple steps like composting and weatherizing homes to sweeping changes like carbon neutral construction and increasing local food production.
"Pollution knows no boundaries, and these fixes will benefit everyone," said Durango Mayor Michael Rendon. "The more community members get involved in shaping this collaborative plan, the better it will become."
Cutting into 7.6 million metric tons of carbon will be no easy task, especially given the ambitious targets set by the plan – greenhouse gases must be cut 5 percent by 2015 and 50 percent by 2050.
To get there, CEAP outlines 10 top recommendations: rangeland management techniques to capture carbon; testing and capping vehicle emissions; concentrating development to within a half-mile of public transit; increased installation of solar panels; purchase of green energy through La Plata Electric Association; purchase of renewable energy offsets; a "Lights out at Night" policy for commercial and industrial sites; capturing and using methane at La Plata County's wastewater treatment plants; requiring all construction to be carbon neutral by 2030; and requiring residences in excess of 4,000 square feet to install energy efficiency or renewable energy measures.
With a combination of these and other tools, the players are confident that La Plata County residents will rise to the climate challenge.
"Change doesn't just filter down from above," said Wally White, La Plata County Commissioner. "So much starts right here at the local level with people paying attention to our individual impacts. If each of us leads by example, everyone will understand the severity of the situation we are in at some point." •